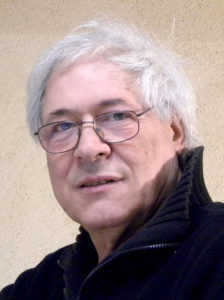 Maestro Gianni Quaranta, (Oscar winner) Director – set and costume designer
After some cases of COVID-19 were discovered in Italy on March 11, this year, the Council of Ministers issued a decree to deal with the transmission of the Coronavirus, extending the control measures to the whole country.
Italy's stringent measures have borne fruit
Only thanks to these harsh, restrictive, and still ongoing measures, Italy has managed to contain the spread of the infection. Luckily these measures are bearing fruit. A couple of months have passed since that day. And people have been at home for weeks, totally respecting the laws.
Hard to be inside
It is hard to be inside all the time. Especially for those like me who are used to travelling a lot and meeting so many different people. It is hard not to meet them, or shake hands with them, or give them, especially old friends, a warm hug. Earlier, you took all these things for granted and never paid any attention to them, but the moment they were taken away from you, you began to miss them and today you realise their importance in your life.
Thinking of you from a distance
I have learnt, and I am still learning, how to find a new balance in these newfound tasks: video calling my friends, sending them e-mails and, sometimes, just an SMS, to make them to understand my most profound message behind the words: "Hi, I am here, I am fine and thinking of you…" and they reciprocate in similar vein.
Proud to share
During this period of isolation, Italian television has broadcasted many of my most famous works. I have been happy and very proud to share the results of my art with my compatriots. It has been very touching to receive expressions of esteem and love by so many people…
Not wasting time
What should I say on the professional front? I am not wasting my time, no, not at all! I have a lot of new projects regarding films, operas and dramas.  And I am working on them. In the world of cinema, everything is at a standstill. The same goes with opera, theatre and very form of entertainment.
Turning adversities into opportunities
Personally, I am watching and waiting for a new, safe period to come. I am employing my time reading scripts and doing the ground work. I am also watching a lot of movies and operas, listening to music and, as I have always been inspired by painting, I am taking this opportunity to visit as many museums and exhibitions (of course, doing wonderful virtual tours) as possible. So, I am spending my time thinking and creating and trying to turn these critical moments in my life into an opportunity. In my opinion all the artists should take advantage of this period to produce art in all its beauty and splendour and offer it to the world. The world needs it like never before!
Hope to come to Oman soon
Personally, I hope to come back to Oman, a country in which I have recently done work in, and to be able to embrace again its wonderful people whom I respect and love so deeply. 
Serious impact in Italy
The coronavirus crisis has had a very serious impact in my country, especially in the manner it has taken the lives of fellow citizens. So many people died (and will die).  Therefore, this hard reality should sink into the minds and psyche of the families and relatives and friends who have lost their loved ones.
Economies affected
Economies across the world have been deeply affected. There have also been shifts in the balance of power, as well as economic strength, cultural might and politics. All of them need to be re-evaluated giving way to a world order based on new and solid foundations, and on affirmative ethical values, on cooperation between nations, on sound forms of support. I mean, all of this should be beyond the restrictions of borders, European or Continental.
Real globalisation
Globalisation has to grow in every direction at the same time, considering both health and economic measures. This for me is the real globalisation, a world community in which everyone can continue to keep his own identity, but at the same time everyone will benefit from the strength of the community, which will be based on solidarity and on the unified vision of saving our planet.
We can and we will win
I am just one, but with a friend we are two, and with another one we are three…and so on. It is a great challenge but together we can and we will win.  First of all it is very important to strictly adhere to the measures in order to avoid the spreading of the virus: by protecting ourselves, we will be protecting our family and friends and many others.
A vaccine for all
Also, today, there is a great need to invest in extensive research so that a vaccine, which can defeat this terrible pandemic, can be found as soon as possible. But, it must be a vaccine, which will be available to everyone without distinction.
In the meantime, science has to be supported so that all people are given the best healthcare.  The governments must also provide economic aid so that no one suffers from financial difficulties. Personally, I am still trying hard to find a way to make people come closer, but for the future I have decided to pay more attention to others and to the environment than before. I think these are the ways to fight this virus and all the potential future viruses that could attack the health of the global community.
(Gianni Quaranta won the Oscar in art direction for the film 'A Room with a View' after three nominations, two of which for the films of Franco Zeffirelli, namely"Brother Sun, Sister Moon" and "La Traviata". He has enjoyed a long and well-respected career in the worlds of cinema and theatre, for lyric operas, dramas and ballets. He worked almost 20 years alongside Franco Zeffirelli.
In the field of cinema, his work is highly regarded among prominent directors. Besides being a set and costume designer, since 1995, he has also often worked as director: his first direction was the Tosca, performed by Josè Cura and Barbara De Maio at the Puccini Festival in Torre del Lago (Italy).
A creative genius, he has made many great operas.  In addition to the Oscar, he received two English "Bafta Awards" and the "César", the most important French prize for Cinema.
Gianni Quaranta had directed the opera Carmen at the Royal Opera House (ROH) in Muscat.)