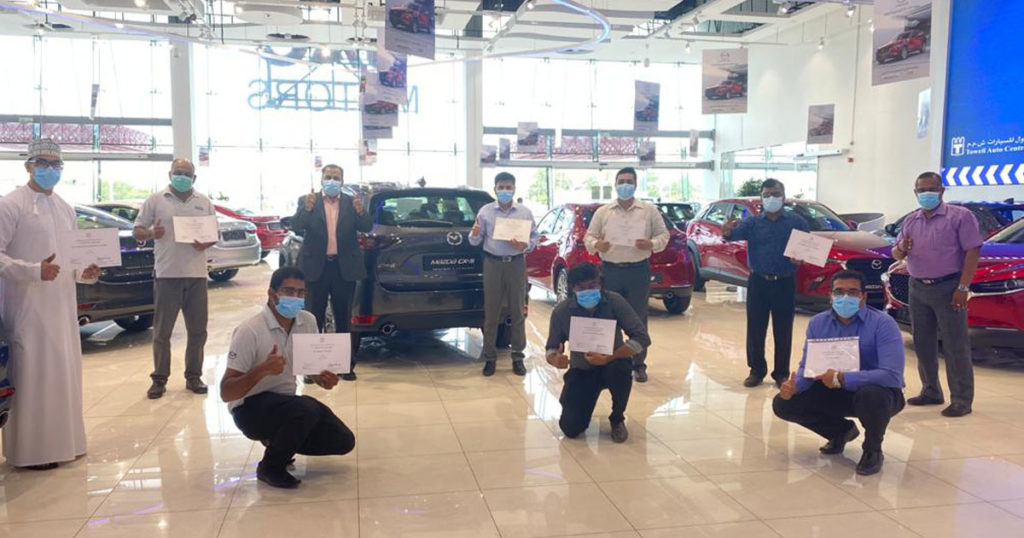 MUSCAT: Mazda Corporation recently launched their worldwide Masters Parts Certification Program, which Towell Auto Centre – the exclusive Mazda dealership in Oman – were proud to facilitate in the Sultanate. Towell Auto Centre facilitated the Mazda Parts Team training while at the same time maintaining health and safety guidelines for all attendees, as required for the current Covid 19 situation.
The program sees the quality of all of the Mazda distributors' parts operations being upgraded and enhanced, while a Certification Program that consists of e-learning, interactive classes and a final review test provides the Parts Staff with more motivation and on-the-job expertise.
For you and your Mazda, this means that you can look forward to more service excellence in Oman from the legendary Japanese vehicle manufacturer, as well as Towell Auto Centre.
As a token of appreciation for the team members who cleared the final test to earn the "Mazda Masters Certified Parts Specialist" title, Towell Auto Centre arranged a special certificate awards ceremony in the presence of Ragendran, senior general manager – Parts, Shriram, senior manager – Parts and Anup Nair, parts manager.
The Masters Parts Certification Program also covers Mazda's rich history and heritage, the roles and responsibilities required by the parts department, vehicle basics, a review of the parts catalogue, enhanced customer order processing, and warehouse management.
In the Sultanate of Oman, the full range of Mazda vehicles – including Mazda Platinum Series luxury models – are available via Towell Auto Centre's nine showrooms located across the country. More information about the Mazda range can be found at www.mazdaoman.com