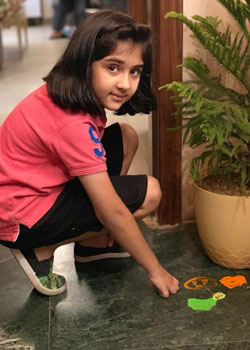 Naisha Sharma
Student, Grade 4
Venkateshwar International School, Dwarka, New Delhi (INDIA)
Dear friends, today we are all surrounded by the same fear, which we have given a name: Corona virus! Schools are closed, and yes, I know how you feel about it, as we are not able to meet each other.  Most of all, I am missing the games' period, fun activities and snack time with my bus mates. Well, okay, little bit of studies too. The whole country is under lockdown. So even during holidays, I cannot go to my favourite malls and eat yummy food outside. Till few days back I used to go for a round of cycling, but not anymore.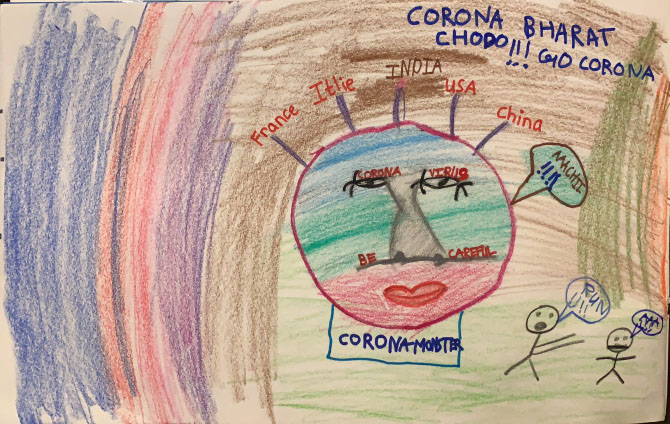 India VS Corona
Home was a comfortable place for me before Corona but now it is different. There are rules for everything. When I have to use the washroom, first I lift the toilet seat with my feet, press the flush with my elbow, wash my hands and spray sanitiser. While eating food, I use the remote control to switch on the TV. Oops! I have to wash my hands again before I start to enjoy my food. I did not find my favourite show on TV, so I switch the channel and I apply sanitiser before I take the next bite. Phew! I feel I am in the middle of some war: India vs Corona!
Naisha, washed hands?
Every 10 minutes I hear this: "Naisha! Have you washed your hands?"  Sometimes I have nightmares that I am standing alone in a departmental store full of soaps and sanitisers staring at me. I am as livid as a volcano and want to blast on the person who had spread this virus first. I hate that we all are locked down. But you know? It is not so bad.
Can operate the washing machine!
There are some things that I like about staying home, like there is no rush for getting ready in the morning and getting more time to play my favourite games. I always wanted to help my mother in household chores so when I am bored of playing and studying, I help her in fireless cooking like preparing bhel puri or banana lollypops.
When my parents are busy, I water the plants and I have even learnt how to operate a washing machine. I don't remember all the steps, but I will by heart it soon. Evenings are my favourite time of the day because my father and I workout together and I am very happy that I have learnt many new weight training exercises. Friends, you should try yoga also. It is fun! After dinner we all sit together and watch comedy shows and have a gala time.
Expert 'babysitter'
There are some new things I have learnt in this time. I started attending online classes, which is a new experience for me. I shifted my room and redecorated it with my stuff and with my original ideas. But you know what? The best thing about this lockdown is that I can spend more time with my newborn sister. Now I am expert at taking care of all baby needs, except changing diapers. EEeewww!!!
Just like Diwali
I was really disappointed that this time I could not celebrate Navratri Kanjak with my friends and could not go out and buy gifts for them. Also long evenings of summer season are wasted inside home. But just like there is silver lining in the darkest clouds, I was so excited to see everyone come out on the balconies at the same time lighting diyas, clapping, beating thalis and playing songs. It was just like Diwali!
Won't forget these days
I don't know if I should be angry at this lockdown for missing out some interesting things or I should be happy to spend so much time with my family, but I will always remember this time, even when I grow up. Dear friends, let us all stay home and beat this Corona monster together! Atttackkk!
(Naisha is an eight-year old budding writer from Delhi, India. A friend of her blogger mother, Deeksha, found her writing adorable and thought of sharing it with all.)