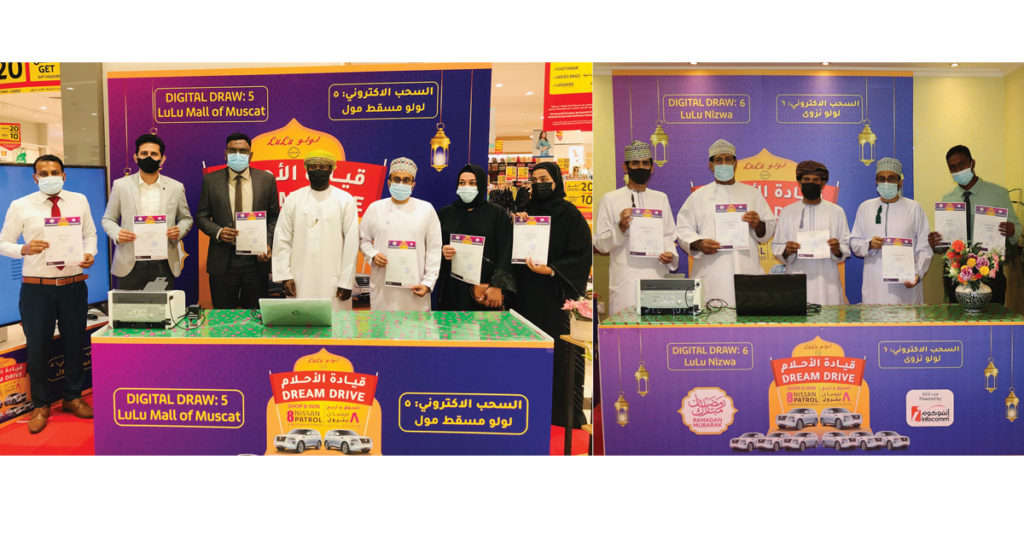 MUSCAT – Lulu Oman recently announced the sixth set of winners in its Dream Drive 2021 promotion.

The eRaffle draw held on May 4, 2021 at Nizwa picked Mohammed Hammed as the winner of the spectacular Nissan Patrol. The other winners in the draw were Kumar who won the Ikon 55" Smart TV, Al Husaibi took home the Ikon Double Door Refrigerator while Ravindran won the Ikon Cooking Range; Rafi and Zainab won the Ikon Washing Machine, Ikon Freezer respectively.

In the earlier fifth draw which was held on the April 28 at the Mall of Muscat, Abdul Hakeem Juma Abdullah Al Junabi won the Nissan Patrol with five other winners taking home amazing gifts from Ikon. Kumar won the Ikon 55" Smart TV; Sulaiman won the Ikon Double Door Refrigerator; Shihabudeen won the Ikon Cooking Range; AlAbri took home the Ikon Washing Machine, and Mulanthala won the Ikon Freezer.

Shabeer K.A., Regional Director – Oman, remarked, "We are happy to see the great traction  that this year's Dream Drive promotion is making, in spite of the challenging times. We congratulate all the winners and thank all our customers for participating in this promotion. We genuinely hope and believe that we have been able to capture the spirit of Ramadan in its true sense. We are extremely happy to bring cheer and happiness to many and take great pride in being an integral part of the Omani society," he added.

To be part of this promotion, all you need is to purchase products worth RO10 at any of the Lulu outlets. With every single receipt of RO10, customers are eligible to be part of lucky draws to win these amazing gifts. There are two more Nissan Patrol and other gifts to be won through the remaining two draws to be held for the promotion which ends on May 19, 2021.