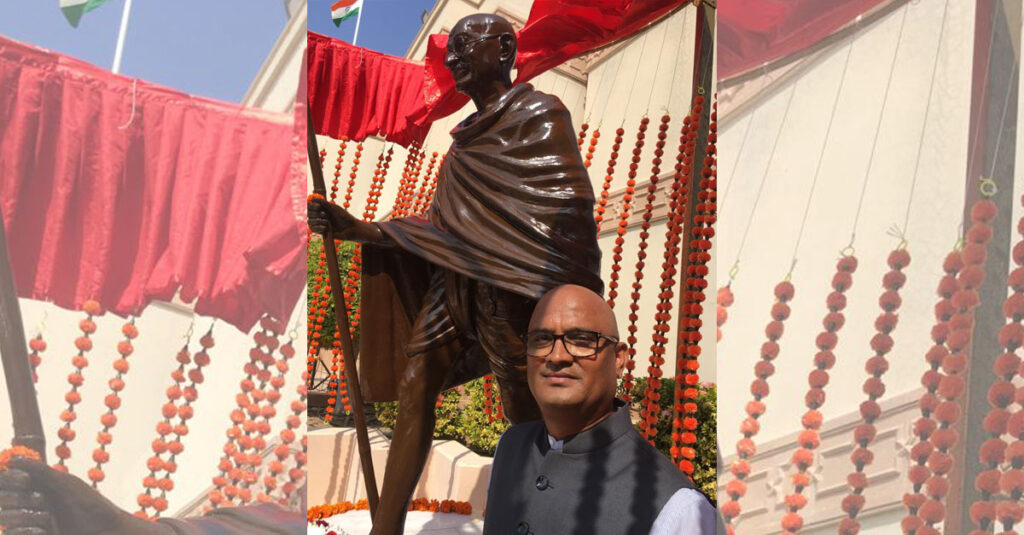 Standing next to the seven-foot brilliant piece of life-like art, Naresh Kumawat's heart thumped in moments of silent pride.
Kumawat, the sculptor of the Gandhi statue, which was unveiled at the Indian embassy, yesterday, stared for a moment at his piece of work and turning to Black & White, said: "It is indeed a proud moment and a matter of honour for me to stand under this statue of Gandhiji in Oman."

'Gandhi' created in Gurgaon
Despite having hundreds of creations such as this under his belt, each creation brings in a certain force of life, great pride and moments of quiet contemplation for Kumawat.
"I sculpted the statue from my studio in Gurgaon and exported it here," Kumawat said, adding that it took him three to four month's time to create the seven-feet bronze Gandhi statue for Oman.

First in the region
"Over the years, I have done over 65 sculptures of Gandhiji in various countries — including Canada, the United States of America, Seychelles and others. And it is indeed a proud moment for me to be here in Oman. I am told that this statue is one of the first in this region."

Three generations of art
Kumawat noted that he was a sculpture artist and sculpting art was running in his family for over three generations. "I have done my graduation in sculpting and studied at Calgary, Canada." Originally from the Jhunjhunu district of Rajasthan, Kumawat and his family have settled in Gurgaon since the last 16 years or more.Kumawat's family is renowned for their works. "His father, Matturam, designed and created the famous Shiv Murthi at Mangal Mahadeva Birla Kanan in Rangpuri. Naresh's grandfather, Hanuman Prasad, also built sculptures at Sikar in Rajashtan," reports said.
Coffee-coloured Gandhi
Asked why he chose to make Gandhi brown, Kumawat said: "I wanted to make this a unique statue and colour makes a difference and so I chose brown. "Let our Gandhiji be in a new colour instead of the regular black shades," he declared. "The sculpture was casted in bronze. Initially the sculpture is done in a clay model, then into a wax model and casted into bronze. I do realistic sculptures," he explained.

Oman impressive
The artist in him has also made him fall for the beauty of Oman. "Oman is a beautiful country and I was very impressed by it in my first visit itself. I am really grateful to be here in the Sultanate and be part of this wonderful experience."