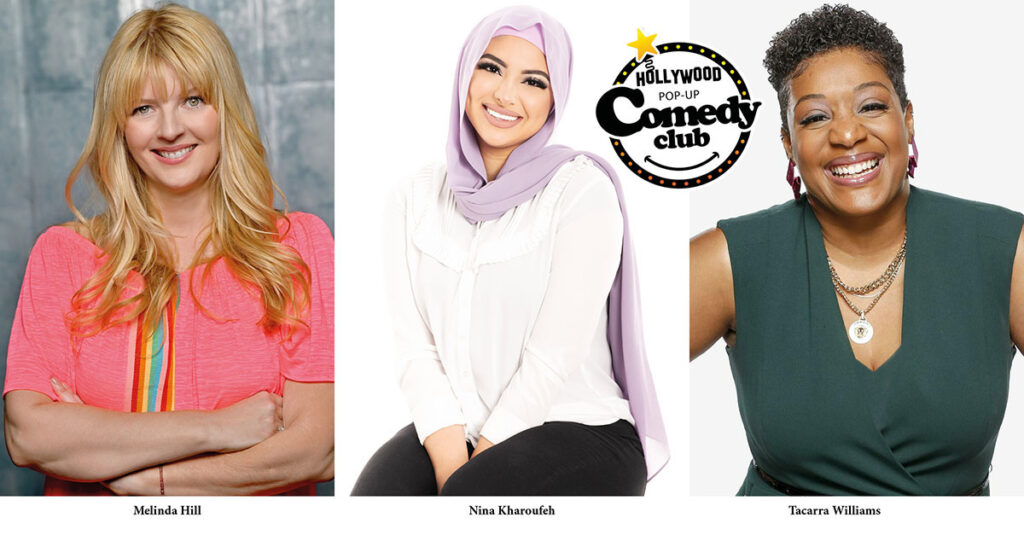 OMAN – For the first time ever in the Middle East, an all-female lineup of stand-up comedians will perform in an exclusive nine-day tour in May of five different countries. The show titled "That's What She Said," is scheduled on May 13, at the Frasier Suites in Oman.

"That's What She Said" is produced by Hollywood Pop-Up Entertainment, the Hollywood-Beirut based company that, prior to the COVID-19 pandemic, has staged nearly 80 comedy shows in the Middle East region starring the biggest names in stand-up, direct from Hollywood's famed Sunset Strip.

Nina Kharoufeh, Tacarra Williams and Melinda Hill star in this groundbreaking comedy tour, bringing their own specific personal material to a whole new audience. Each comedian has created a large loyal following from numerous regional and national U.S. appearances, and is excited to expand their fan base to the Middle East while also experiencing the culture first-hand.

"These women each have a unique voice and view of the world that audiences really enjoy and appreciate," said Ron Senkowski, president of Hollywood Pop-Up Entertainment, who, since 2018, along with vice-president Samira Kawas, has brought internationally renowned comedians to Beirut, Jeddah and Dubai, among other major cities in the region.

"Similar to past comics we've brought over, like Eddie Griffin, Maz Jobrani, Russell Peters and others, these ladies leave crowds wanting more. What's also gratifying is how upon returning home they serve as goodwill ambassadors, relaying their joyful experiences from the region back to their American audiences, essentially bridging cultures through comedy."

Nina Kharoufeh is a New Jersey-born Palestinian-American Muslim who is also journalist & author, radio producer, and amateur boxer who uses comedy to break stereotypes of modern Muslim women. "People tell me, 'You're so cool for a, you know…' and can never finish the statement."

Melinda Hill is an actress, comedian, writer and highly acclaimed podcaster with too many film and television credits to name, while headlining comedy clubs all over the world. Her one-hour special "Inappropriate" now streams on Amazon and other major platforms, and she has also hosted Byron Allen's Comedy.TV. Her material often ranges from trauma bonding to trauma mending…but with big laughs.

Tacarra Williams has led a quite varied life which she has incorporated into her act, with roles such as schoolteacher, motivational speaker, spouse and even life skills coach to prison inmates. Being newly remarried to a relationship specialist she has also learned, surprisingly, that she is the problem. She has been seen on NBC TV's "Bring the Funny," and her Kevin Hart-produced comedy special was shown on Comedy Central.
"That's What She Said" tour dates:
May 13 – Oman, at the Frasier Suites
May 15 & 16 – Dubai, Theater at Mall of the Emirates (part of Dubai Comedy Festival)
May 18 – Kuwait, American University of Kuwait
May 19 – Riyadh, Mohamad Ali Theater at The Boulevard
May 21 – Bahrain, Diplomat Radisson Blue HotelDoors open at 7pm for all shows. Show times at 8pm. Tickets can be purchased for the Bahrain show here. All other show tickets available through the venues.