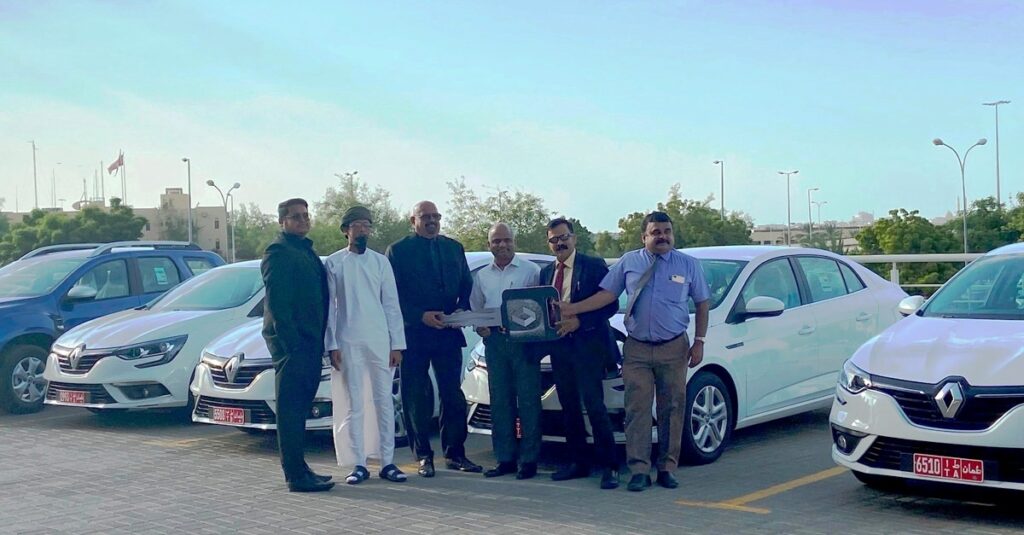 MUSCAT – Entering a partnership with Renault Oman, car rental company, Speedy Enterprises an independently owned and operated car rental company has added top Renault models to its fleet. The models included are Renault Megane, Renault Koleos, Renault Duster and Renault Symbol.
A spokesperson for Renault Oman said, "We are delighted to supply top Renault models to Speedy Enterprises Rent A Car's fleet. Renault's celebrated models are characterized by strength, functionality and safety. Renault models continue to be the most preferred choice for corporate entities, rent-a-car fleets as well as families. Packed with top-notch technology and innovation, Renault vehicles also offer performance, significant power, fuel efficiency."

K.V.Jayadev, Managing Director of Speedy Enterprises said, "Our fleet of automobiles provides our customers with a wide variety of rental options. We are delighted to partner with Renault Oman. Renault is a world-class brand today, focusing mainly on the important aspects such as safety, style, performance, value and reliability which is important for our customers. We concentrate on offering personal touch in a professional environment, while maintaining international standards. Our commitment to excellence has pushed us to the top position in Oman."
The recent collaboration with Renault has seen an influx of high quality vehicles of all classes to be added to Speedy Enterprises fleet, pushing its numbers to above 200 vehicles in Oman alone.

Speedy Enterprises has been operational in Oman since 1999. Starting out as a modest car rental company, Speedy Enterprises has recently diversified their portfolio by adding airport transfers, tour packages and chauffeur services all managed by a group of young talented professionals. Speedy Enterprises has been involved in the promotion of Oman in the overseas markets by providing quality holiday packages and car rental options to tourists from all over the world, as well as the diverse and multicultural residents of Oman.

Speedy has rental offices in Salalah and at Al Ghubra – Royal Tulip, Muscat. Speedy Enterprises is on the verge of opening additional branches in Duqm and Sohar, to further serve their growing clientele in the corporate and industrial market sector.

SBA is largely committed to supporting Renault Oman's growth in the Sultanate through major emphasis on customer satisfaction and by providing world-class after-sales services in Oman. With a national network of 9 showrooms, 16 service centres & 23 spare parts outlets, SBA has further built upon its legacy of trust, excellent customer service and providing value for money to each of its customers.
For more local information, you can visit the following website: https://www.renault.com.om/ or call our Toll Free number on 80050011.