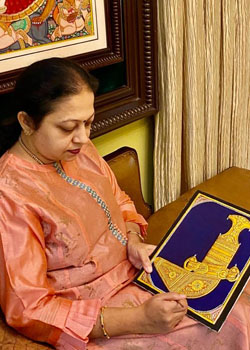 Kavitha Ramakrishna
Artist, author and a home maker (OMAN)
Even though cooped up in the four walls of her flat during the recent COVID-19 lockdown, noted Indian artist and author, Kavitha Ramakrishna (*), has still given free rein to her creativity.
She has created an unusual "khanjar" painting using the ancient Indian art form of Tanjore (*1) paintings. Kavitha believes her latest masterpiece would serve as the symbol of the courage and confidence that the people of Oman are displaying to overcome this pandemic.
The unique artwork will be like a flaming torch symbolising Oman's march towards enlightenment and hope and towards a new era filled with positivity.
Excerpts:
Like all of us, you were also cooped up in your home during this recent lockdown, but you decided to create a "khanjar" painting? Could you please elaborate?
Khanjar is the pride of Oman. And Tanjore painting symbolises the fragrance of art, heritage and culture of India to the world through the vibrant collection of colours and the gold artwork.
I love and respect both the countries for the life and recognition they have given me and I am thankful to the countries for what I have become today.
So, I take it as a responsibility to promote and emphasise the history and the friendly relationship shared by India and Oman.
I love Tanjore painting, which is a traditional Indian art form that showcases the rich and the royal lineages of India through the flamboyant colours, which is indeed a feast to our eyes.  This gold khanjar is a creation done using the Tanjore painting art form. I fused this art form to create the gold khanjar as I was sure that the end result will justify the richness and classiness of the khanjar.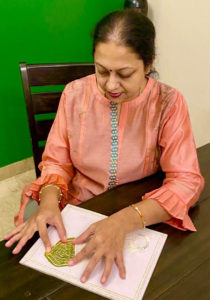 What are the main requirements to create this intricate art form?
Patience to create and creative thinking are the two most important aspects behind creating anything using this art form. While the lockdown was in general a difficult period, it also offered a chance for many of us to reflect on life.  In my case, the lockdown has given me ample time for me to think and rebuild my thoughts and perspectives about how I want to unleash the intricacy of this beautiful asset of Oman's pride with that of the Tanjore master craft.
I was able to symbolise this piece of art and look at every details of the work to show the authenticity of the khanjar and its artistic collaboration with the Tanjore art.
While the choice is apt, what has been the actual inspiration behind this latest creation? Is it a tribute to the people of Oman – a symbol of their valour, to show them that Oman will overcome this crisis; defeat the virus?
Khanjar is the pride of possession of Oman and it is an emblem as well as an epitome of success, courage, royalty, power and a lot more. Khanjar is something that we all respect because of the pride that it incorporates when it is worn as part of the traditional Omani dress or even when it is just displayed as an art form.
Khanjar is the face of heritage and culture of Oman.
This pandemic is something we all are hoping and praying would end soon. To fight this, we need to have the courage and valour just like what the khanjar personifies. So I thought this piece of treasure, which is also the national emblem, would be apt for the current crisis. This artwork shows how the courage and confidence of the people of Oman will overcome this pandemic and prosper towards a new era filled with positivity.
How long did it take to create the gold khanjar painting?
It took me four weeks to complete this painting. These Tanjore paintings are characterised by their rich, flat and vivid colours, simple iconic composition, glittering gold foils overlaid on delicate but extensive mug work or gesso work and an inlay of semi-precious gems. I had brought out a khanjar even during Oman's 46th National Day as a tribute to this beautiful country. I felt I should repeat this work as this represents the valour and courage of the people of Oman.
Will it be gifted to someone or will this new creation remain with you?
Till today my paintings depicting Oman's national emblem, forts, mosques and jewellery, decorate the walls of the prestigious institutions in Oman. Some are auctioned by the institutions for some special cause. Some paintings are gifted to the delegates by the Indian embassy. So even this painting is dedicated for the present day cause.
Are you embarking on any new creation after this?
Yes of course. My next painting would be that of a mosque. It will show a devotee praying before a mosque. It will be an attempt to create a feeling which is currently dominant in our hearts and minds as all of us are fervently praying to the Almighty to help the world come out of this health crisis as soon as possible.
(*) Kavitha has used her expertise in the ancient art form of Tanjore paintings to capture Oman's rich heritage. Her Tanjore paintings depicting Oman's national emblem, forts, mosques and jewellery decorate the walls of some of the prestigious institutions in the Sultanate, thus giving wings to Kavitha's dream of promoting India's art to a wider audience.  Kavitha has also been popularising the ancient art form from Tanjore by offering free training and teaching on offline and e-learning platforms.
She was bestowed with the rare honour to showcase her work at Oman's ministry of tourism's exhibition and also at another event commemorating the 60 years of diplomatic relations between Oman and India.
Besides being a reputed author and well renowned Tanjore style artist, Kavitha is also a Sanskrit language expert, yoga practitioner, dedicated educator and philanthropist.
(*1) Tracing its roots to the ancient golden era of the early 18th century, Tanjore painting is one of the many indigenous art forms for which India is famous. Tanjore painting is an ancient one of a kind painting named after the place Thanjavur (called Tanjore in English) in Tamil Nadu, a state in southern part of India. The Tanjore paintings have a rich heritage. These paintings evoke a sense of class and endurance with their enthralling illustrations of historic scenes. Tanjore paintings are crafted with meticulous care. These paintings are a unique visual amalgamation of both art and craft. (Source: Net).