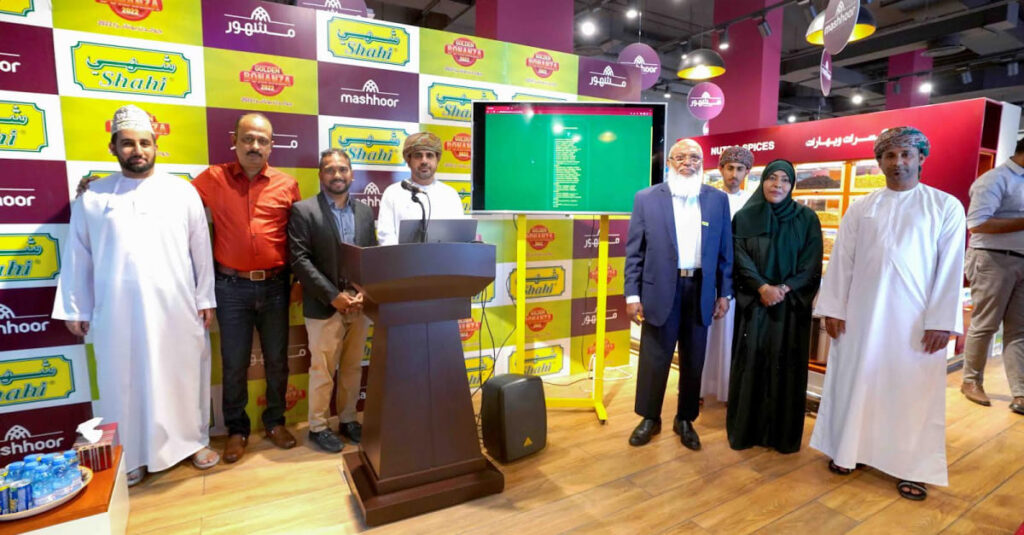 MUSCAT – Shahi Foods and Spices LLC announced the second set of winners of its Golden Bonanza promotion at a special ceremony held at its flagship buy and mill food mart – Mashhoor – in Sohar recently. The promotion offers customers the golden opportunity to win a gold coin (22 karats) every day of the campaign period, which ends on January 15, 2023.

The prize distribution ceremony was presided over by Khalid Al Badi from the Ministry of Commerce, Industry and Investment Promotion, in the presence of Mohammed Ashraf Mulamparambil, Managing Director and Abdul Rahman Mohamed Ashraf Mulamparambil, Executive Director of Shahi Foods. Congratulating the winners of both raffle draws, Abdul Rahman Mohammed Ashraf Mulamparambil said, "We are delighted to present gold coins to the lucky winners of our Golden Bonanza promotion. The coins are a token of our appreciation and gratitude for our customers for repeatedly purchasing our products and reposing their faith in us over the years. As a customer-focused legacy brand, we look to add value to our product offerings and enhance their overall experience continuously."
"Customers gain entry into the Shahi Golden Bonanza raffle draw via a scratch and win coupon, which they receive at participating supermarkets and hypermarkets throughout Oman, on buying Shahi products worth OMR 3. They then get a chance to win one gram gold coins under the monthly raffle draws that are conducted announcing one winner for each day of the month. The winning prizes of the scratch and win coupons are Shahi Products, which can be claimed immediately at the supermarket or hypermarket. The Golden Bonanza promotion will culminate in a Grand Raffle Draw; with the first five prizes winning a whopping 100, 50, 25, 10 and 5 grams of gold respectively. The more customers buy, the more their chances to win!"
The next draw will be held in December 2022 and the Mega Raffle Draw will be held in January 2023.
The lucky winners of the second installment of the draw who received a gold coin each are Aziz Al Shidi, Are Mohan Rao, Yasseen, Navas, Abduljaleel, Mohammed al Saadi, Sahadmon S, MD Ayub, Rashid, Abdullah, Morshed, Ivy Babu, Maruti Kambali, Ala Al Mahrouqi, Gangadhar Alle, Mohammed Robel, Mohammed, Abdu Melethil, Ahmed Sayf Hamd, Amna Al Farsi, Delwar Hossain, Rafid Rasheed, Nithin Ozhukil Meethal, Bishojit, Joby Joy, Sanjay Kumar Panda, Hamad Al Badi, Shahzaib, Issa Al Mahmooli, Mohammed Abu Taher, Khamis Al Maktoumi
The winners of the first draw were: Muhammad Shuhaib, Rahul Kaushal, Muhammed Shareef, Faisal Kuzhichal, Asim Saif, Neha Basheer, Mohammed Al Mawaali, Ashiq, Abdul Malik, Latha M, Nuruddin Sehab, Hamad, Jinoy antony, Ayman Al Ajmi, Wafi Al Rahbi, and Hashim Salah Aldeen
Founded in 1986, Shahi Foods & Spices LLC is Oman's leading brand in the offering 200+ varieties of food products in the categories of Pulses, Lentils, Spices, Nuts, Dry Fruits and Arabic Coffee. Their uncompromising commitment to quality, wide range of products and penchant for innovation makes Shahi the most trusted household name in the Sultanate.
Shahi is the only brand in the country with a fully-equipped quality control facility. The company procures raw materials from the countries of origin and processes it at its own manufacturing unit. Known for setting benchmarks for quality, safety and taste in the Sultanate and beyond, Shahi also owns the country's largest coffee processing facility and produces the best kahwa blends in the region.