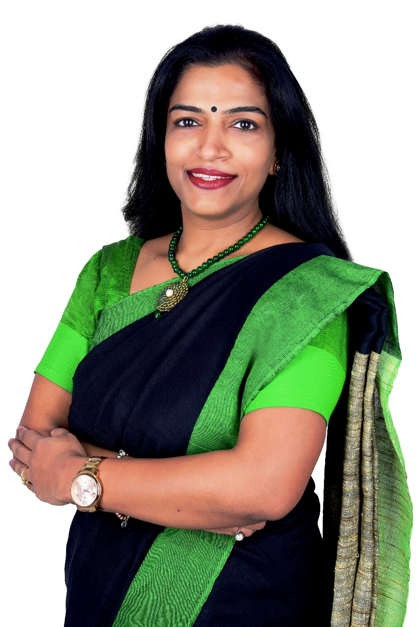 Believe in gratitude; be thankful to the supreme power; be thankful that you are living a life that most aren't living – believe that you will rise and shine again.
Dr Priti Sambhalwal
Human Resources Management expert, Columnist, Trainer (OMAN)
Charles Darwin said, "It is not the strongest of the species that survives, nor the most intelligent, but the one which is most adaptive to change".
An inconspicuous microorganism has made humanity stop, ponder and see how lost we are. The ongoing global pandemic is believed to be the chance of a lifetime to rebuild and strengthen our future.
A few months back while in India, and needless to mention, during the complete lockdown, on an early morning, I stepped out of my home for a breeze and looked at the sky to thank the Almighty for everything.
Turned home to a rubbish dump
That's when I saw three distinctive celestial bodies glistening in the sky. As the smart app on my Smartphone informed me, they were Jupiter, Saturn and Venus. They were clearly visible, radiating their cosmic charm through the skies. That's when I realised that the earth is already in reboot mode. We had forgotten that our home, Mother Earth, not only belongs to every human being irrespective of race, caste, religion, gender, rich, poor, or homeless, we also have innumerable species; majestic and fabulous creatures and fascinating flora all around. But we have unintentionally turned our home into a garbage dump all these years.
Lessons learnt, mistakes accepted
However, what differentiates man, as a social animal, from others, is his ability to think, observe, learn, unlearn and relearn. The human race has the capability to withstand such pressures time and again and it has managed to come out fairly well every time. The global pandemic is in a way, a blessing in disguise. Lessons are being learnt. Mistakes are being accepted and realised.
Teething troubles are over
Into the ninth month of the pandemic, education and work are seeing a tremendous change, and most of us have already sailed through the teething troubles related to home-schooling and work-from-home options. E-learning, e-office, e-medicine, etc. are the new norms during the currently evolving situation. A lot of resources like fuel, cost and time are being saved, and plastic consumption has reportedly come down. New ways to connect and collaborate have already flooded the market and the rise of e-commerce is encouraging. People are becoming used to purchasing their essentials through online mode and visiting malls only when it is absolutely necessary.
New ways to relax
Complacency and procrastination are some of the worst side effects of the lockdown. But planning the day well in advance eases out a lot of pressure and provides resilience. Spending time with kids, be it board games, sharing life lessons, dancing to favourite songs, watching good documentaries, is the new relaxation.
Body – our greatest asset
We are mindful of our health and investing in it is the topmost priority for everyone now. Stretching at home, yoga, meditation, are part of our lives, as it is clearly understood that our body is our greatest asset. It surely releases those happy hormones and boosts immunity as well. We are now much at peace, and most of the conundrums of the old-world hustle-bustle have been left aside.
Meaningful shift from materialism
Meaningful conversations with loved ones matter more than brands and luxury activities nowadays. We have learnt to cook that is healthy and eat that is essential. We now give calls and talk to friends and relatives whom we had lost contact with, due to our so-called busy schedules. We have learnt to pray within our hearts and still communicate with Him. Social media is being used sensibly and diligently.
A chance to engage in enrichment
Many renowned online libraries are open to the public and have provided access to thousands of resources, giving us a good opportunity to pick up our favourite books and engage in the enrichment that we couldn't do before. Also is, joining an online course through a plethora of learning platforms, and keeping oneself engaged and coming out, as an enlightened individual seems to be a sensible idea.
Lockdown diaries
My lockdown diaries comprise of actively and regularly writing for the national newspapers in Oman: a writing blog is underway, and more than 30 artworks and sketches are ready in my house. Through these immersive activities, I am learning to be more patient, giving the creative flair a new meaning, and trying to be more compassionate towards fellow human beings. To help my child engage constructively, I helped him in creating his own channel on social media, fill it with creativity and learn through the process.
We are good at adapting
Humans, as a species, are at large the best at adapting. Whatever comes our way, we adapt. We have learnt to live in the moment, and we are all going to live with this somehow. And we shall be surprised that we did it.
We will rise and shine again
As a believer of gratitude, I see sunset even on the darkest days and I am thankful to the supreme power every day, when I open my eyes in the morning that I am alive and living a life many people aren't able to get. Hoping to soon witness the magical Disneyland, unparalleled frankincense-filled Muttrah souq, the glistening Taj, and graciously swaying Dubai fountain! We shall rise and shine again.
(Dr Priti is an human resource management expert, columnist, trainer, moderator, and currently pursuing PhD in 'Organisation Change Management' — [email protected])