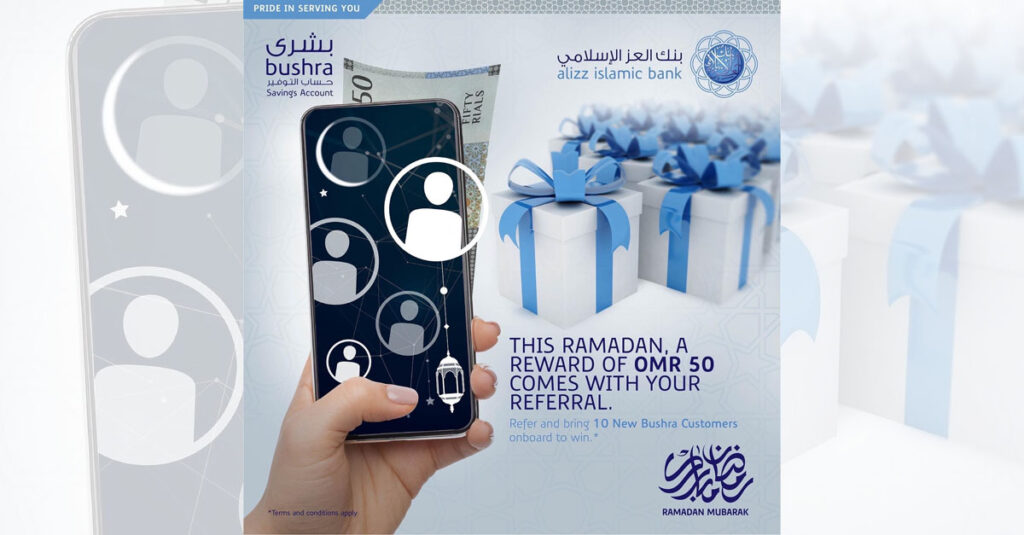 MUSCAT – Alizz Islamic Bank announced a special offer where any customer referring and bringing 10 successful new Bushra customers will have a chance to get an OMR 50 reward.

The first 500 customers who successfully refer 10 new customers to open Bushra accounts during the Holy Month of Ramadan and they maintain a deposit balance of OMR 1,000 for minimum for 30 days will be rewarded with OMR 50. The new customer's deposit must be sourced from pure credits (fresh deposits) while deposits sourced from internal transfers, existing salaries and postdated cheques will be excluded from the campaign.

Alizz Islamic Bank currently offers a tiered Bushra Savings Account, which is based on the Shari'a principle of unrestricted 'Mudarabah', where the customer is the owner of the money, and the bank manages the 'Mudarabah' by investing the pool of customer funds in joint 'Mudarabah' transactions, in addition to other Mudarabah-based accounts. All profits are divided between the customer and the bank, based on a profit-sharing ratio determined by the bank. Profit rates based on each category will be applied to the deposit balances kept in the Bushra Account.

Based on each customer's account balance, the bank will deposit their profit shares on a monthly basis. Customers can get more details on profit rates by visiting the bank's official website at www.alizzislamic.com, visiting the nearest bank branch across Oman or calling the customer service center on the toll free number 80072265.

The Bushra Savings account has been designed to keep up with the changes in customer lifestyles by ensuring the best possible profits for the customer. Alizz Islamic Bank continues to tailor-make products and services to suit the expectations and requirements of customers. Bushra customers, whether Omanis or expats, enjoy many advantages and benefits including monthly profit payment, instant debit card issuance and collection, and free online and mobile banking, and SMS alerts.