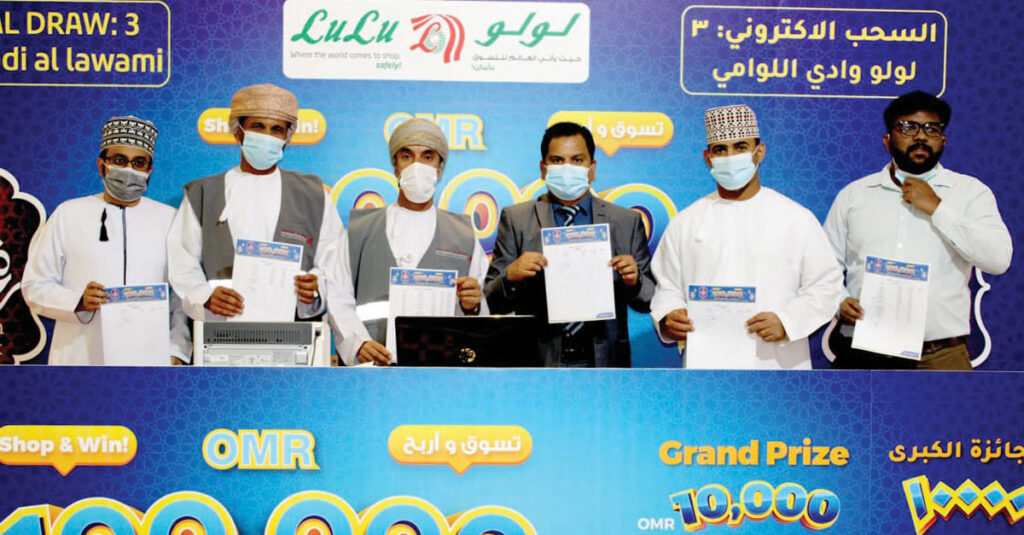 MUSCAT – Lulu has announced a set of winners of the first, second and third draw of the Shop and Win Promotion which offers RO. 100,000 worth of cash prizes. The Shop & Win, a first-of-its-kind promotion, coinciding with pre-Ramadan shopping, was kicked off on March 10 and will continue till May 7, 2022.

To be part of the promotion, customers have to spend RO 10 at any Lulu stores to register for the e-Raffle draws. The promotion will give 281 customers the opportunity to win amazing cash prizes. There will be a Grand Prize of OMR 10,000 cash as well as Weekly Cash Prizes of OMR 5000, OMR 750, OMR 500, OMR 200 and OMR 100.

The winners of the first three draws were selected through the e-Raffle draw held on the 18th, 25th and 30th of March at the Baushar, Darsait and Wadi Lawami outlets respectively. While, 105 winners were declared in these three draws, Hanan Al Barwani, Mohamed Ismaeel Al Dosawqi and Dipin E.V won a cash prize of RO 5000 each and Yousef Al Farsi, Mohit Balani and Marvin Lupa took home RO 750 each. Nine winners each won RO 500/-, 30 winners won RO200/- each and 60 others won RO100/- respectively.

Speaking about the promotion, Shabeer K.A., Regional Director – LuLu Hypermarkets Oman stated "I congratulate the winners of the three draws of our Shop and Win Promotion. It's really heartening to see the warm response to the promotion so far. We have organized this promotion in time for Ramadan and the Eid to offer customers a more rewarding experience while shopping at Lulu. We hope our shoppers make use of all the offers and deals available this Ramadan and Eid purchases too."

"There are five more draws left for our customers to try their luck during this period. This will be the perfect time for customers to take home some valuable cash prizes too," Shabeer added.

The Shop & Win promotion has set the tone for the festivities and has received a warm response from customers. There has been an increased footfall during the promotional period, which shows the excitement building up among customers. In an effort to enhance the experience, Lulu has also lined up several other offers to make shopping a memorable and fun-filled experience during Ramadan.