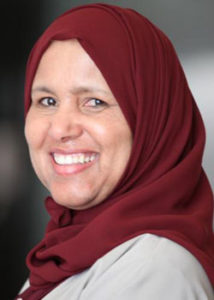 Hamdah Al Shamsi
Columnist and writer
Founder, Hia Toastmasters (Arabic toastmasters for women only) (OMAN)
Virus is a big wakeup call!
The COVID-19 was a blessing in disguise in so many ways!  Now, some are not going to see eye-to-eye with this statement given the many lifestyle changes that all of us were forced to make.
But I see the Corona virus as the biggest wakeup call ever, which has also forced us out of our comfort zones. As we scurried out, we also opened our eyes to many things: it made us realise how flexible we could be, if and when it is required. Just go over all the many things we faced in the last couple of months and how we adamantly stated that we would never be able to live without certain things and how we turned that thought around and showed ourselves how we could indeed live without so many things.
Learning new skills
Many amongst us were so strict in our thoughts and actions, yet when it came to the time where we were forced to do certain things, we did so without a murmur. Many of us told ourselves that we did not even have a drop of creativity in us yet there we were, quietly learning new skills to tide over the lockdown blues.
Gritting our teeth
In fact, I was so happy to hear it from many who confessed that this is the best Ramadhan they had. And they had similar views on Eid too. A Ramdhan and an Eid was observed and celebrated right through this period of lockdowns and social distancing, yet no one complained. Rather, they found it to be their best ever! And, even though we found it hard to adhere to rules, which disallowed family gatherings and avoid attending weddings, funerals, religious gatherings and so on, we still gritted out teeth and we managed.
More involvement
As a stay-at-home-parent in the COVID-19 season, we had the good fortune to spend more time at home with our families. We found time to help our children with their studies; and also attend to many problems, which we had not noticed before. It brought the families closer this also enabled us to involve ourselves more in each other's issues.
Learnt new skills
Professionally, we, in Oman, had to experience working from home for the first time. It forced us to learn new skills and we also learnt how to depend on technology. Many e-government projects, which were moving at a snail's pace, have accelerated themselves.
Work from home culture is here to stay
We are going to take these changes to the future because I don't think we will be able to go back in time, trying to do things in the same old manner. I definitely think that the work from home culture is here to stay as well us studying from home. That means both organisations and schools will have to work on developing new policies and procedures as well as improving their systems.
Countries need to speed up the digital transformation
The sudden shutdown of businesses affected the economy badly. So many people lost their jobs and their income. Certain sectors like travel and tourism were hit pretty hard and recovery for these sectors is going to take a long time. Countries will have to be creative and find different sources of income to cover the deficits in their budgets. Technology will continue to play a major role in the future, so countries need to speed up their digital transformations.
A strong believer of the power of tales
As for me, I think I was quite productive. I can't believe how much I accomplished in such a short period of time. I am constantly posting on YouTube and Instagram with a view to educate and inspire youth.
I am a very strong believer in the power of tales and during this recently concluded Ramadhan I began a storytelling initiative to uplift the morale of people and help them cope with the lockdown. I also brought out a series of interviews of positive and forward-looking people whom I believe could be a source of inspiration to my followers.
Hia Toastmasters — for women only
Toastmaster International aims to develop communities though people. It is a non-profit educational organisation that teaches public speaking and leadership skills through a network of clubs all over the world. (Hia Toastmasters is the first Arabic Toastmasters Chapter for Women only in Oman.)
A believer in the power of words
I started this club back in 2012 with the purpose of providing a healthy and positive environment for Arabic-speaking women in Oman, were they could network with like-minded women and learn to use their voice to make a positive change in Oman. I am a strong believer in the power of words. And I believe that women can use it to make Oman a better place for the future generation.