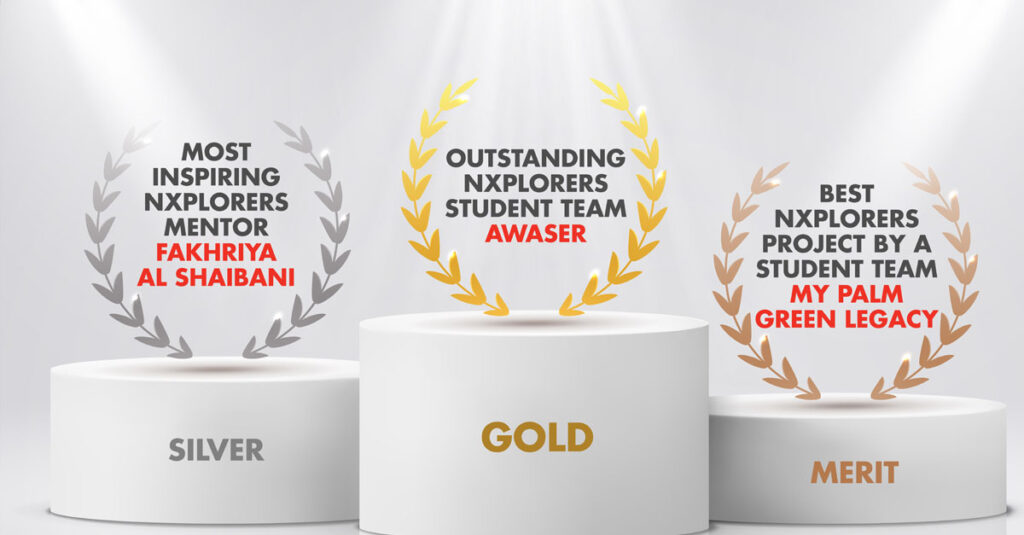 MUSCAT – Omani student teams, who rose to the challenge of Shell NXplorers 2021 and made home with wins in three categories through innovative solutions to environmental concerns, received the prestigious Global Recognition Awards at a virtual ceremony held recently.

NXplorers is a Shell educational program that introduces young people to complex and creative thinking that can lead to positive global change. Omani participants won one gold, one silver and one bronze awards in three distinct categories: Fakhriya Al Shaibani won the Silver Award as the 'Most Inspiring NXplorers Mentor'; Team Awaser from Al Dakhliyah Governorate won Golden under the 'Outstanding NXplorers Student Team'; and 'My Palm Green Legacy' from Al Amal School won the Merit for 'Best NXplorers Project by a School Team'.

The virtual award ceremony, held on January 20th, recognised and celebrated participants of Shell NXplorers from more than 20 countries, who came up with inspiring concepts and ideas to tackle global challenges related to food, water and energy. It was a world-wide celebration of NXplorers participants, facilitators and mentors, who, over the course of the year, availed opportunities to develop skills, tools and techniques to become agents of change.

Speaking on the occasion, Jasim Al Ajmi, Social Investment and Performance Manager at Oman Shell, stated: "For the 2021 edition of Shell NXplorers, we at Oman Shell worked together with the Ministry of Education and Engineering Village, our delivery partner, to implement the programme in 22 solar schools across the country. While we were amazed by the increase in the number of participants this year, despite the pandemic, we were also impressed by the diversity of ideas that the Omani student teams came up with. Over the years, our carefully developed educational program has grown in strength and stature to touch the lives of so many young students. Since its launch in Oman, NXplorers has benefitted more than 1,400 students, and has equipped more than 60 science teachers and career advisors with the necessary information and methods to nurture STEM thinking skills amongst students."

Expressing delight over the win from the Omani teams, Dr Mayya Al Azri Director of the Department of Innovation and Scientific Olympics, Ministry of Education, said, "On behalf of the Ministry of Education, I would like to salute all the participants for their tremendous efforts in the field of STEM and congratulate our winners for validating Oman's caliber in the global arena. We are particularly overwhelmed by the interest demonstrated by our students to be a part of Shell
NXplorers, which is predominately oriented towards STEM. Most students perceive STEM programs as difficult and challenging and are wary of the demands it places on their time and space. But the sheer number of participants is a clear indication of the popularity gained by NXplorers program in inspiring the youth."
Fakhriya, who won the distinguished silver award, is a NX facilitator from the Ministry of Education (Al Amal School). This award is recognition of her inspiring credentials as a Shell mentor who went that extra mile to motivate and empower young students on their NXplorers journey. It is an acknowledgement of the passion she demonstrated in delivering NX Program for two years during school sessions. Relying on NXplorers tools, she presented papers and research topics to integrate curricula with critical thinking tools. She also managed to galvanize support and sponsorships from local companies to spearhead six projects. Besides, she played a pivotal role in monitoring some winning projects locally and regionally.

As Golden winners of the 'Outstanding NXplorers Student Team', Awaser from Um Al Fadhel School at Al Dakhliyah governorate won kudos for their hard work in restoring the heritage of banana tree plantation in their town, Birkat Al Mouz. Their initiative to support the recovery of native ecosystems and develop economy through the cultivation of bananas and related products saw the team researching the reasons for the decline in the plantation. They identified the problem as a general apathy from new farmers owing to poorer returns – as compared to cattle and stock feeds – and initiated a campaign to raise awareness.

With the help of government institutions, the team managed to plant over 1000 banana saplings and involved other agencies to utilize byproducts from the plants.
Merit award to 'My Palm Green Legacy' team from Al Amal School worked around the scourge of palm weevils in Oman. Having witnessed the infestation in palm trees and the problems they wrecked on the plants, they relied on NXploers thinking tools to follow a three-pronged approach – early detection, data processing, and insect disposal system – which led to the discovery of an organic insecticide to inhibit reproduction. They used petroleum ether and diethyl ether, which is extracted from the oils of ginger roots and garlic roots, and mixed with a sugary substance – similar to glucose. The insect feeds on this spray before entering the palm and as the substance affects the pre-chrysalis stage, the insect cannot produce eggs or eggs are unable to fully develop, which ends up as organic decomposers for sieving.
These and other initiatives presented by local teams under the NXplorers program will gain further ground in the coming days as global recognition is expected to translate as viable projects for the private sector to invest in.