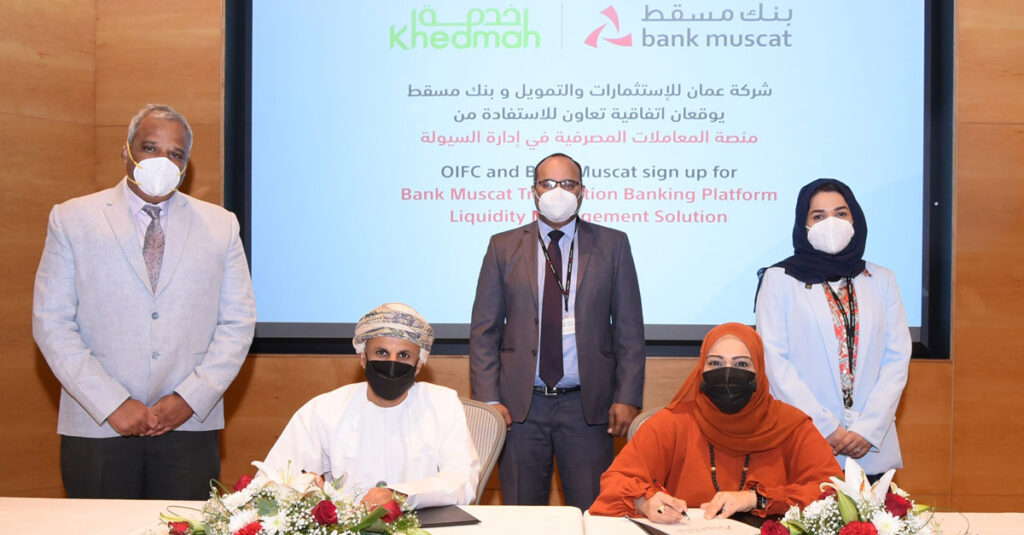 MUSCAT – Bank Muscat and Oman Investment & Finance Co Khedmah (OIFC), have tied up to enable OIFC to use the bank's Transaction Banking platform, especially to manage its liquidity needs. The agreement was signed by Ilham Murtadha Al Hamaid, General Manager – Corporate Banking, Bank Muscat, and Saud Ahmed Al Siyabi, Chief Operating Officer, OIFC Khedmah. OIFC, which already uses Online Banking and Remote Deposit Capture (RDC), will now also use the bank's Liquidity Management Solution of automated 'Sweeps' for managing its various liquidity needs efficiently.

The bank's automated Sweep solution involves the rule-based physical movement of funds between different bank accounts for the purpose of efficient utilization of funds. This allows the bank's corporate customers to optimize liquidity available across multiple bank accounts and currencies. Some of the main benefits of the Liquidity Management Solution include: Better visibility of funds position, increased control over the use and allocation of internal resources, increase in operational efficiency by automating cash concentration and better insights through various information reports.

Speaking on the occasion, Ilham Murtadha Al Hamaid, General Manager – Corporate Banking, Bank Muscat, said: "Over the past few years, Bank Muscat has been spearheading the digitalisation trend in the Sultanate, which is helping our Corporate customers transact quickly and efficiently, while minimising the data-entry related risks in the payment process and improving overall security. We are pleased to strengthen our existing partnership with OIFC and offer our state-of-the-art automated Sweep solution, which will optimise cash flows and offer real-time insights for greater transparency and control, thereby enabling better-informed decisions."

Saud Ahmed Al Siyabi, Chief Operating Officer, OIFC Khedmah said: "OIFC Khedmah is the leading company in Oman in the field of billing and collections for four decades, and today has outlets, branches and bill-payment machines located across the country. We are delighted to partner with Oman's leading financial services provider as part of the overall strategy of digitalisation of the economy. The new Liquidity Management solution provided by Bank Muscat will enable complete control and visibility of funds; superior cash flow management; improved predictability of cash flows and efficient conversion of cash balances lying in our different group accounts. This will in turn lead to better operating efficiencies and customer satisfaction for OIFC."

Liquidity management is one of many features offered through Bank Muscat's Transaction Banking Platform, which is an intuitive platform providing end-to-end digital solutions for the transactional and operational needs of corporate and government clients. The platform offers a suite of products for payments, liquidity management, collections and receivables, and reconciliation needs of the institution, with the possibility of a full integration of the bank's transaction banking platform with the corporate's ERP system. Through the platform, the customer has a proper reconciliation mechanism in place and the ability to send different MIS reports. The cutting edge innovative services under the platform enable our corporate customers to be ahead of the competition. The bank's clients can choose the extra features they require as per their specific corporate needs.