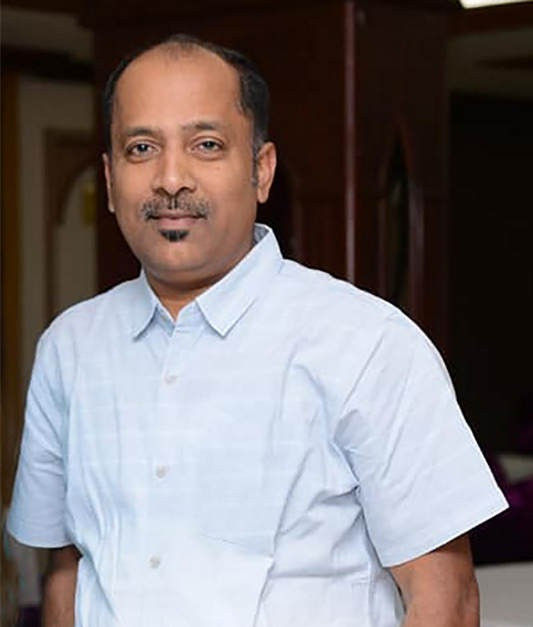 Sam David Mathew
Entrepreneur, President, World Malayali Council (Oman province) (OMAN)
It's good to practice cleanliness and hygiene, but let us also practice keeping our hearts clean
Like many, I had BIG hopes for 2020. I started the year with a smile. With celebrations. With love. With joy. With happiness. And even when the news began to flash about some virus somewhere, little did I know that it would cause so much devastation and even reach right outside my doorstep. More importantly, I never thought that, even indirectly, it would affect me. I have seen people in despair; I have seen people who lost their loved ones. And hearing and seeing all this, I began to get desperate. I began to get angry. I got totally upset. I prayed with all my might and it helped calm me. I have never stopped praying ever since COVID-19 disrupted our lives.
Slowly, I took control of myself and understood what was required and I followed all the norms. I made my family and friends follow them too. It is not enough that I alone took care — I have to ensure that everyone around me took care too. Of course, the good part of this dirty intruder into our lives is that most of us got to be with our families. On my part, that was quite good. I had more time with my family and my children.

Unrepeatable miracle
It also brought great perspective into our lives. And a much-needed discipline. I don't think we will ever take anything for granted any longer. The COVID-19 exposed many faults in our lives. Let us not repeat the mistakes again. Let us value life for what it is – an unrepeatable miracle!

Grab this rare chance
And the virus has also taught us to value relationships in a big way and not take that too for granted. In life relationships are very important and the current period, however grim and serious in all its manifestations, also offer us great opportunities to make meaningful connections, so let us grab this one-in-a-million chance!

Let us use social media wisely
Workwise, it has disrupted in a big way, but also bringing about various, hitherto unexplored opportunities – it brought us to a new concept of work from home. Perhaps, this must be the first time in history that the global population is working from home. But the other factor in all this is how the world is now far more into technology than ever before. This is also history happening and we are part of it! While the changed circumstances offer great opportunities for many on the business front, it also brings us closer, despite a virus making us distance ourselves even from our loved ones! But being able to connect virtually is sweet consolation!
Suddenly, social media has also elevated itself from being a silly nuisance and a waste of time to something that is powerful. But, let us all use it wisely.

The curse of COVID
The curse of COVID-19 beyond killing innocents is the sad fact that it is killing jobs. It is decimating a major portion of jobs and seriously affecting many lives. Losing jobs is killing because the ramifications it has on those dependent on it. No jobs means no salaries and no salaries means no means to live.
And the danger is that the virus has shrunk further opportunities for job losers. In a pre-COVID world, there was always a chance for those who lose jobs – they always have a second chance. Now, unfortunately, for many, there is little or no choice after someone loses a job. Industries themselves are in the danger of being wiped out from the face of this earth.

Affected the print industry
How to overcome this serious problem is the biggest challenge for nations across the world. I have seen the print industry shrink in size myself. I believe that the focus will shift to a digital media presence and this fact becomes even more pronounced as this shift will reduce cost by at least a third and the reach too will be immediate.

Socialising will be drastically reduced
On the social front, we will see a drastic reduction of socialising. All forms of socialising will be reduced or even stopped (at least the way we knew it). Gone are the days of large gatherings and parties and celebrations will feature a minimal, close-knit group that too, totally adhering to the set norms that will be in place post pandemic.
Like tourism, the entertainment industry will also take a hit. Theatres, musical, cultural events and conferences will all be affected in a big way. Of course, there will be options for alternate methods, but again, it is not going to be the same again.

Travelling too will be affected
Travelling will also be drastically reduced. While businessmen and women will still make the official moves, chances of children travelling to tourist places and for fun and amusement will be largely dissuaded and that automatically would affect many countries that depend on tourism and profiling major amusement projects and parks, like the Disneyworld, to name one. We will see little or no movement on this front for months to end, or perhaps, even years. One can only keep our fingers crossed and wait patiently.

Teaching us to be more responsible
Life is going to take an entirely different turn and therefore we have to brace ourselves for further challenges – especially in our daily life. The impact of the virus is going to be quite big for all of us who were used to living normal lives. Earlier, the focus was on socialising – today the emphasis is on social distancing and while we need not be taught to do it, some of us are still lax and may risk not only our lives, but also the lives of our loved ones. Every day, this virus is teaching us to be more responsible and also to be acutely aware of everything we do or don't do.

Let's be more alert and careful
Like the rules formulated by the governments of every country in the world, we have to have make rules in our life and follow them diligently. The more alert and cautious and careful we are, the more protected we will also be. We need to take great care of the elderly as well as the youngsters in our families, or rather in our society. It is our duty and let us not shirk from this responsibility.

We need to cleanse ourselves too
COVID has also given us an opportunity to not only clean up our act, but also make great attempts to live a clean, hygienic, decent and value-filled life.
But, it is not just about cleaning ourselves or keeping our surroundings clean or wearing masks and rubbing sanitisers and washing with soap – we also need to keep out hearts clean, hygienic and value filled. It is going to help us in the long run.

End with a smile too
And lastly, but equally importantly, I don't want to end this year with all this pain, suffering and unhappiness. I want to end this year with the way I started it – with hope, joy and with a smile on my face!