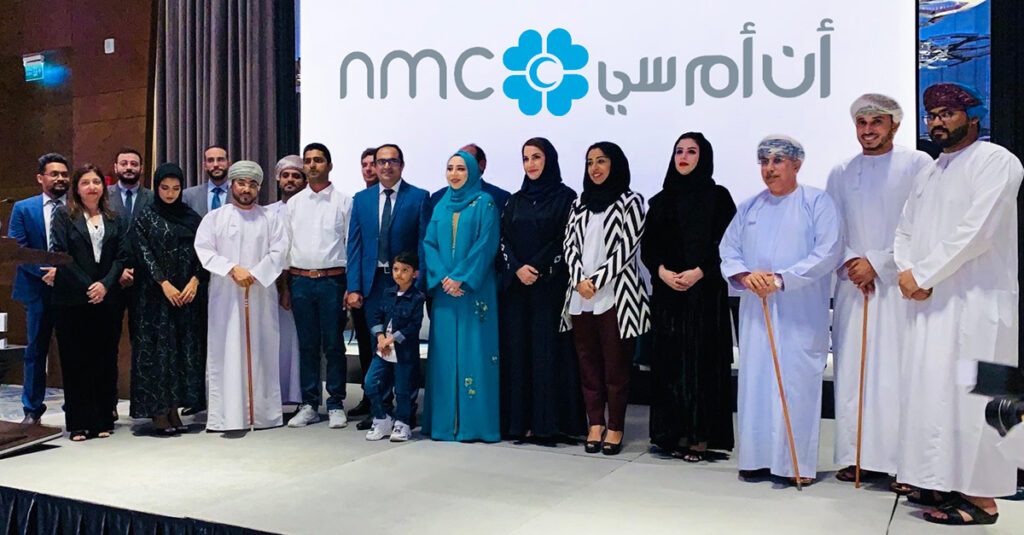 MUSCAT – NMC's Hearing awareness Initiative has been launched with the Cochlear Implant surgery performed on a four year old, making it the first time a surgery is being conducted in the private sector health care in Sultanate of Oman.

The ceremony was held under the auspices of HH Sayyida Meyyan bint Shihab al Said and guest of honour was His Excellency Dr Hilal al Sabti, Minister of Health, at W Hotel, Muscat.

The event had the gracious presence of Her Highness Sayyida Dr Mona bint Fahd Al Said and Her Highness Sayyida Hujaija bint Jaffer Al Said.

According to the WHO, by 2050 about 2.5 billion people are expected to suffer from hearing loss. Early detection of hearing impediment and early intervention can create better life for the individuals. Timely access and improvement in quality of life leads to a productive life contributing to the society. Effective intervention for hearing loss is systematic screening. This is yet another feather in the cap of NMC, the largest private healthcare company in the UAE and third largest in Oman, it began its journey of quality healthcare in Oman five years ago.

"NMC Hospitals are pioneers in patient education initiatives and hearing awareness is one such initiative which is very important for the community. Hearing disabilities can be caused by genetic factors, malnutrition during motherhood, recurrent ear infections, lack of immunisation and continuous exposure to high noise," said Dr Deep Makkar, General Manager and Country head of NMC Healthcare in Oman.

"It is our prime duty as healthcare provider to spread awareness on the causes and prevention of diseases. Prevention of hearing loss can be done through strategies to avoid causative factors, however rehabilitation is equally important who are already suffering from hearing loss. Assistive technologies like hearing aids can help people with mild to moderate hearing losses, whereas Cochlear Implants are the best options for profound hearing loss in children as well as adults. We are glad to give people an access to cochlear implant program in private sector for the people in need and require timely intervention. Unaddressed hearing loss is expensive to communities and governments and can cost up-to 980bn USD annually worldwide. So, it is important we work together in spreading awareness on hearing loss and make the community a better place for everyone to live happily," he pointed out.

The benefits are many and after the surgery the children are given speech therapy for one to two years. Four year old Affan has already started the process. His father said he hoped his son will begin to speak in six months.

"Cochlear is a market leader in implantable hearing solutions; we are driven by our mission to helping people hear and be heard. Hearing loss is a global challenge that remains prevalent and under treated.
We are appreciative of the esteemed NMC Healthcare for organizing this awareness day and excited, with our distributor Taiba Medserv LLC, to be part of this event. It is through such collaborations with the healthcare community and all influential stakeholders that we raise awareness, particularly around early detection, and intervention. We aim to build customer confidence and offer more patients in Oman, hearing solutions best suited to their individual needs," noted Alain Yazbeck, Cochlear's Middle East and Africa Regional Director.

Cochlear implants are not just for children but for adults as well, pointed out Ayat Adam, Cochlear's Middle East and Africa Consumer engagement Professional with more than five years' experience in working with hearing impaired individuals and Hearing Care Professionals and is passionate about helping people hear and be heard spoke at the event.

She explained her difficult journey after her hearing deteriorated when she turned 15 years of age. She was given hearing aids that were too loud damaging her ears further so a correct diagnosis is as important as the right treatment. She was then underwent cochlear implant and her life start coming to normal and she went on to finish her Master's degree.

Dr Benaifer Billimoria, Specialist ENT surgeon at NMC, who assisted the surgery with principal surgeon Dr Khalil al Macki, said, "We never knew the gift of hearing can be so precious. Affan and Ayat lives have been changed with the restoration of hearing so we can imagine how our society would change and be productive and happy once everyone would be able to hear. We all have a role to play in raising the awareness on hearing loss and its disabilities and implement the prevention strategies. NMC Healthcare pledges to keep raising awareness on hearing and would continue to help people who need hearing rehabilitation whether it'll be through medical/surgical treatment or assistive devices like hearing aids and cochlear Implants."
According to the WHO, in children, almost 60 percent of hearing loss is due to the causes that can be prevented through measures such as immunization, improved maternal and neonatal care, and screening for, and early management of Otitis media. In adults, legalization on noise control and safe listening, and surveillance of ototoxicity can help maintain hearing trajectories and reduce the potential of hearing loss.

For appointments and more info; please whatsapp/call 72654000 for NMC Hospital Ghubra and 92636179 for NMC Hospital Al Hail.