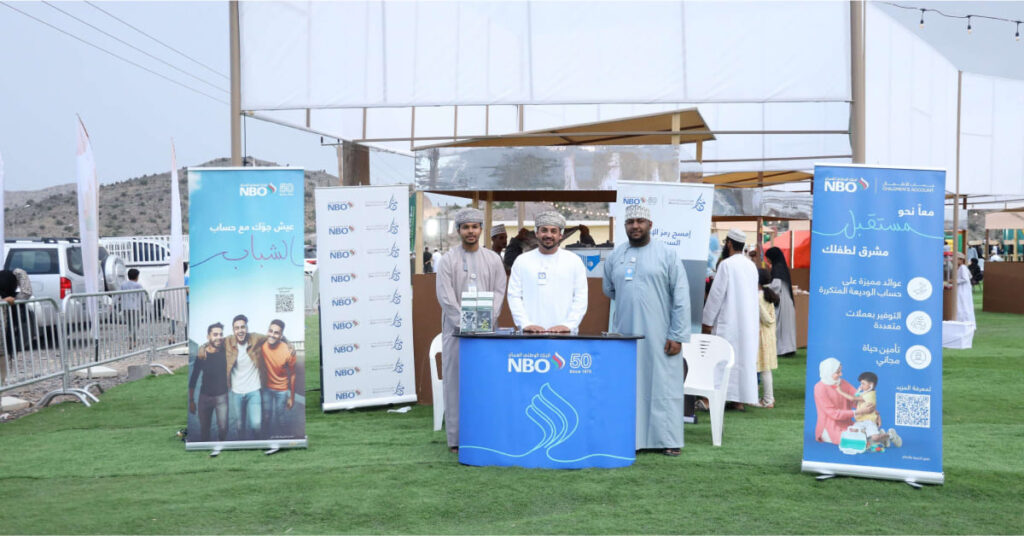 MUSCAT – Reinforcing its dedication toward supporting local initiatives, National Bank of Oman (NBO) has supported the Jabal Al Akhdar Festival as a Golden Sponsor. The event serves as a cultural display, celebrating the rich heritage and natural beauty of Oman. This initiative is an integral part of NBO's commitment to Corporate Social Responsibility (CSR) and signifies the bank's deep-rooted engagement in safeguarding the very essence of Oman's cherished customs.

The event took place from August 3-19. The festival drew a substantial number of people from various segments of society. This marked the festival's second edition, promising heightened excitement and engagement compared to the previous year. The event also served as an effective platform for business owners, with approximately 44 Omani SMEs participating in the festival.

Commenting on the initiative, Hassan Abdul Amir Shaban, General Manager and Chief Government and Alliance Officer, at NBO said, "NBO holds an immense appreciation for Oman's profound cultural legacy, a sentiment that finds its vivid embodiment in the Jabal Al Akhdar Festival. We are thrilled to be a part of this celebration that brings together people from all walks of life to experience the magic of our beloved nation. This sponsorship comes in line with Oman Vision 2040 and exemplifies our motivation to give back to the community that we operate in and unlock opportunities for all."
The festival is a remarkable occasion that highlights the captivating allure of Jabal Al Akhdar, a region renowned for its stunning landscapes and historic significance. The festival spans two breathtaking locations: Hail al Yemen and Saih Qatanah, both nestled amidst the picturesque views of Jabal al Akhdar. These venues host a diverse array of activities carefully curated for attendees of all ages, ensuring a memorable experience for everyone.

NBO proudly upholds its tradition of endorsing events that cast a spotlight on Oman's vibrant identity. With a history of supporting initiatives that capture the nation's splendor, NBO has consistently held a pioneering role. The bank's virtuous strides in Corporate Social Responsibility (CSR) span a range of noble causes that resonate with Oman's cultural elevation, environmental stewardship and the holistic well-being of its people. The sponsorship of the Jabal Al Akhdar Festival finds its resonance within these endeavours, as NBO seamlessly aligns its values with an event that skillfully weaves together Oman's wonders of nature and its tapestry of storied heritage.