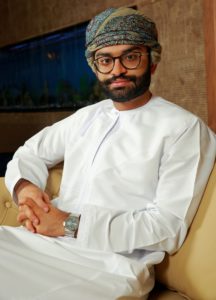 MUSCAT – Mohsin Haider Darwish LLC is pleased to announce that Mr. Mohsin Hani Al Bahrani is the chief executive officer (CEO) of its newly aligned automotive division, which has been integrated with various other functions and named as ACERE (Automotive, Construction Equipment and Renewable Energy). This decision has been made to further strengthen the company's overall business and accelerate a strategic shift to capitalize on emerging opportunities.
"During this transformative period for the businesses in the sultanate and world over, I am honored to assume the role of CEO of MHD, ACERE; especially since we're moving from a position of strength to gear up for the future," Mohsin averred. "I am excited to work with the entire team to create an even more dynamic and vibrant division that improves people's lives around the sultanate, and creates value for all of our stakeholders. Having worked with the company in the capacity of director previously, I have developed a deep appreciation for our people, values and legacy, and look forward to working together with everyone during this metamorphic phase."
A business management graduate from Brunel University, London, Mohsin Hani Al Bahrani was the Director of MHD's Automotive and Commercial Vehicles Division, before being named as the CEO of MHD ACERE. MHD is the sole distributor of brands Jaguar, Land Rover, McLaren, Volvo, MG Motor, Ashok Leyland, Ford Trucks, CMC, Michelin, BF Goodrich, Riken, Terex Finlay, XCMG, Mitsubishi Forklift Trucks, Abus, and Drager in Oman.
He completed his Masters of Arts in 'Middle Eastern Studies', achieving a distinction, at Kings College London; and has learnt the nuances of the automotive industry, by working with various stakeholders in order to bring synergies for operational efficiencies. Mohsin has also been actively involved in bringing McLaren Automotive into the Sultanate of Oman, which was successfully launched at the brand's state-of-the-art showroom in Azaiba earlier this year.
Since his arrival as the Director of the Automotive Division in 2019, he has overseen a steep rise in the sale of MG cars in particular. In 2019, MG car sales has seen a whopping 400 percent growth in comparison to the sales in 2018.
Moreover, by using key strategies to highlight Chinese products and the many features they carry; his efforts have worked towards changing the perception of Chinese products in Oman, and helped gain customer confidence. He has also been instrumental in regaining the market leadership for commercial vehicles with Ashok Leyland in Oman; and has been the driving force behind the setting up of four new sales network points and seven after-sales facilities for MG Motor across Oman in 2020.
In addition to the above Mohsin has setup the Electric Vehicle and Solar Panel Sub-Division, which is a first of its kind in Oman. He has already partnered with a renowned company for Electric Vehicle Charging Stations and is paving the entry of EVs into the market.
Bringing a unique, human-centered leadership approach to MHD's culture, products and services Mohsin aims to further unlock the potential of the company's people and business in the time to come.