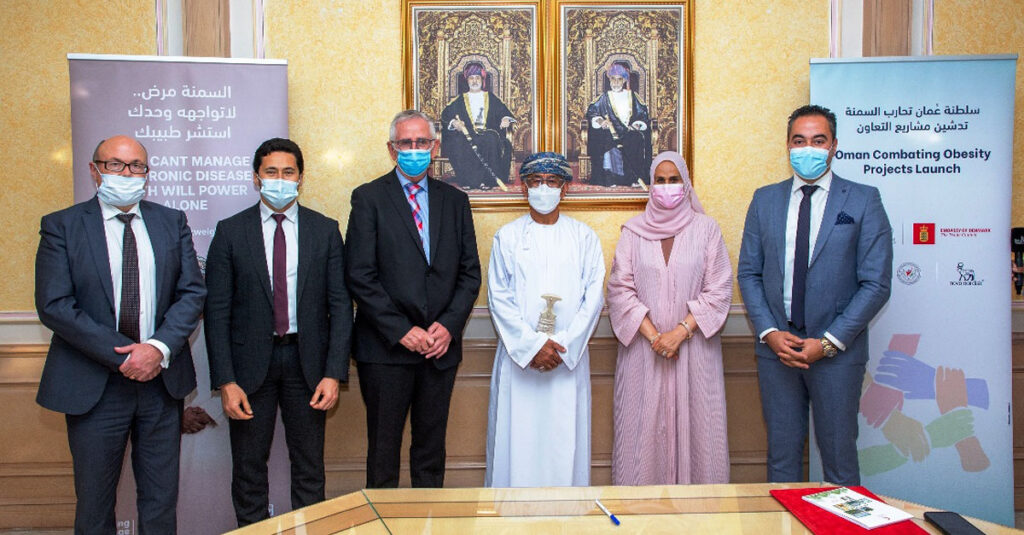 MUSCAT –  The Ministry of Health (MoH) in collaboration with Novo Nordisk Pharma Gulf and Danish Embassy officially agreed to partner and collaborate to develop and establish Oman Obesity clinical practice guidelines which will guide  health care professionals on how to proactively and efficiently engage in management of obesity, as well as  an Obesity epidemiology study project estimating the prevalence of obesity related co-morbidities in a hospital setting and assessing prevalence of top 10 co-morbidities linked to obesity in the Sultanate of Oman.

The two projects were launched on Thursday, March 17, at the Ministry of Health headquarters by H.E. Dr Ahmed Mohammed Al Saidi, Minister of Health, in the presence of H.E. Ole Emil Moesby, Ambassador of Denmark to Oman, Saudi Arabia, Bahrain, Kuwait, and Yemen. The launch was also attended by Dr Noor Al Busaidi, Director of National Diabetes and Endocrine Centre, Dr Venkat Kalyan, Vice President and General Manager of Novo Nordisk Pharma Gulf and Dr Ahmed Magdy, Director of Patient Access and Public Affairs at Novo Nordisk Pharma Gulf. The two projects will not only help in greater understanding of the epidemic in the sultanate of Oman, but will also provide the health care professionals, an evidence-based principle of chronic disease management.

Drawing attention to the rise in obesity related health issues worldwide, H.E. Dr Ahmed Mohammed Al Saidi said, "Obesity takes a toll not only on the well-being of individuals, but also on the well-being of societies; it puts strain on healthcare systems and economies." Over the past two years, the COVID-19 pandemic has highlighted the global issue that is the obesity epidemic. Poor nutrition coupled with technology that enables a sedentary lifestyle has been linked with a rise in the disease.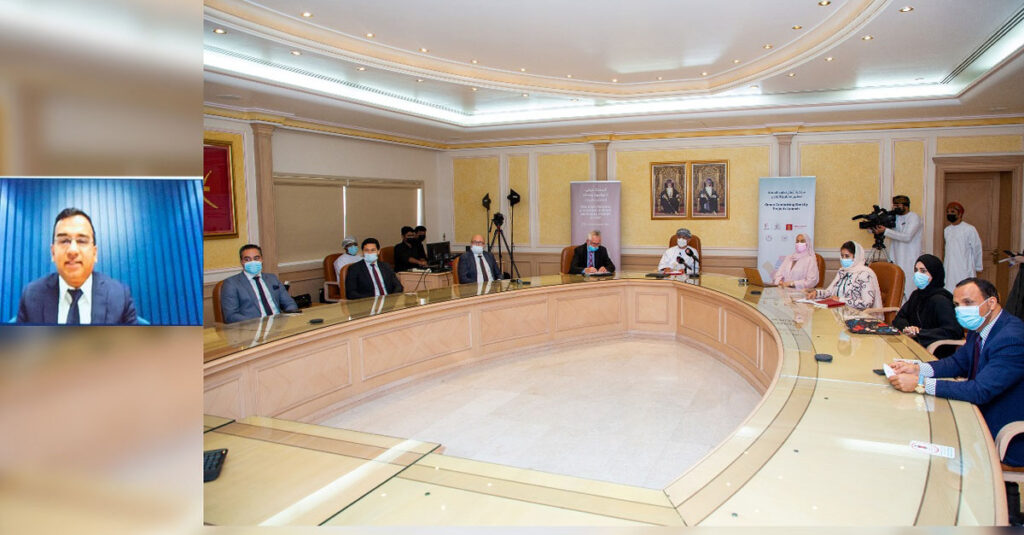 Dr Ahmed added, "As the poor lifestyle habits and choices of society today leave their imprint on those who follow, the burden grows heavier. Therefore, it is imperative that regional and local barriers to obesity prevention and treatment are addressed urgently, and that they are addressed in such a way that they do not increase weight discrimination and stigma." A recent cross-sectional community-based survey of the population of Oman found that almost two-thirds (66 percent) of the population was overweight or lived with obesity (BMI ≥ 25).

Commenting on the survey's findings at the launch, Dr Noor Al Busaidi said, "The national survey found that Omani nationals had a much higher prevalence of obesity (35.2 percent). In addition to this, Omani women specifically were identified as having a significantly higher prevalence of obesity (40.9 percent) than Omani men (28.2 percent). Similar findings of alarmingly high levels of obesity among women in their reproductive years were also reported in the Oman National Nutrition Survey (ONNS)."

Having been associated with alarming 195 health impairments and a major risk factor in chronic diseases like cardiovascular disease (CVD), type 2 diabetes and various types of cancer, obesity is fast becoming one of the most serious health problems in the world.

Emphasising on the need for awareness to tackle obesity, Venkat Kalyan stated, "Driving Change in Obesity® is Novo Nordisk's long-term commitment to improve the lives of people with obesity. Together with our partners, we are changing how the world sees, prevents, and treats obesity. Individuals must be empowered with the information they need, to make healthy life choices and take control of their health from an early age." As a part of our commitment to driving change in chronic diseases worldwide, and with an aim to advance obesity care, Novo Nordisk's role in raising awareness on the disease, equipping healthcare professionals in the fight and developing advanced treatment solutions cannot be overstated.

Dr Ahmed Magdy added, "Obesity must be recognised as a complex, multi-factorial chronic condition requiring long-term management solutions. A clinical treatment pathway for the management of obesity is being established, and clinical guidelines are being developed to support healthcare decision making. Healthcare professionals must be given the tools and strategies they require to support people with obesity in an environment free from stigma and this is one of the main pillars that an epidemiology study will offer for them."