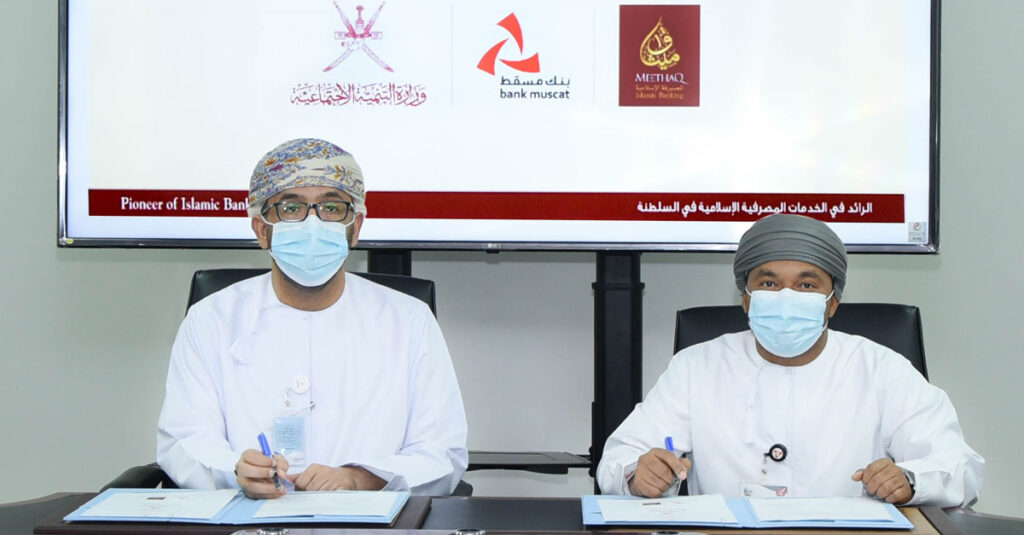 MUSCAT – Meethaq Islamic Banking from Bank Muscat has signed a Memorandum of Understanding (MoU) to open a Social Takaful account for the Ministry of Social Development. Under the terms of the agreement, Meethaq will provide the necessary facilities for collecting contributions, donations and aid to the ministry through various channels, which include its large network of branches, ATMs, CDMs as well as through Meethaq's Internet and Mobile Banking platforms.

The MoU was signed by Hilal Al Hosni, Assistant Director General for Administrative and Financial Affairs at the Ministry of Social Development and Hamed Lal Bakhshi Al Balushi, Head of Meethaq Corporate Banking Services. The signing of this memorandum will also serve to enhance the bank's role in Public-Private Partnership in various fields and sectors.

On this occasion, Hamed Lal Bakhshi Al Balushi, Head of Meethaq Corporate Banking Services, said: "Meethaq is delighted to sign this Memorandum of Understanding to provide all the necessary facilities that can help the Ministry of Social Development in achieving its different goals. Meethaq Islamic Banking is keen to strengthen its partnership with institutions and corporates in the Sultanate to provide the best banking services and facilities which are compliant and in accordance with the principles of Islamic Sharia'a." He stated that Meethaq has always been a pioneer in providing cutting-edge banking solutions to both individuals and organisations, and would in turn help them support the National Economy.

Meethaq extends support to all key economic sectors with innovative Shari'a based products. It is well positioned to provide Islamic financial expertise to all segments and thereby promote the good of society as a whole. With 24 branches and over 40 ATMs and CDMs spread across different governorates, Meethaq is the leading Islamic financial services provider in the Sultanate, catering to the varying needs of individuals, corporates and SMEs. Every Meethaq product goes through the process of Shari'a-compliance certification by its Shari'a Supervisory Board and is created in line with the guidelines of the Central Bank of Oman. Meethaq plans to continue expanding its services and products in response to customer needs and continuous feedback.
Please visit https://www.meethaq.om/en/Pages/default.aspx or call 24656666 to know more about Meethaq.