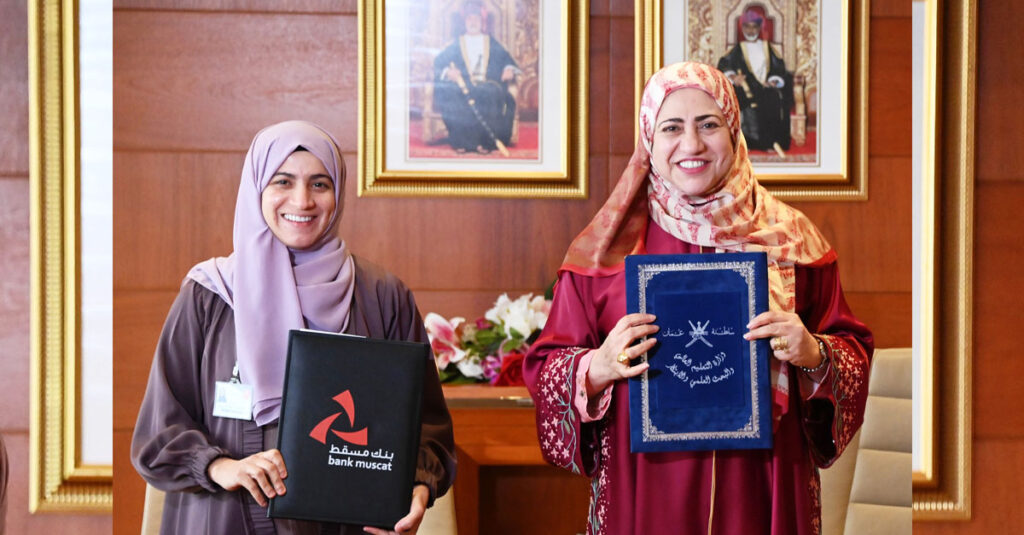 MUSCAT – Ministry of Higher Education, Research and Innovation and Bank Muscat signed a cooperation programme in the field of scientific research and innovation. The agreement was signed by H.E. Dr Rahma Ibrahim Al Mahrooqi, Minister of Higher Education, Research and Innovation and Sheikha Yousuf Al Farsi, Chief Operating Officer, Bank Muscat.

Under the agreement, Bank Muscat will be supporting and financing the best graduation projects prepared by Omani students enrolled at higher education institutions within and outside Oman. The supported projects will cover areas of national priority as per Oman Vision 2040, aiming to transfer them into startup companies.

The agreement states that the Ministry would choose the right approach for this programme according to the national priorities stipulated in Oman Vision 2040. The Ministry would also form an executive committee to organize, manage and operate the programme in coordination with Bank Muscat to ensure the success of the business plan agreed upon. The designated committee will also follow-up, evaluate and supervise the winning projects during the incubation phase.

This agreement highlights the necessity of cooperation and partnership between different institutions in the Sultanate.  Ministry of Higher Education, Research and Innovation is keenly working towards enhancing and developing partnerships to support youth and provide capabilities to build and foster specific programmes that focus on entrepreneurship and innovation. Bank Muscat also believes in strategic partnerships that enhance its social responsibility strategy which includes providing a standing point for business projects for the youth.

The programme, which aims at transferring graduation programmes into startups, is one of the programmes the Ministry implements to provide support to university students. The support would help students turn their graduation projects into startups that can develop sustainable growth benefiting from a series of financial, advisory and technical support offered by sponsoring partners. For Bank Muscat, this is an additional step to enhance its leading role in corporate social responsibility. The bank fosters innovation by providing support for Omani youth and helping them develop their skills and implement their innovative ideas eventually turning them into projects that will benefit the community.