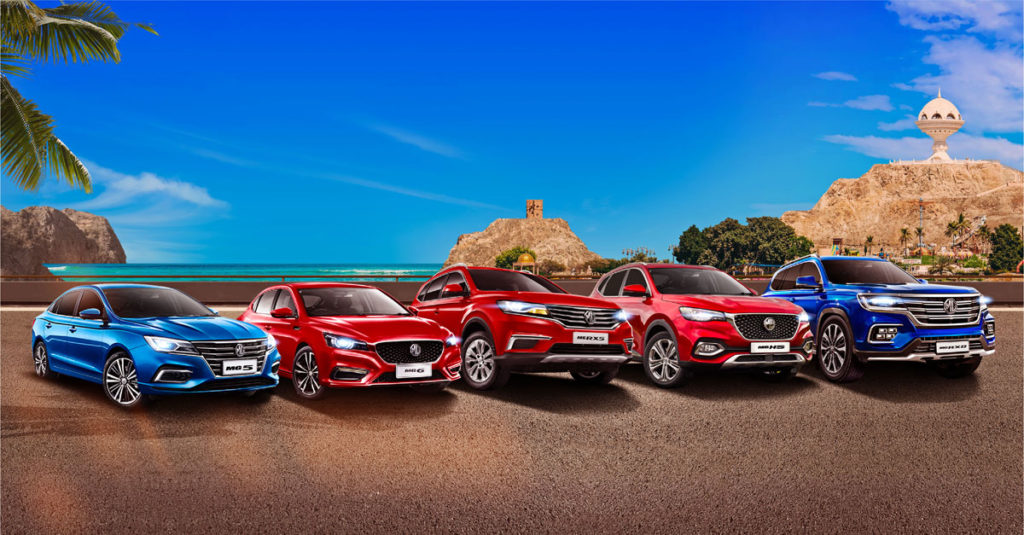 MUSCAT – Due to popular demand, the MG Summer Fiesta offer has been extended with more number of leading MG vehicles now being offered with unbelievable EMIs.

Till September 30, 2021, the very popular MG 5 sedan can be purchased with EMI of only OMR 62 and the delightful MG 6 is available with the starting EMI of OMR 102 only. In the SUV category, the MG RX5, MG HS and MG RX8 can be bought with reasonable EMIs of OMR 102, OMR 130 and OMR 155 respectively. This is indeed a great opportunity for the car lovers to own and enjoy the superior performances, state-of-art features and the Do More experiences offered by the British born MG brand, that too at such competitive prices.

A senior spokesperson of MHD ACERE – the sole distributors of the MG Motor vehicles in Oman – opines: "The MG customers lapped up the MG Summer Fiesta reasonable EMI options on some of our bestseller models. Each model has its own set of strengths and embodies the Do More spirit of the brand. In this season, we have added the MG 6 and MG RX5, to serve some more options to the MG clients. All the MG cars are well-equipped with great safety features and excel in providing a fully engaging motoring experience to all kinds of customers. Moreover, all these cars come with best-in-region manufacturer warranty of six years or 200,000km".

A very popular sedan in Oman, the MG 5 is lively, capable, stylish and everyone's favorite. With the three trim levels – STD, COM, and DEL, it offers amazing performance and its state-of-art features include: Interactive Technology, 5-Star CNAP Safety, 1.5L CVT and a Dual Cooling Cycle Engine and 29 storage spaces and 512 L super trunk space. Whether for work or for pleasure, you can be confident that the vehicle is always looking to do more to excite.

Another star sedan is the MG 6. This vehicle is a driver's delight and comes in three trim levels. It is powered by a 1.5L turbo-charged engine that guarantees lively, energetic and dynamic performance. It boasts of a good-looking exterior and a stylish comfortable interior. Its other strong points include its C-NCAP 5 Star safety rating and its stability control system for complete peace of mind.
In the SUV category, the MG HS offers a thrilling driving experience and a sense of adventure, thanks to its X-Motion design concept. This vehicle is reliable and fun to drive and boasts of a 2.0L High Efficiency Turbo Engine, Best in Class Panoramic Sunroof, 5-star EURO NCAP Ratings and Super Sport and Eco Driving Modes for different experiences.

The ultimate SUV from MG Motor – the MG RX5 – makes every journey a memorable one. Versatile, capable, sporty and fun, the MG RX5 perfectly encapsulates the Do More ethos of the brand and offers sporty yet elegant design including violin-style tail lights and an 8 inch touchscreen console. It comes with a panoramic sunroof and spacious interiors with up to 1,639 L storage space. It is also available with the choice of Red, Blue, Black, White and Silver finishes. Another class-leading SUV is the MG RX8. One can enjoy bold performance, luxurious comfort and utmost safety in the seven-seat SUV. Built to be noticed, this vehicle provides incredible style and power-packed on and off road experience. Its other strengths include innovative torque on demand system, Net Blue Technology 2.0 litre Turbo Engine, Wireless Phone Charging and Smartphone Connectivity with Apple CarPlay and Android Auto.
MG Motor showrooms in Oman are located in Wattayah, Azaiba, Al Manuma, Bidaya, Sohar, Nizwa, Salalah, Sur, Ibra and Ibri. For more information, visit your nearest MG Motor showroom or call 71557334. To book a test drive and to purchase a car online, visit https://mg-om.com/.