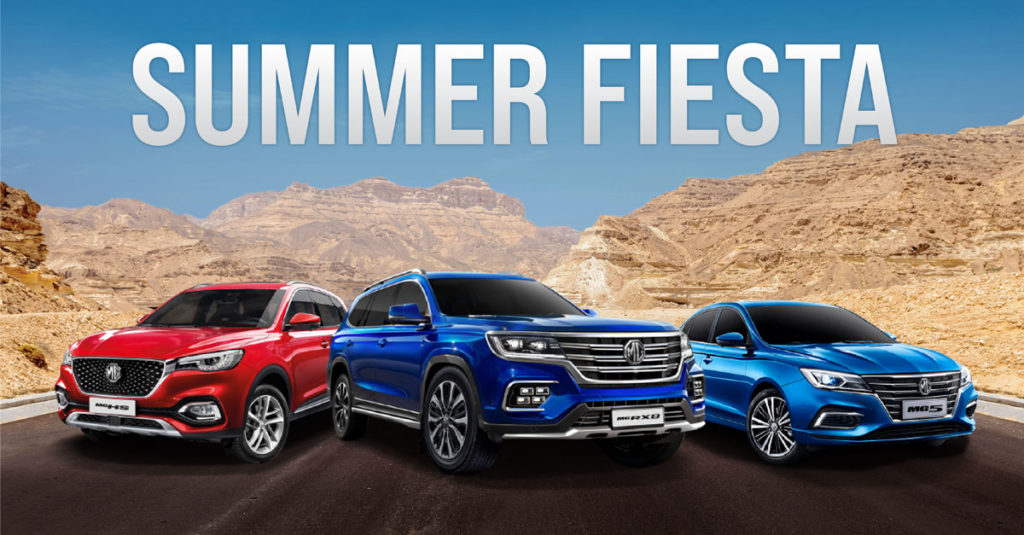 MUSCAT – The British-born MG Motor has come up with irresistibly low EMI options on some of its leading models.
Until end of August, MG Motor Oman customers can own the lively and capable MG5 sedan at starting EMI of OMR 62 only. If they are looking at SUV options, the dynamic and reliable MG HS is available for EMI of OMR 130 and the bold seven-seater MG RX8 can be owned for OMR 155 only. With such competitive prices, the car aficionados can look forward to enjoying class-leading performances, top in line features and the Do More experiences offered by the vehicles of this historic brand.

A senior spokesperson of MHD – the exclusive distributors of the MG Motor vehicles in Oman – opines: "We are thrilled to be offering some of our leading models at such a price range. MG5, MG HS and MG RX8 are stylish, exceptionally well-equipped and great value cars. They are equipped with 5-star safety features and finest automotive technology available. Our endeavor is to bring the best of products and services to our customers and our customers also look forward to being a part of the MG family".

Adventure, lively and capable – the MG 5 is one of the most exciting sedans around. Whether for work or for pleasure, you can be confident that the vehicle is always looking to do more to excite, with the three trim levels – STD, COM, and DEL for superior performance. Embracing the design concept of X-Motion, the dynamic MG HS is reliable and fun to drive, with some of the best technology providing a fully engaging motoring experience and a sense of adventure. It is equipped with 2.0L high efficiency Turbo Engine, best in class panoramic sunroof, 5-star EURO NCAP safety and Super Sport and Eco driving modes. The seven-seater MG RX8 is a bold and capable SUV built to be noticed. The vehicle provides incredible style with off-road capability and luxurious comfort. All these cars come with best-in-region manufacturer warranty of six years or 200,000km.

MG is a British-born automotive brand established in 1924, known for its historic models, awards and achievements throughout the past 97 years. MG was founded by William Morris and Cecil Kimbers and has one of the oldest car club in the automotive industry. Best known for its two-seat open sports cars, MG also produced saloons and coupes. Since its acquisition of MG, SAIC MOTOR, as a Global Top 500 company, has opened a new chapter for this British icon. MG is at the forefront of the introduction of innovative technologies and new energy vehicles for car buyers. MG Motor showrooms in Oman are located in Wattayah, Azaiba, Al Manuma, Bidaya, Sohar, Nizwa, Salalah, Sur, Ibra and Ibri.

For more information, to book a test drive and to purchase a car online, visit https://mg-om.com/.