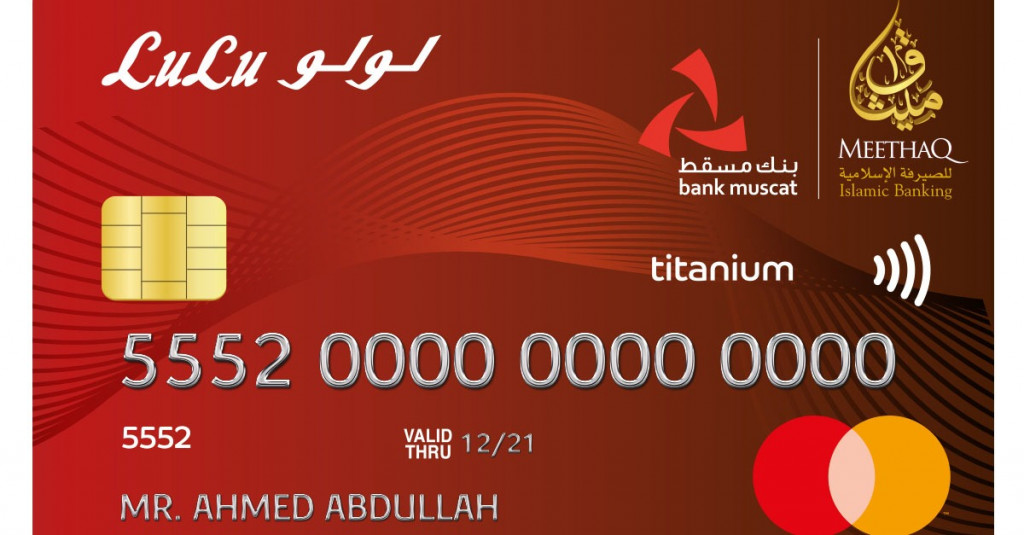 MUSCAT –Meethaq the Islamic banking from Bank Muscat has announced the launch of the first Shari'a-compliant co-branded cashback credit card in Oman. The new credit card is launched in association with Lulu Hypermarket, to offer a number of exclusive benefits such as loyalty points/cashback, special discounts and flexible payment options. Cardholders will be eligible to earn up to 2 percent cashback on their transactions, which can then be redeemed when buying products from Lulu hypermarkets across Oman.
Meethaq has enabled various options to make secure payments worldwide and is a preferred electronic payment services provider in Oman's Islamic banking sector. Offering the best deals and rewards, Meethaq credit cards are a big attraction with customers, providing them with the convenience and flexibility in making day-to-day transactions at shopping malls, restaurants or at international destinations. The bank encourages the use of credit cards, which allows individuals to spend in a disciplined manner and keep track of all their transactions through electronic monthly statements.
Meethaq Credit Cards also come with an array of features and benefits, which include wide acceptance, contactless payments, 24/7 customer service, OTP service for online transactions SMS alerts for transactions and up to 52 days of payment grace period. In addition, Meethaq offers a range of credit cards with different features and benefits suitable for the needs of its various personal banking customer segments. These include the Meethaq-Lulu co-branded credit card, Hafawa Visa Signature credit card, the Titanium MasterCard credit card and the Standard MasterCard credit card. All Meethaq credit cards are based on the concept of Ujrah without any interest charges as per Shari'a rules and principles.
For more details about Meethaq Credit Cards, please go to https://www.meethaq.om/en/meethaq-cards/Pages/cards-new-landing-page.aspx or call 24656666.