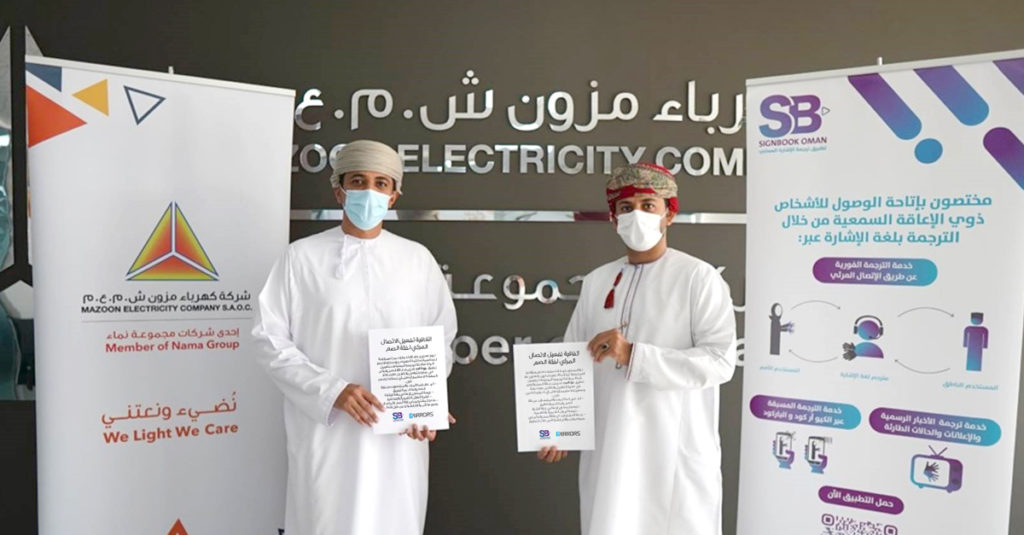 Bidbid: With an intention to bridge the disability divide through digital technologies, Mazoon Electricity Company, the leading electricity provider in Oman, has collaborated with Hayat Information Technology Company, a company that has developed a specialized app SignBook for the benefit of hearing and speech impaired customers. 
The SignBook app will facilitate direct communication between Mazoon Electricity and its customers with hearing and speech disabilities through experts in sign language translation. The customised mobile app is available for download on both iOS and Android platforms.
This collaboration aims to augment the experience of the customers with hearing and speech problems and assist them with their electricity based service needs. It also intends to empower persons with disabilities by ensuring inclusiveness and equality.
Mr. Abdullah Said Al Kindi, Acting Chief Officer for supply operations in Mazoon Electricity, said, "We want to promote equal access to our services among all our customers. As per the National Centre for Statistics and Information figures of the 14,380 hearing and speech impaired in Oman approx. 40 per cent lives in the governorates where Mazoon Electricity operates. We are confident that they will benefit immensely from the SignBook app. The app was developed through a rigorous process of research and development and we commend the efforts of the team from Hayat Information Technology who developed the app."
He added, "The partnership is a decisive step towards bringing the rewards of digitisation to help the hearing and speech impaired people live a better life. We are happy to have taken digitisation process to the next level by integrating technologies into our day-to-day operations. We can now receive inquiries from hearing and speech impaired category through the SignBook app."
Hayat Information Technology Company is a company that specialises in creating digital solutions for people with hearing disability. The company operates from the SAS Centre for Entrepreneurship by The Ministry of Transport, Communications and Information Technology. Its SignBook app offers simultaneous interpretation to sign language by visual calls. In addition to sign language interpretation, it also offers pre translation of content to sign language through QR code and barcode to interpret paper or digital or audio material. Packed with easy-to-understand signs, the easy-to-navigate app aims to provide greater convenience for hearing and speech impaired people who wish to operate independently.
Mazoon Electricity seeks to provide safe, reliable and sustainable electricity to all its customers in the various governorates of the Sultanate it operates in. Since the hearing and speech impaired category is a segment of their customers, the company ensures that all its written materials are translated audio-to-sign language. While receiving inquiries from people with hearing and speech disabilities, it facilitates communication with them through the company's employees in all its branches around the Sultanate.
About Mazoon Electricity Company
​​​​​​​​​​​​​​​​​​​​Mazoon Electricity Company SAOC (MZEC) is a closed Omani joint stock company registered under the Commercial Companies Law of Oman. The company is primarily undertaking regulated distribution and supply of electricity in Al Dakhiliya, South Al Sharqiya, North Al Sharqiya, South Batinah governorates and Suwaiq in North Batinah governorate under a license issued by the Authority of Public Services Regulation, Oman (Previously known as Authority Electricity Regulation – AER). The establishment and operations of the company are governed by the provisions of the Law for Regulation and Privatisation of the Electricity and Related Water Sector (the Sector Law) promulgated by the Royal Decree 78/2004.
For press enquiries, please contact:
Joanne Desouza
Account Manager @Prime Advertising
Telephone: +968 24705270
Email: [email protected]