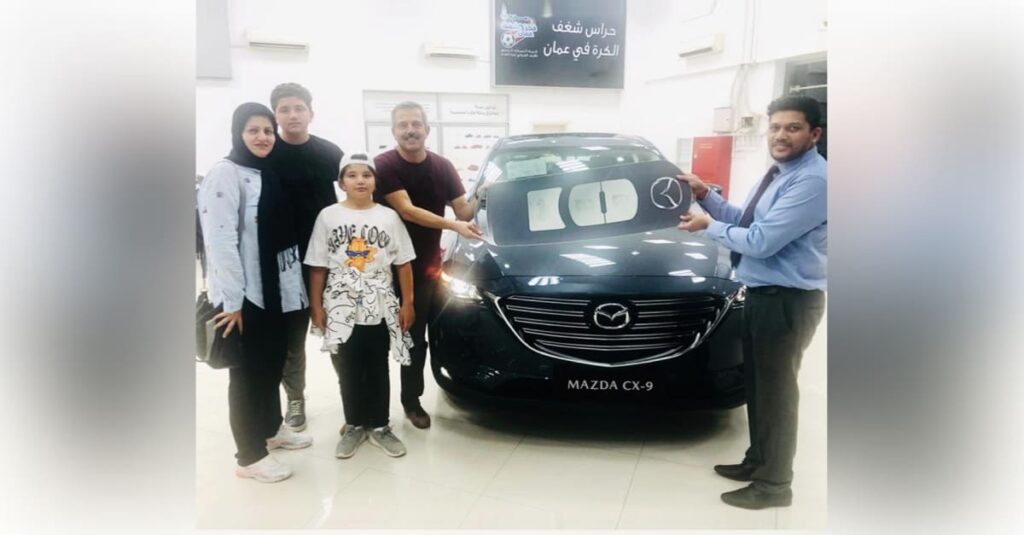 MUSCAT – Dr Mahdi Rouhi Athar, a professor at the College of Applied Sciences, purchased the Mazda CX-9 (2.5L Turbocharged) from the Salalah showroom recently. The Mazda CX-9, as one of the market's sleekest, sportiest, and most stylish 7-seater SUVs, provides the ultimate satisfying driving experience.
Dr Mahdi's wife who drives the car to speaks out her experience so far. "From the sophisticated grey colour to the exceptional performance, I have found everything more than just satisfying. I am falling more and more in love with Mazda CX-9 with each smooth drive I make with it. I showed our latest purchase to our friends and family and they also liked and praised the car. Also, I feel like the price of the Mazda CX-9 is fair when one experiences the premium features of the car. I recommend taking a test drive if one wants to check out the car" testifies Mrs. Mahdi
Equipped with a 2.5L turbocharged engine, Mazda CX-9 accelerates to 60 mph in approximately 7.1 seconds providing a thrust of power whenever needed while Mazda's well-managed suspension expertly balances a comfortable, refined ride with exceptional body control in corners. Following Mazda's tradition of making responsive steering, Mazda CX-9 adds a premium interior to it so that the driver experiences luxurious comfort alongside a smooth drive. Mazda CX-9 embodies the Kodo Soul of Movement expression of Mazda's creative design philosophy. The titanium gray metallic front grills and alloy wheels with a brilliant silver finish make Mazda CX-9 the ultimate head-turner.
The Mahdi family also commented on their experience with TAC showroom staff, stating "Overall it was a pleasant experience at the TAC showroom as the staff showed me around, listened to my requirements, and suggested models according to my needs. So yes, I am happy"

In Oman, Towell Auto Centre (TAC) is recognised as a trusted name in customer service and a pioneer in the automobile business since 1972. A group company of the W J Towell Group, TAC takes off from the principle of its parent company. It ensures the easy availability of high-quality motor products coupled with the highest standard of service to its esteemed customers.
Mazda has brought quality to the roads of Oman, and TAC has made owning a Mazda an absolute joy, thanks to their excellent after-sales service, availability of genuine parts for all Mazda models, their efficient staff, and innovative solutions for a better customer experience.
To find out more about Towell Auto Centre's showrooms and servicing centers, you can log on to https://mazdaoman.com/en, or walk into any one of Towell Auto Centre's Mazda showrooms situated across the Sultanate of Oman. You can also download the revamped Mazda Oman mobile app to get easy access to everything related to Mazda in Oman.