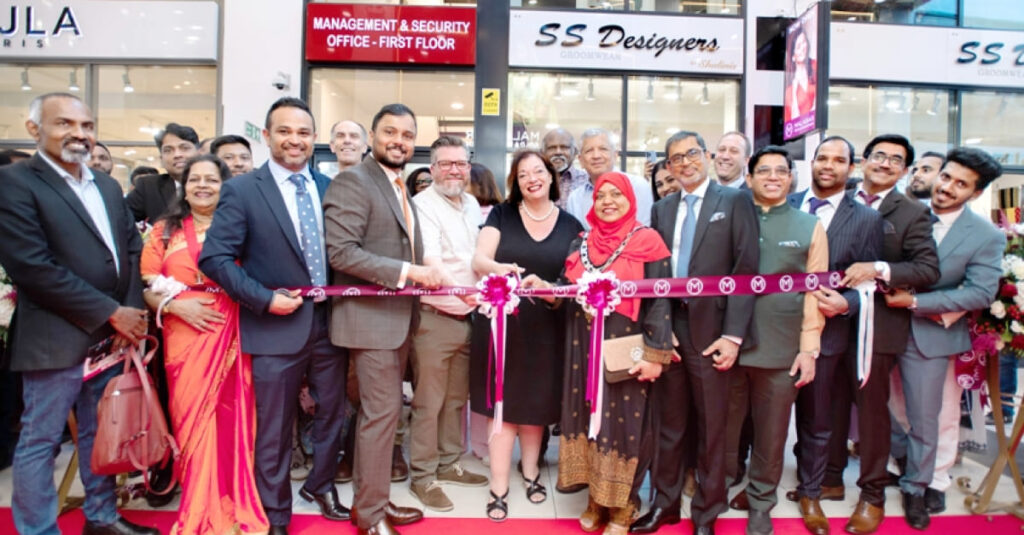 LONDON – Malabar Gold & Diamonds has launched their new showroom in the UK in London recently. This marks the global jewellery brand's expansion into its 11th country of operation and its first foray into the European continent. Malabar Gold & Diamonds currently has an extensive retail presence of 320 showrooms in India, the UAE, the KSA, Qatar, Oman, Kuwait, Bahrain, Malaysia, Singapore, the USA & the UK.

The inauguration of the new showroom was conducted by Lyn Brown, Member of Parliament for West Ham and Shadow Minister for Foreign, Commonwealth and Development affairs, in the presence of Abdul Salam K P, Vice Chairman of Malabar Group, Shamlal Ahamed, International Operations Managing Director of Malabar Gold & Diamonds, Faisal A K, Head of Manufacturing at Malabar Gold & Diamonds, other senior Malabar Gold & Diamonds management team members, customers and well-wishers.

"We are immensely proud to launch our inaugural showroom in Europe, in London. What began as a single jewellery showroom in 1993 has now grown into an expansive global enterprise spanning 11 countries.  Our dedication to delivering an exceptional jewellery shopping experience, encompassing top-quality products and exemplary service, has been the driving force behind our ascent as the premier Indian international jewelry retailer. As we mark the 30th anniversary of Malabar Gold & Diamonds, we are one step closer to our dream of being crowned as the world's largest jewellery retailer. We express heartfelt appreciation to our customers, shareholders, team members, and associates for their invaluable support throughout the years, as they have been an integral part of our journey.", commented M.P Ahammed, Chairman of Malabar Group.

The showroom in London, which is in the East shopping centre on Green Street, will house a wide collection of gold, diamond and precious gem jewellery in addition to exclusive brands and collections curated by Malabar Gold & Diamonds from over 15 countries. The new store will also showcase an extensive collection of bridal jewelry, alongside a wide range of options for occasional wear, daily wear & office wear.

"The new showroom in London not only marks a significant milestone for Malabar Gold & Diamonds but also carries immense importance of being the cornerstone for our growth aspirations in the region and play a pivotal role in shaping our future endeavors and fostering growth throughout the European continent. Over the years, we have catered to the needs of customers residing in the UK and Europe through our diverse array of stores located in India and the Middle East. The persistent demand from our customers for a physical presence in Europe has led us to establish our presence in the region as a priority. In addition to crafting a unique experience for jewellery lovers in London, we also aim to leverage our experience of adorning over 10 million brides to redefine and make bridal jewellery shopping more accessible and convenient in Europe.", commented Shamlal Ahamed, Managing Director – International Operations, Malabar Gold & Diamonds.

"Upholding the motto of 'Make in India; Market to the world', Malabar Gold & Diamonds has been instrumental in the proliferation of Indian jewellery at the global stage; crafting, promoting, and selling jewellery that is an intersection of Indian art, heritage, culture and tradition to a global audience. Our expansion into the United Kingdom signifies a significant step in this direction. The ambitious and exciting plans that we have laid out for the future include strengthening our retail presence in existing markets, as well as expansion into new markets such as Australia, Canada, South Africa, Egypt, Bangladesh, Turkey and New Zealand,", commented Abdul Salam K.P, Vice-Chairman of Malabar Group.