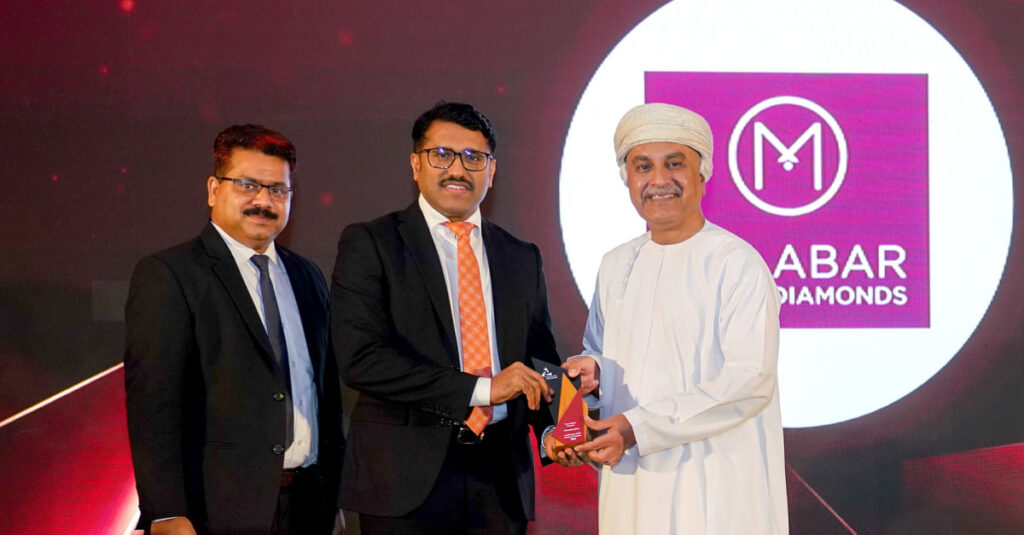 MUSCAT – Malabar Gold & Diamonds received Bank Muscat Award for the sixth consecutive for the category 'Jewellery for the year 2022'. The company has received Bank Muscat Award in the year 2015, 2016, 2017, 2018 & 2021 as well.
Najeeb K, Regional Head – Malabar Gold & Diamonds, received the award from Sheikh Waleed Al Hashar, Chief Executive Officer- Bank Muscat in the presence of Udesh P T, Branch Manager -Malabar Gold & Diamonds and other officials from Bank Muscat during a ceremony held on 20th June at the Kempinski Hotel.
Bank Muscat hosts the event to honor, recognise and celebrate the success of their top merchants.

"We are extremely happy to receive the 'Bank Muscat Award' for the 6th time in a row. At Malabar Gold & Diamonds, we have prioritized exquisitely crafted jewellery and unparalleled service to provide our customers with an immersive and enjoyable jewellery shopping experience. This award is a humble recognition from our loyal customers. We dedicate this inspiring triumph to our millions of satisfied customers, team members and investors, for their unwavering and continued support over the years", said Mr. Najeeb K – Regional Head – Malabar Gold & Diamonds, speaking on the occasion.