Muscat, May 6, 2020: To support the Ministry of Health in its efforts to combat the Novel Corona virus (COVID-19) pandemic, Lulu Group International has announced a donation of OMR 100,000 to the Ministry's dedicated account.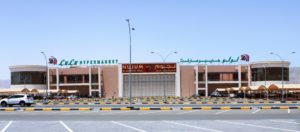 Highlighting the importance of this contribution, a spokesperson for Lulu Hypermarkets said, "This step is in line with our comprehensive plan to support the government's endeavors and to enhance the participation of the private sector. Ever since the onset of the pandemic, Lulu Group has taken several steps to contribute to mitigating the impact of the virus on the economy and society.
"We would also like to reiterate our appreciation to all government entities and healthcare workers, for their relentless pursuit in keeping the citizens and residents of Oman, safe and healthy. We also ensure to follow the measures and guidelines set by the Supreme Committee for Dealing with COVID-19 and the Ministry, to maintain the highest safety standards for Lulu hypermarket customers and employees. Our donation today marks another step in our social responsibility commitment, and we believe it will be beneficial for all frontline healthcare workers in their mission towards battling COVID-19," the spokesperson added.
Also read:
Government of India to operate two special flights to India