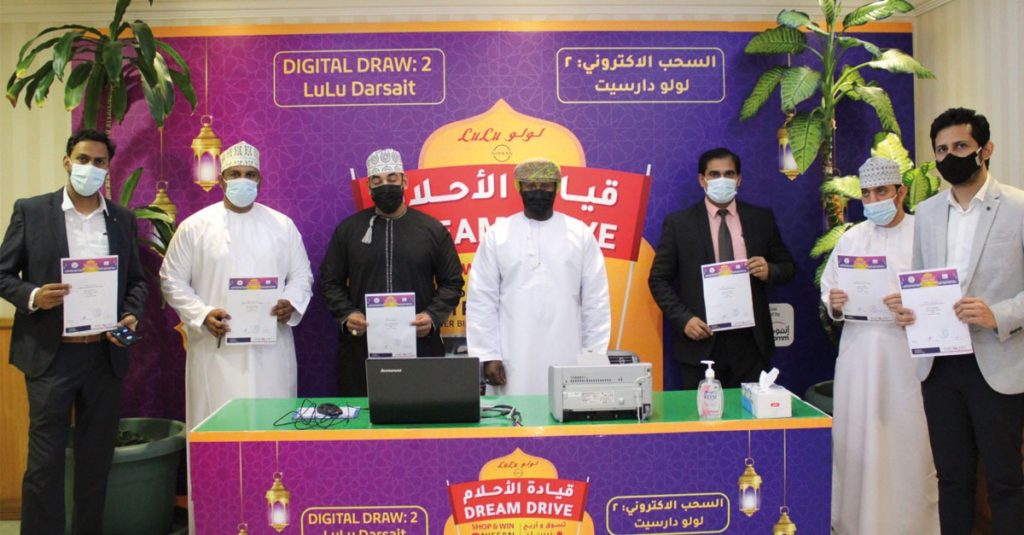 MUSCAT – Lulu Oman announced the lucky draw winners of its second Dream Drive 2021 promotion draw. The winners were picked through the eRaffle draw held at Lulu Hypermarket, Darsait, recently.

Like the previous years, the registration and draws are completely digital and the winners are selected through the eRaffle Winner Management System under the supervision of the officials from the Ministry of Commerce. Lulu's initiative to go digital demonstrates its social responsibility towards the community and the environment.

To be part of this promotion, customers need to just purchase products worth RO10 at any of the Lulu outlets. With every single receipt of RO10, customers become eligible to be part of lucky draws to win a brand new Nissan Patrol 4WD and a range of attractive products from Ikon. The Ikon gifts include 55" Smart TVs, refrigerators, cooking ranges, washing machines, and freezers. The raffle coupons for valid claims are sent by email and SMS within 48 working hours.

Muzna Al Balushi was the lucky winner of the second Nissan Patrol 4WD. In the current draw, five other winners also took home amazing gifts from Ikon. Shawqi Kalaf won the Ikon 55" Smart TV; Animole Thomas won the Ikon Double Door Refrigerator; Joji Varghese won the Ikon Cooking Range; Anvarsha Sulaiman took home the Ikon Washing Machine, and Sunil Kumar Rajan Kurup won the Ikon Freezer.

Commenting on the campaign, Shabeer K.A., Regional Director – Oman, remarked, "I congratulate all the winners of the second draw of our Dream Drive Promotion. It's really heartening to see the warm response to the promotion, despite the challenging environment. The Dream Drive promotion still continues to be our customers' favorite and is a big draw. Every year, we organize this promotion during Ramadan to offer customers a more rewarding experience while shopping at Lulu. We hope our shoppers make use of all the offers and deals available on Ramadan essentials too," he added.

All Lulu malls are designed and tailored to offer a completely satisfying experience to attract hordes of visitors every day. With about 208 stores globally, Lulu is certainly the most preferred shopping destination for the multi-ethnic communities of the Sultanate.