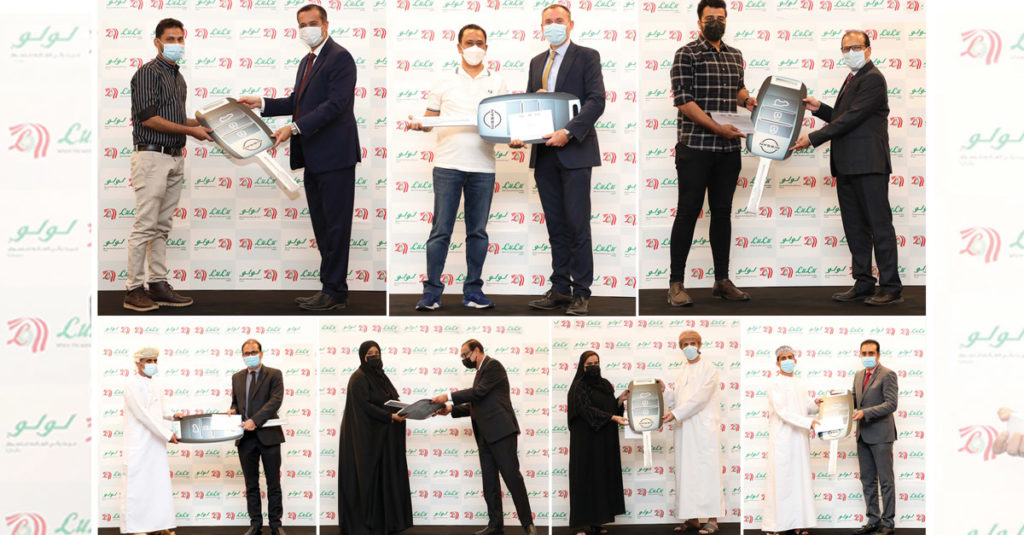 MUSCAT – With the successful conclusion of its annual Dream Drive mega promotion, Lulu Oman handed over the keys of Nissan Patrol 4WDs to 8 lucky winners. The seventh and eighth draws marked the end of this year's mega promotion, which was spread over two months from 21st of March until the 19th of May 2021 coinciding with Ramadan and Eid.

Officials representing Lulu Group handed over the keys to the 8 winners who drove home brand new Nissan Patrol 4WDs. The eight winners were Mohammed Shareef, Muzna Al Balushi, Jasem Ghaedi,  Manoor Al Riyami, Abdul Hakeem Juma Abdullah Al Junabi, Mohammed Hammed, Khalid Al Hathmi and Arun Sinha.

Apart from the grand prize, many others won an array of gift products from Ikon. The registration and draws were digital and the winners of all the draws were selected through the eRaffle Winner Management System under the supervision of the officials from the Ministry of Commerce.

Commenting on the promotion, Ananth A V, Regional Director of Lulu Hypermarkets Oman, India & Sri Lanka, remarked "We are truly excited to conclude this year's Dream Drive promotion on a very happy note. We would like to congratulate all the winners of this promotion and thank everyone who supported the campaign so far. It is indeed a joy to be part of our customers' proud moments. This promotion is an opportunity to reward our valuable customers and add more excitement to their overall shopping experience during Ramadan. Like all the previous years, Dream Drive promotion had created lots of enthusiasm and interest among customers and has attracted new shoppers too."

Speaking after the event, Shabeer K A, Director – Lulu Hypermarkets, Oman, stated "We organise Dream Drive promotion every year to brighten up our customers' festival season and give them another reason to shop with us. We strongly believe that customers are the core of our business, and all our strategies and initiatives are meant to loudly and boldly announce our commitment towards them. We also ensure that we constantly engage with our shoppers on a regular basis through offers, campaigns and promotions. Each and every customer is special, and it is our pleasure to offer them the best services wherever they are," he added.

With about 210 stores globally, Lulu Group is renowned for constantly striving to cater to the everyday necessities of its shoppers and for contributing to the society in every possible way.