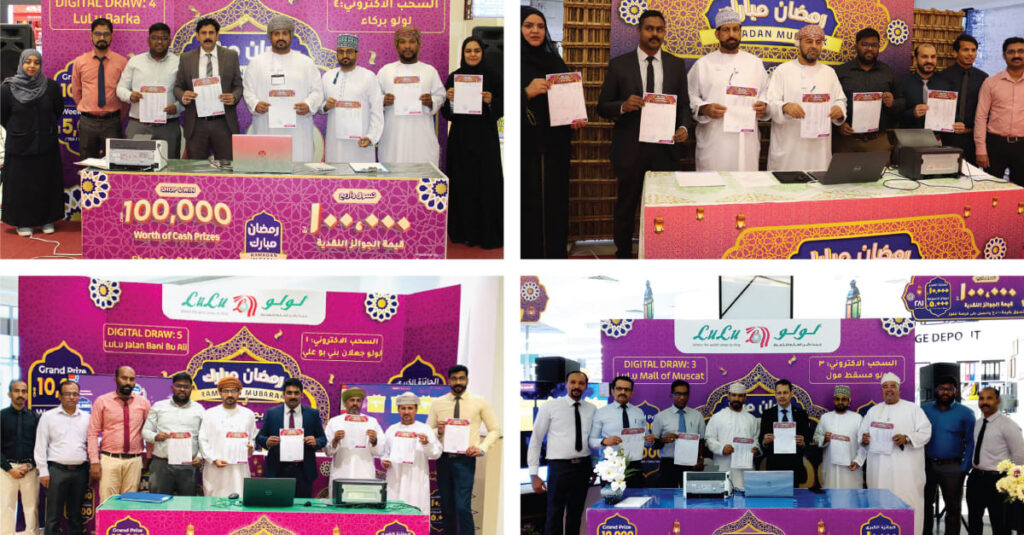 MUSCAT – Lulu Group Oman announced the third, fourth, fifth and sixth set of winners of its Ramadan Shop and Win Promotion. The promotion, which coincides with Ramadan, kicked off on March 1, 2023, and will run till April 29, 2023, at all Lulu stores in Oman.

The winners of the third, fourth fifth and sixth draws were selected through the e-Raffle draw held on 22nd March, 29th March, April 5th and April 12th at the Mall of Muscat, Barka, Jalan Bani Bu Ali and Nizwa stores, respectively.
Assam Ali, Naresh, Abdullah and Salim Abdullah Al Mukbali won cash prizes of RO 5000 each, while 136 other winners took home cash prizes ranging from RO 750 to RO 500, RO.200 to RO.100.

Shabeer K.A., Regional Director – LuLu Hypermarkets Oman, stated "I congratulate all the winners of the third, fourth and fifth draws. As we understand the importance of the holy month for our customers, we strive to provide the best products and services to make the season even more special. We are glad that the Shop and Win promotion has received a very positive response till date. We have 3 more draws, which will be conducted across different Lulu outlets in the next three consequent weeks."

"As part of Ramadan, Lulu has also launched special deals, promotions and offers both for offline and online shoppers. There are also Special Ramadan Kits with all the essential grocery items being offered at the lowest prices. Customers can also check out the daily deals in our online shopping apps, which will make shopping more convenient for them," he added.

Customers who spend just RO 10 at any Lulu stores can participate by registering for the e-Raffle draws. The promotion will give 281 customers the opportunity to win amazing cash prizes. There will be a Grand Prize of OMR 10,000 cash as well as Weekly Cash Prizes of OMR 5000, OMR 750, OMR 500, OMR 200 and OMR 100.
Lulu always provides the best quality products at cheaper rates and also renders online services which help them create a strong customer relationship. All of Lulu's promotions and offers are intended to show their appreciation and gratitude for the continued loyalty and support of their customers.