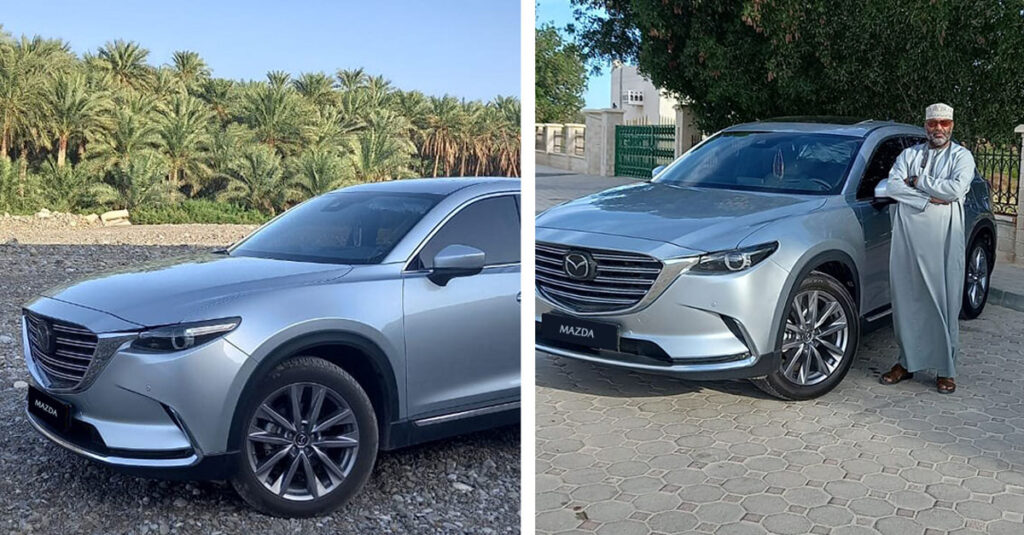 MUSCAT – Basim Mohammed Al Zadjali, who bought the Mazda CX-9 from Towell Auto Centre, Salalah loved the driving experience after his 3 months experience with a Mazda.

"Be ready to turn heads as you take Mazda CX-9 on the road, what I like most about Mazda CX-9 is its style, interior space, safety features, and the affordable price" he said, while expressing his joy driving and getting the spotlight with his new turbocharged Mazda CX-9. Being one of the sleekest, sportiest, and most-stylish 7 seater SUVs in the market, Mazda CX-9 offers a comfortable driving experience worth remembering. Basim also shared that he had always wanted to own a Mazda CX-9 and is using it daily as a family car. Impressed by its bold look and luxurious interior, Basim shared that he also loved the driving experience of CX-9 and that the vehicle has got everything he needs. Also, during the 3 month's driving experience of his dream car, Basim got it serviced at TAC's service centers in Salalah as well as Barka.  According to Basim, he had a great experience at TAC's service centers. He says that TAC sales and service teams were extremely professional and super helpful along the way in each and every process and shared all the details and information he required.

Mazda CX-9 is a great family 7 seater SUV that offers the pleasure of a great drive, Extra space with more wheelbases, Extra Power from the Turbocharged engine, Added safety with Mazda iActivesence safety package and fuel economy without compromising on space or power.

In Oman, Towell Auto Centre (TAC) is recognised as a trusted name in customer service and a pioneer in the automobile business since 1972. A group company of the W J Towell Group, TAC takes off from the principle of its parent company and ensures the easy availability of high-quality motor products coupled with the highest standard of service to its esteemed customers. Mazda has brought quality to the roads of Oman, and TAC has made owning a Mazda an absolute joy, thanks to their excellent after-sales service, availability of genuine parts for all Mazda models, their efficient staff and innovative solutions for a better customer experience.

To find out more about Towell Auto Centre's showrooms and servicing centers, you can log on to https://mazdaoman.com/en, or just walk into any one of Towell Auto Centre's Mazda showrooms situated across the Sultanate of Oman. Now you can also download the revamped Mazda Oman mobile app to get easy access to everything related to Mazda in Oman.