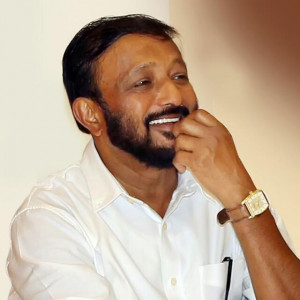 Bellu Kuttappa
Commercial manager, Founder member, Team Coorg Muscat hockey team (OMAN)
You can't learn them from schools, colleges or universities
I am a good learner. And in the more than three decades of my blessed stay in this beautiful country (Oman), I have learnt so much. Everything I am and everything I am not is because of what I have learnt in these years here; I have learnt from people and from situations. But what I have recently learnt from a tiny virus surpasses all that. It encompasses the 35 years of my learning and perhaps doubles it, triples it…
Biggest lesson ever
This Coronavirus pandemic has been our – or if I speak for myself, my biggest lesson ever. Nothing has taught me more than this. It has been a full-fledged university for me that taught me to rethink about life and living.
I have been hurt and pained by what it has done, but the painful truth that it has revealed to me is something I cannot forget and something that has changed my life.
A message wrapped in a virus
It was as though God himself had sent us a very strict and stern lesson through this deadly life-threatening virus. It carried a very strong message to all of us to calm down and to slow down – where are we all rushing and what for? Are we speeding ourselves to our graves? Yes, that is an undeniable fact; all of us have to die, there is no question about it. But, during our stint on this magnificent planet, shouldn't we be doing what God has intended us to do? Shouldn't we know this automatically and shouldn't we attempt to fulfill our mission on this earth?
Need to live to our full potential
Of course, we need to make a living, have a family, take care of them and we need to make money, but at the same time, shouldn't we be working equally towards making the lives of those around us also happier and more secure than it is? Shouldn't we be living to our full potential and shouldn't we be part of this plan to make this world a better place than how we found it?
I am not trying to be philosophical nor have I been bitten by some do-good-to-people bug, but at the same time, the virus woke me up to something very real and true. I realise that although I was dimly aware of the fact that I must live a content life, I was made fully aware now that I have miles to go and promises to keep to myself and my fellow human beings.
Leaving with a heavy heart
I want to quickly divert your attention to the fact – a sad fact that is – that I am leaving my beloved second home. I am leaving Oman after living here for the last 35 years. In a few days time, I will be gone – from this beautiful country and will be back to my home in Coorg, in India. Maybe, I have fulfilled my mission in Oman, but I am leaving with a heavy heart!
A new beginning in Coorg
Although you may call it a 'retirement', I don't believe that is what it is going to be. I don't think that I have been pushed off the shelf and I am longer wanted by anyone or no longer in circulation. I think my life is going to begin from now on – a new life based on the new things I have been taught from this sudden COVID experience that has affected all of us in small or big ways.
Not to take anything for granted
I was, of course, living a full life, or so I thought. I had a good job as a commercial manager of a major mall and my passion for hockey took most of my time. I was at the mall and on the hockey field, giving ample time for both, working and promoting them both in my own way. But, when COVID intruded into my life, I realised that in my rush of life, maybe there were things that I took for granted and perhaps did not give that much of importance. I understand that I have to appreciate other valuable things that we take for granted, like family, friends and living a life of togetherness. It also gave me a huge lesson not to take health – or rather, anything — for granted.
Safety forever
Professionally too, we have learnt to keep the mall as safe an area that it can possibly be by taking all safety and precautionary measures to keep COVID at bay.
Now, the lesson here is not to be cautious and engage in safety measures today and forget it tomorrow! No. The lesson is to continue to engage in safety measures and accept that this virus is going to be with us for a long time to come and the more safety measures that we take, the more safe we, and the rest of the world, will be.
Life's lesson not taught in schools
Even if we manage to wipe COVID out of existence, it doesn't mean that we go back to our old, irresponsible and careless ways. No, this is a lifelong lesson and we must adhere to it all our life and pass it on to future generations too. Not just about safety and living a healthy life, but to engage in a more humane, caring and compassionate manner to all. Maybe this is a subject that is not taught in schools and I gather perhaps that could be the reason why we were taught this lesson by life itself.
Let's work towards that goal
If we have to live a life, let us live it well, but not at the cost of others or their happiness. As we take this pledge to make this world a better place, it should include one major aspect – that is to make the life of all living beings on this earth, all the people as well as all creatures, big or small, to be happy, safe and secure. Slowly, inch by inch, moment by moment, let us work towards that goal.
(Mekerira ('Bellu') Kuttappa or 'Bellu Anna' is an avid hockey enthusiast and one of the founding members of the Team Coorg Muscat hockey team. He was recently honoured by the Oman Hockey Association (OHA).
Talib Al Wahaibi, the OHA chairman, said: "Bellu Kuttappa has been a great supporter of Oman hockey". Talib also credited Kuttappa as "the man behind the success of Team Coorg Muscat".
Others noted that Kuttappa "has been a strong influencing force to keep the hockey tradition alive in Muscat".
Sayyid Ali Sibtain Naqvi, former hockey coach of Oman and with whom Kutappa has organised many hockey matches said not just him, but the whole of the hockey fraternity was going to miss their "beloved Bellu". "Oman hockey itself is going to miss their most loved Bellu," he said.
The B&W would also like to bid adieu to Kuttappa and wish and pray that all of his dreams come true.)