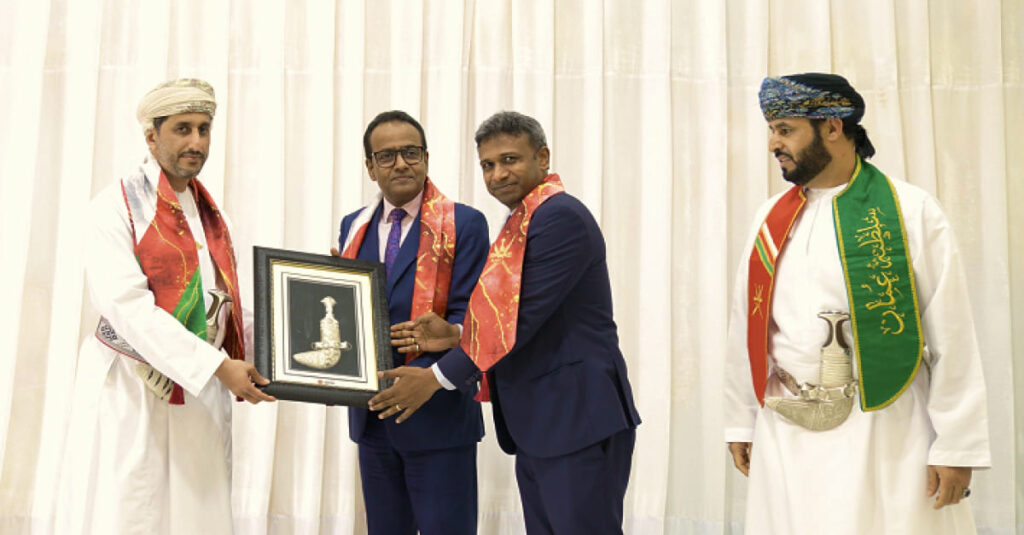 MUSCAT – Jindal Shadeed Iron and Steel LLC (JSIS) held a community-driven National Day celebration as part of its commitment to improving the quality of life in the locality it operates in. Held at JSIS's Al Noor Hall in Sohar, this patriotic event was graced by His Excellency Sheikh Mohammed Sulaiman Al Kindi, Governor of North Al Batinah. Among the attendees were the Vulcan Steel Oman Managing Director, Chief Executive Officer of Jindal Shadeed, high-ranking government officials, community and state representatives from Sohar and surrounding neighborhoods as well as non-profit organizations and charities. The event celebrated Oman's long-standing history, achievements, people, and heritage, with an array of locally sourced and freshly made traditional Omani food and dances. Highlights of the evening included performances by North Batinah Al Noor Association for the Blind, Sohar Special Needs Association, surrounding elementary schools, and other local organizations.
Commenting on the success of the event, Sanjay Anand, Managing Director, Vulcan Steel Oman, stated, "On this auspicious occasion of the 52nd National Day, on behalf of my Jindal Shadeed family, I would like to congratulate His Majesty Sultan Haitham Bin Tariq – may the Almighty protect him – and pray for his long life, good health and happiness. I wish peace, progress and prosperity to this great nation and its people. I also thank His Excellency Sheikh Mohammed Sulaiman Hamood Alkindi, Honorable Governor of North Al Batinah, for being our esteemed guest on this joyous occasion."
On the success of the event, Mr. Harssha Shetty said: "His Majesty's vision, noble work and pro-industry diversification policies have helped us increase the company's in-country value, and heavily contribute to its GDP from non-oil and gas revenue. Jindal Shadeed Iron and Steel is delighted to be interweaved within the Sohar culture; this celebration is a great opportunity for us to extend our gratitude to the Omani government, and our communities, and celebrate JSIS's long-standing and mutually beneficial relationship with Sohar and its people, and the country."
Since its inception in Oman, JSIS's community engagement activities have been key to its growth. The company is fully dedicated to giving back to society through creating and nurturing social and sustainable initiatives. It delves into public matters and issues, establishing direct communication with local and national social leadership. In addition, the company partners with various agencies in line with the Sultanate's sustainability goals. Among its many ventures are Blood Donation Camps, various development projects, health screening programs, Ramadan celebrations, and sports-related initiatives, especially to foster the Omani football scene.
Jindal Shadeed Iron and Steel LLC (JSIS) firmly believes in the necessity of harmony between the local community, and the industry it is a part of. It constantly works to leave a positive impact on the lives of all its stakeholders. The company also supports a wide range of educational, social and health initiatives as well as integrates its core business values into its operations to fulfil and exceed stakeholder expectations.