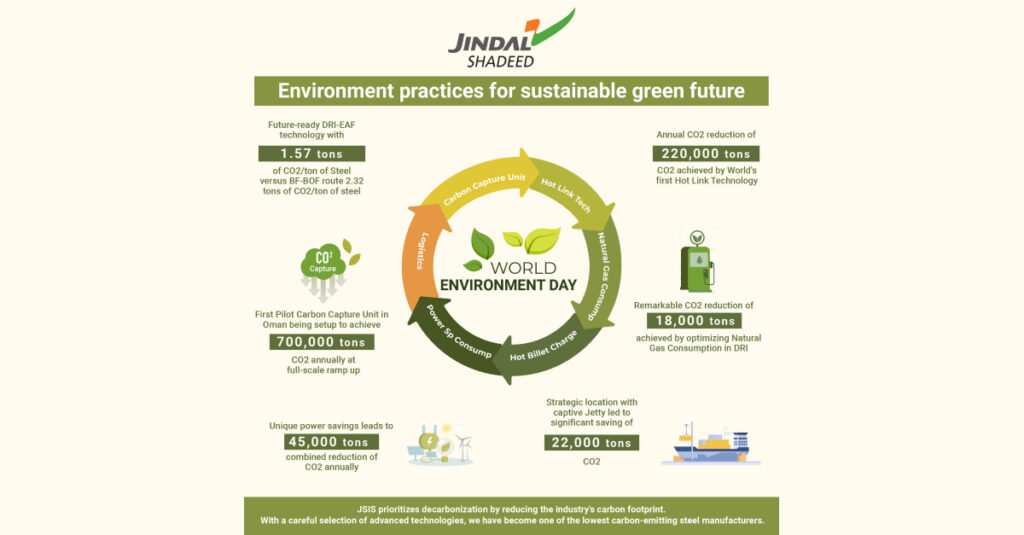 MUSCAT – On the occasion of International Environment Day, Jindal Shadeed Iron and Steel (JSIS), the largest privately-owned integrated steel producer in the GCC region, is proud to share its series of groundbreaking initiatives aimed at significantly reducing its carbon dioxide (CO2) emissions. These initiatives exemplify JSIS's commitment to environmental sustainability and the pursuit of clean and green business practices.

71 percent of global steel production emits an average of 2.32 tons of CO2 for every ton of steel produced due to the Blast Furnace (BF) – Basic Oxygen Furnace (BOF) route. JSIS is among the 7 percent of the world's primary steel producers (excluding scrap and Electric Arc Furnace (EAF) who are using DRI – EAF route (with non-scrap based steel production) which emits 30% lower CO2 emissions as compared to BF-BOF route. By using this steel making process route our emissions are 1.57 ton CO2 / ton of steel, thus saving 1.68 million tons of CO2 per year vis a vis the BF-BOF route on our annual production. DRI is also a future ready technology which lends itself to the transition towards Green Steel by allowing using Green Hydrogen as the reducing agent.

One of the key initiatives is the establishment of a Carbon Capture Unit (CCU) pilot plant. JSIS is collaborating with a renowned US company to set up a pilot plant capable of capturing 7.5 tons of CO2 per day from the flue gas. The successful implementation of the pilot plant will pave the way for a commercial-scale CO2 capture facility. The captured CO2 can be utilised in various ways, such as converting it into valuable resources like CO or Syngas, liquefaction for transport, utilisation in Enhanced Oil Recovery (EOR), or sequestration in rocks beneath the earth's surface. These initiatives are projected to save 700,000 tons of CO2 per year by 2027 at full commercial scale.

JSIS has also revolutionised its production process with the introduction of the world's first Hot Link technology. This cutting-edge gravity feeding system enables the direct transfer of Hot Direct Reduced Iron (HDRI) into the Electric Arc Furnace (EAF), eliminating the need for pneumatic conveying or vessel transport. By optimising this process, JSIS has achieved substantial power savings, resulting in an annual CO2 reduction of 220,000 tons in DRI and Steel Melting Shop (SMS).

Furthermore, JSIS has implemented measures to optimise natural gas (NG) consumption. Through meticulous monitoring and continuous improvement, the specific NG consumption has been well optimized and used efficiently. Various strategies have been employed, such as maximising HDRI production to control consumption, operating the DR Plant continuously to avoid NG losses during heat-up and reforming stages, utilising top gas fuel in the Reformer, and optimising NG quality. As a result, JSIS has already achieved a remarkable CO2 reduction of a further 18,000 tons per year.

JSIS is also dedicated to reducing power consumption throughout its operations. At the DRI Plant, strategies such as minimising HBI production, effective utilisation of equipment, upgrading illumination fixtures, and installing capacitor banks have resulted in substantial power savings. Similarly, at the SMS, increased oxygen injection, and the introduction of an EAF swing door have led to significant energy savings. To enhance energy efficiency, JSIS has also focused on electrode-specific consumption. By employing advanced techniques such as electrode coating and increased water spray cooling, JSIS has significantly reduced electrode consumption. These combined efforts have resulted in an impressive CO2 reduction of 45,000 tons per year.One of the most unique features about JSIS is its strategic location with captive jetty allowing us to have a lean in-land logistics saving 22,000 tons of CO2 per year.
JSIS remains firmly dedicated to achieving its environmental goals and ensuring a sustainable future for generations to come. With a total CO2 saving of 325,000 tons per year and a CO2 intensity of 1.03 tons per ton of crude steel production (scope 1 and 2), JSIS continues to set new standards in the iron and steel industry in the region.
"These initiatives underline our unwavering commitment to environmental responsibility," said Harssha Shetty, CEO of JSIS. "By implementing groundbreaking technologies and adopting sustainable practices, we are proud to lead the way in reducing our carbon footprint within the iron and steel sector. We are committed to creating a cleaner and greener future, aligning with Oman Vision 2040 and the Sultanate's pledge to achieve net-zero emissions by 2050."
Harssha Shetty, CEO of JSIS, emphasised, "As we celebrate International Environment Day, JSIS reaffirms its commitment to a sustainable future. We understand that addressing climate change requires bold actions, and we are proud to be at the forefront of innovative solutions in the steel industry. Through our ongoing efforts to reduce CO2 emissions, we strive to create a positive impact on the environment while maintaining our position as a leading force in the market."
"In alignment with this year's theme of the World Environment Day 'Solutions to Plastic Pollution' we are working towards becoming a Plastic Neutral Organization by the year 2024 through recycling more than 95% of the total plastic waste we generate" he continued.
Harssha added, "At JSIS, we believe in the power of transparent communication and are thrilled to share our remarkable achievements in carbon reduction. Through our concerted efforts and tireless pursuit of innovative solutions, we aim to set new industry benchmarks, demonstrate our commitment to environmental stewardship, and inspire others to join us on the path to environmental sustainability."