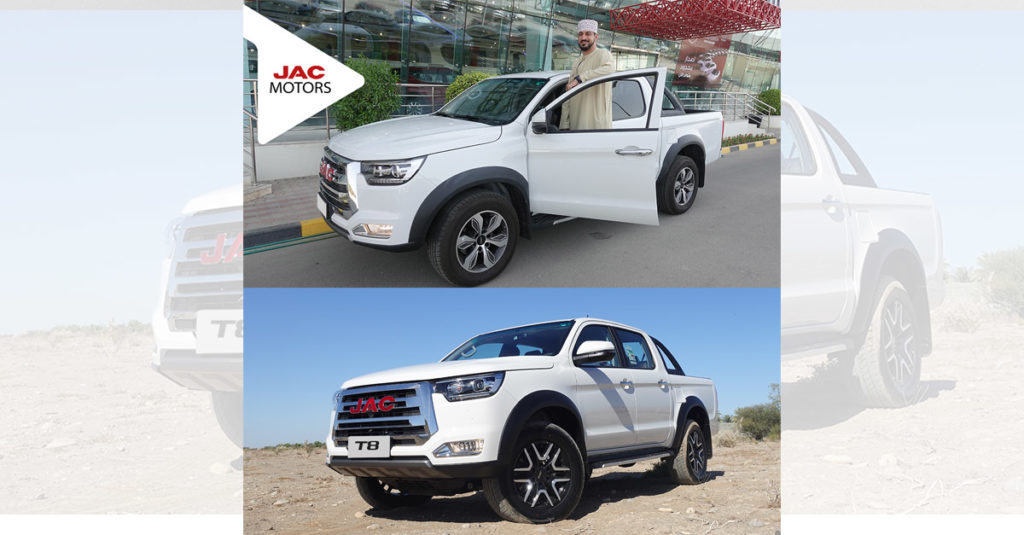 Muscat – Looks are as important as the power, and the JAC T8 pickup is an embodiment of both. A pickup is one of the most sought after vehicles in Oman, especially outside Muscat. With the new trend of BIG Pick-up catching up within Muscat also, the JAC T8 has become one of the favourites in Muscat and outside. It dignifies the bold, aggressive and tough persona of the owner through the same inherent qualities of a pickup.

Fahad Al Zadjali is one such proud owner of the JAC T8 pick-up. He bought the JAC T8 a couple of months ago and has fallen in love with his powerful new pickup in these months. He calls JAC T8 "an absolute king of the road," and nicknames it as "The Uber Stylish and Bold JAC T8". He had a lot of positive things to say about his new ride. "The JAC T8 pickup is excellent in every aspect for my needs and I use it as a second car for my trips to wadis. JAC T8 is practical, yet delivers on performance, is a value for money with ample space for my load. Moreover JAC T8 pickup is perfect and meets all my expectations". The features that I like the most are the sound system, Bluetooth, touch screen and the large space. I also like the manual transmission and the turbo engine responds instantly and is a lot of fun and meets my adventurous personality".
The JAC T8 commands a powerful, turbocharged 2.0Litre engine that generates 182 Hp and 290 nm of torque. A massive grille up front gives it a commanding stance and highlights its bold look. 18-inch alloy wheels decked in 265/60 R18 tires also give it comfort and style.
The JAC T8 has a two toned interior i.e. black and soft brown materials having a mixture of both hard and soft materials specifically on the dash, centre console and on its leather seats. On the front and centre there is a large eight inch infotainment system with a Bluetooth and USB connectivity coupled with a six speaker music system.
For safety and driver assistance there's a rear view monitor with rear parking sensors, traction control for rough surfaces, electronic stability control with Tire Pressure Management System and cruise control. Other prominent features include a multifunction steering wheel and a keyless entry and a push start ignition.
JAC was founded in 1964, but has been a partner with Towell Auto Centre in Oman for over 12 years. The strides JAC has taken over in this short period of time is envious, to say the least. With a promise of #Experiencethenew, JAC Motors has come a long way from building reliable commercial vehicles to having a global presence in 130+ countries to its partnership with the Volkswagen Group as of April 2018. In Oman, JAC Motors has a long-standing partnership with Towell Auto Centre.
JAC Motors is a breath of fresh air, the road less traveled by but the road that is on its way to new horizons with each passing day. With a wide range of vehicles in the pipeline, especially with a joint venture collaboration with the VW group and having said that it started off as a company which only produced commercial trucks onwards to producing MPVs and SUVS worldwide is well worth of praise.