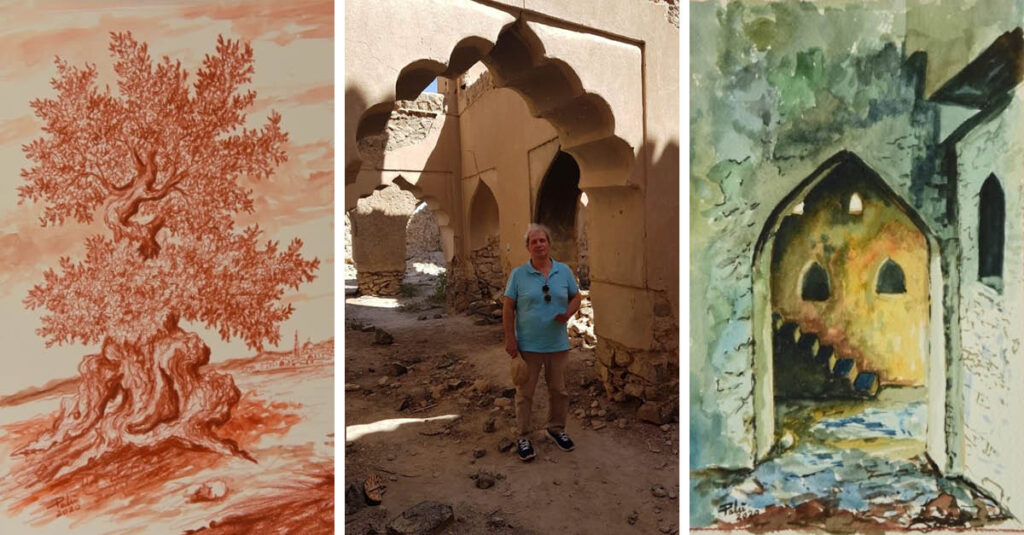 MUSCAT – Bait Al Zubair in partnership with the Embassy of Italy launch the art exhibition "Italian Emotions in Oman "by the Italian artist Pietro Palummieri. Pietro is an artist from Southern Italy from the city of Puglia, he has many participations in art exhibitions worldwide, and has visited Oman recently which opened the door for him to enjoy and explore the beauty of Oman.

The exhibition "Italian Emotions in Oman" for the Italian artist/Pietro Palummieri will continue until Thursday, September 29, 2022 at Bait Al Zubair in Muscat, and visitors can see the exhibition during opening hours from Saturday to Thursday from 9:00 am to 5:00 pm.

Pietro commented: "I have visited many Wilayas and villages in Oman, especially those in the interior region, and was very moved by the building and historic buildings in them. I come from the city of Puglia in South of Italy which is touristic city holding a lot of historic and heritage buildings, I felt the sentiment of being as if in Italy whilst visiting many local Omani cities such as Izki, Al Hamra and Manah, along with the Wilayat of Ibra and many more.

Pietro chose to document his visit through the artistic creations visitors can see throughout the exhibition, as it will hold over 50 art pieces through which the artist showcases the cities and villages he visited in the Sultanate. The paintings range from natural landscapes and historic buildings to other natural scenes such as plants, trees, beaches, and the sea along with numerous sculptures and figurines that the artist created during his stay in Oman.

Pietro Palummieri, artistically known as Palù, is a sculptor and painter of Apulian origin in Italy. He lives in Maruggio, in the province of Taranto, where he captures his primary inspiration from the local territory to create his art pieces. Remembrance, the shapes within nature, the spiritual world criss-cross in Palù's work to give life to an artistic and sensory voyage in the search of a private ambience, an old world which lives off light and the colours of southern Italy. An extremely prolific artist, he uses graphical and pictorial techniques very diverse from one another. Some of these are water-based colours, oil, and red lead pencil tip. For his sculptures he utilises a special type of concrete using terracotta as a starting point.