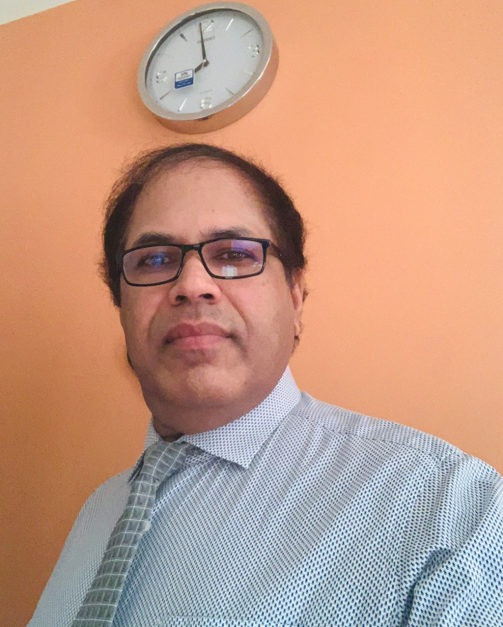 Ramachandran Nair
QHSSE & Compliance Manager (OMAN)
Recently, during the lockdown, when I couldn't go to office, I took the 'office' home! Jokes apart, and although it consumed quite a bit of my time, I did manage to construct a paperboard replica of our company's head office in Muscat.
Battle of the wills
Some people might have thought that the drastic COVID pandemic situation went into my head. Well, it did. It went to my head. But I fought and defeated it there. It doesn't mean that I have defeated it completely (in my head) and I am victorious. I have won over it today. Tomorrow will be another day and another battle of the wills. Let's pray and hope that I win over it again.
COVID puts a break
Personally and professionally, the pandemic has brought in a surreal effect into our lives. Is there anyone it has not touched or changed? Who would have thought that our fast-paced lives would be caught into a life-stopping pandemic jam? Who would have thought that we would have to put a sudden COVID break to our mad rush of life and everything will screech to a halt?
Roll with the blows
But as things went awry, so did our power to rise over a challenge and our ability to march with the times and roll over with the most powerful blows that mankind has received in recent times.
Win some, lose some
Suddenly, as our lives metamorphosed, decelerated and screeched to a halt, we also hit upon new ideas, new thoughts, new plans and certainly new concepts of time management. The last, I would say, is the most rewarding aspect, whether at our home or at the work place, remotely or virtually and the impact of that is beyond expectations. On a personal aspect, the biggest reward was that it brought us more family time. But, at the same time we missed our workplace interactions with our colleagues. Well, you win some and you lose some.
Newfound virtual world
And the other thing was that we moved from real concrete floors to virtual platforms – which become very much a part of our life, especially at work.
Meetings, discussions, chats, phone calls, webinars and all that were part of the office routines worked well virtually and also helped us practice 'social distancing' with ease. And as this progressed, our interactions with the virtual world, colleagues and contacts and even literal strangers brought us interesting aspects to our newfound world.
Social distancing – a reality
The balancing of life and work has received a drastic makeover in the past few months, especially now when two colleagues sitting in opposite cabins and talk to each other virtually make the concept of 'social distancing' a reality and something to be implemented in the future too.
Advantages and disadvantages
But as we rave about the advantages, let us get a taste of the bitter medicine too. Uncertainty still looms, and while at one end it looks like dark and surly clouds and ready to burst, at the other end, it seems misty, blurred and like an unlit path that can lead us anywhere, even to our doom. We really don't know what is going to happen tomorrow, but each day is a learning process and we live in day-to-day tight compartments. Each day has been a learning experience. We now understand the true value of family and friends and we try to recreate those former 'get-togethers' we took for granted virtually. Although we are able to recreate these moments, they are still a poor consolation for the reality we had enjoyed before.
What more to teach?
To me, the virus is powerful and beyond anyone. It is much more powerful than the world's nuclear warheads – and it doesn't destroy concrete buildings, but flesh and blood, human lives and slowly with it, it manages to disintegrate whole structures too. Each day, each moment, the virus makes us think and force us to reflect on living a clean, peaceful and value-laden life. What more does it need to teach?
After effect will remain for decades
And the unspoken truth is: there is no end in sight to this ugly pandemic. And being a true leveler, it affects the rich and the poor, man or woman, small or big and weak and powerful countries. And the painful after effect of it will remain with us for decades.
Health is wealth
Perhaps, at least now, we will focus on the many unhealthy habits we have been accustomed to. The crisis has fully opened our eyes to the unhealthy life we led and how health, without sounding clichéd, is really the true wealth.
Try to get a grip
At the other end, as it gobbled up lives, it also destroyed the roots of our future, uprooting us from our jobs and casting us away to drift alone in an unruly sea of unemployment. We are set in a time when losing our minds, mental and anxiety disorders, despair and depression have become the order of the day and we truly need a strengthening of our minds and we need to make a collective effort at regaining our senses and our sensibilities.
Addressing apprehensions
Our world's economy has taken a severe beating and the saddest part is to see the hard work of years crumbling to dust in front of us. Besides the economic impact, as certain pertinent questions remain unanswered, namely how to tackle health emergencies plus other health-related concerns of common populations, countries across the globe – especially countries that are trailing behind in the objectives of sustainable living — face a huge challenge in trying to address such apprehensions.
Another cause of worry
While the world cannot confirm that it can put a full stop to the entry of similar viruses tomorrow, it all puts a major question mark on our future.
Mental and psychological balancing would be another test and trial for the medical fraternity. The prevailing uncertainty in the lives of the vulnerable lot – both the elderly and the kids — would be another cause for worry.
Businesses in jeopardy
Similarly, as far as businesses go, one wonders about the healthy return of tourism, aviation and transportation sectors? Many countries survive on tourism-related revenues and the recent zero earnings would prove to be a disaster for such economies.
Settle into the new 'normal'
Ideally it is a time for everyone to realise the value of life and how precious it is to fine tune and take care of it. This is a time for everyone to realise how health is important; the value of the immune system and how to comfortably settle into this new 'normal'.
Health emergency – not mere words
Health emergency is not just a set of two words — it has a lot more meaning to it. It requires more power, energy and strength to fight an invisible enemy like the Coronavirus. It is time that everyone realises the value of human feelings and insist on leading a life of peace and harmony, without falling into the traps of religion, caste, untouchability or any kind of sectarian thinking.
Accepting the new realities
The virus has made a difference in the way we live; the way we talk; the way we interact and how we have managed to bring into our lives the realities of isolation, quarantining, all of which have been hitherto unknown experiences. The virus has attacked the very core of our precious life and shaken it to its very roots. But, now is the time to recoup; now is the time for acceptance of the realities and to start our lives all over again with the new lessons that we have learnt.