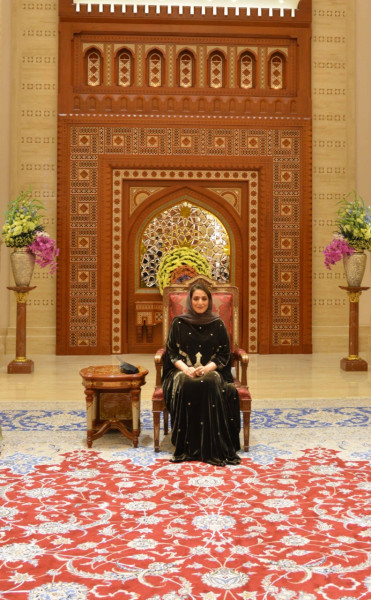 MUSCAT (ONA) — His Majesty Sultan Haitham Bin Tarik today conferred the Order of Royal Commendation on a number of Omani women.
The Honourable Lady, Spouse of His Majesty the Sultan, presented the Royal Orders during a ceremony held at Al Barakah Palace today on the occasion of Omani Women's Day. She congratulated all Omani women on the anniversary, which falls on 17 October every year.
On this occasion, the Honourable Lady, Spouse of His Majesty the Sultan gave a speech reading as follows:
"In the name of Allah, the Most Gracious, the Most Merciful, peace be upon Prophet Mohammed, the last of messengers and his faithful companions.
I am delighted to greet you today on the occasion of Omani Women's Day, the 17th of October, and to address a sincere message of deserved congratulation to the one who entertained the call of Renaissance, hoisted high its banner and still remains a partner in elevating the lofty edifice of Oman…my congratulations to every Omani woman at home or abroad who extended unlimited support and contributed to the prestigious status attained by Oman…my congratulations to every mother, female worker or student who ardently attended to her duty. I appreciate their admirable performance as they bring up the future generations of our country and shoulder their responsibility towards our society, country and nation from their position at the workplace. I would also like to extend my greetings to our counterparts from countries of the world who enjoy decent living on the benign land of Oman.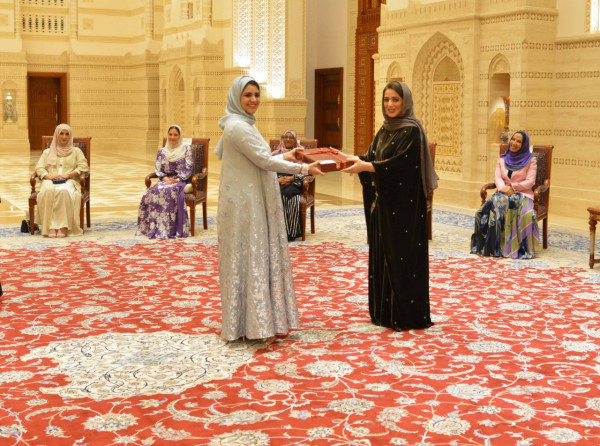 There is no doubt that allocating this occasion to the celebration of Omani Women's Day highlights the achievements of women, spreads awareness about their role in progress and kindles their passionate quest to explore the bright future of this dear homeland. Omani Women's Day came as a generous gesture from the forgiven—by the will of Allah—the late His Majesty Sultan Qaboos Bin Said, who instituted the legacy of empowerment of women in recognition for their leading role and their marvelous achievements, so that it becomes an incentive for further resourcefulness and productivity.
Over the past 50 years of the era of blessed renaissance in Oman, women have had unlimited access to education, training and work. This enabled them to efficiently participate in the national building process while being armed with knowledge, laws and systems of sound governance that guaranteed their rights and secured their status. As a result, the Sultanate has kept pact with other countries of the world in unleashing the power of women as partners in modern development. Omani women took their deserved place in public and private sectors and their historic influence has earned them accolades at home and abroad through proclamations of global women's affairs organisations.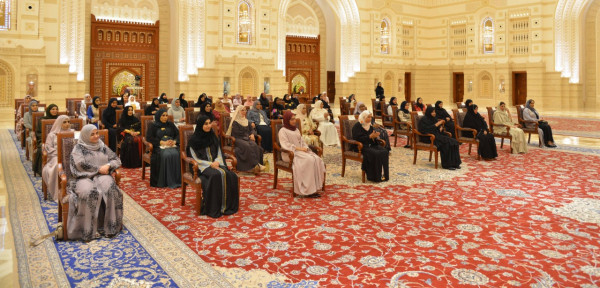 In pursuance of this wise Royal tradition, His Majesty Sultan Haitham Bin Tarik has exhibited keenness on consolidating the principle of partnership between women and men in promoting Omani society and realizing its future aspirations for further progress and prosperity. He showed this keenness by assigning key government posts to a number of best performing Omani women in recognition for their competence in accomplishing missions entrusted to them towards the realization of Oman Vision—May they honour his Royal confidence in them.
Also, from this podium, I salute frontline workers, led by medical staff, for standing the test—as staunchly as Oman's high mountains—in confrontation with coronavirus pandemic which prevails in the Sultanate. We would like to note down our great gratitude to our sisters working in the health sector and other sectors for their noble stance and their earnest efforts as they vigil on patients and constitute a shield of safety for our homeland and people. May the Almighty Allah reward them bountifully for their good deed!
In conclusion, I would like to thank every Omani woman who shouldered the responsibility of promoting this nation that enriches the world, tops celestial strata and fills the cosmos with light. May the Almighty Allah protect our homeland Oman and may He assist its people with His divine success, under the leadership of His Majesty Sultan Haitham Bin Tarik!"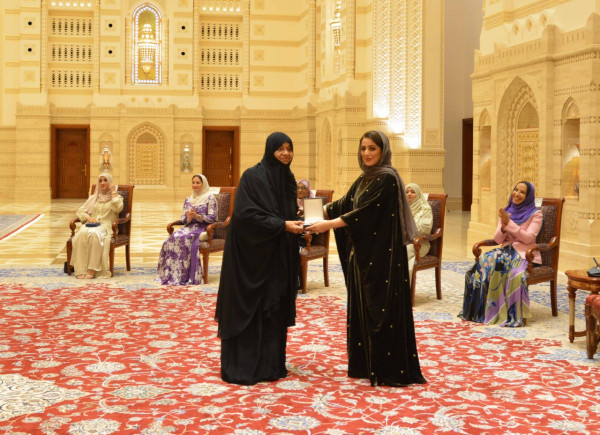 His Majesty the Sultan conferred the Order of Royal Commendation, second class, on Dr. Fatma bint Mohammed al-Ajmi, Under-Secretary of the Ministry of Health for Administrative, Financial and Planning Affairs.
His Majesty also conferred the Order of Royal Commendation, third class, on Aisha bint Omar bin Ahmed al-Habshi, Farida bint Moosa bin Juma al-Balushi, Zahra bint Salim al-Aufi, and Eng. Yusra bint Khalaf bin Sulaiman al-Subhi.
Meanwhile, the Honourable Lady felicitated another set of Omani women who played an effective role promoting the image of perseverant Omani women.
This felicitation reflects the Honourable Lady's appreciation for the tangible achievements made by Omani women locally, regionally and internationally. It reaffirms the continuous attention accorded to women in the Sultanate—as leadership, government and people—and reflects the conviction that women remain partners in the nation building process as planned by the late His Majesty Sultan Qaboos Bin Said, May the Almighty Allah rest him in peace!
The ceremony was attended by top female government officials, members of the State Council and Majlis A'Shura and under-secretaries. As many as 50 Omani women have been honoured on the occasion.