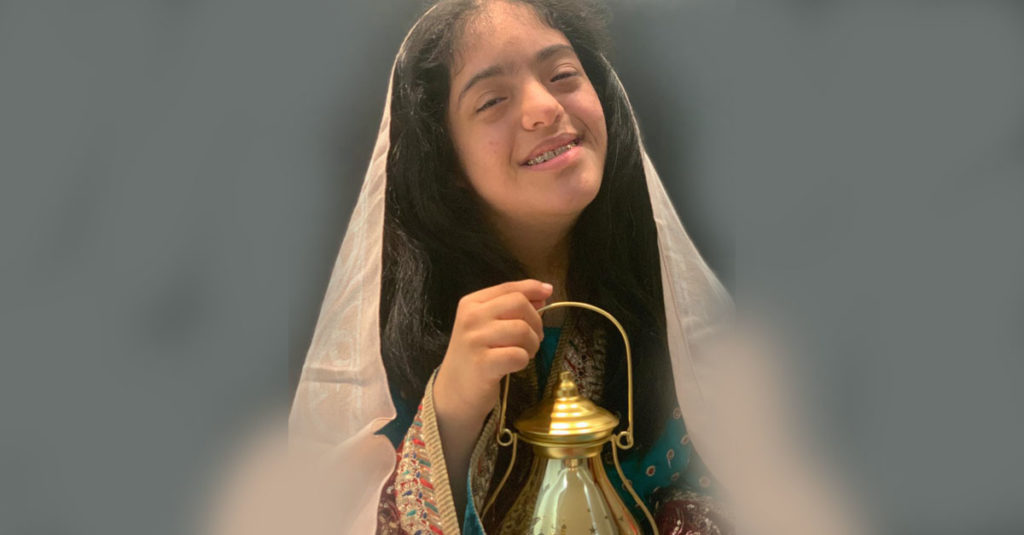 Ruiya Humaid Mohamed Al Habsi (*)

Yesterday I got my palm and the back of my hands decorated with Henna – they have come out stunning! I just love this part of Eid celebrations!

I also love doing the Eid decorations and it is a great feeling when we arrange for the Eid breakfast and prepare the sweets.

I am always super excited about the Eid celebrations, and even if this one, like last time, will be celebrated indoors and only with the immediate family, I am still grateful for being able to experience these wonderful moments. We may not have a family gathering, but in this time, this is best and we are safe. And we thank God that we are safe and also hope and pray to keep everyone safe and away from this pandemic.

Enjoy and be grateful for what you have – Eid Mubarak to each and every one of you! God bless you all!
(*) Ruiya, is very social and creative. She knows Arabic and English. Amongst other things, Ruiya is also a keen roller skater and was elected by the Oman Special Olympics to compete in roller-skating competitions. She competed in the Abu Dhabi Special Olympics (Mena region, March 2018) and won two silver and bronze medals. A year after, in March 2019, she won a silver medal as well as a fourth-place medal.
Ruiya is also active on Instagram
life_of_ruiya
Life of Ruiya
Celebrate Eid – virtually
Eid is just few hours away. But let us celebrate it in the spirit of the times that we live in – let there be brotherhood, togetherness, but virtually. You can do it!
Hear what the Eid guests of Black & White have to say – their zeal is infectious.
Perhaps it is the spirit of Eid – virtually.
Instead of the virus, let us catch it!
This is the true spirit of Eid – to be able to celebrate within yourself. Celebrate within your heart – for that is truly where all celebrations lie.