Neither do you have to practice social distancing from a tree,
nor do you have to sanitise your hands after touching it…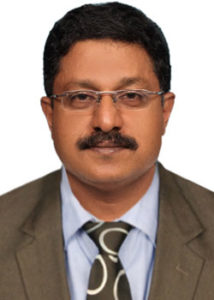 Dr Ronin Mulamoottil Abraham
Dental surgeon, Modern Dental X-Ray Clinic & Orthodontic Centre
Kannur, (INDIA)
Thankfully now the monsoons' have started and the skies have burst open with daily showers, otherwise imagine the scenario if it was peak summer during this lockdown in my hometown in Kannur, Kerala?
What about the plants during lockdown?
During this COVID-19 crisis, we have seen the face of humanity shining in areas where fellow citizens needed help and there are even animal lovers catering to the forlorn and hungry four-legged creatures that we share our town with. But what about our brown and green brethren? Who will take care of them? What about the thousands of small, weak and vulnerable plants lining Kannur's streets? Will they survive this lockdown? Why is no one shedding a tear at the tiny dead sapling or that thin broken branch or that poor uprooted tree?
Just a dentist with a green thumb
I haven't found the answer to that as yet, but my heart beats for them and that is why rain or shine, I have pledged to be there for them and to take up their cause. Right from a very early age, I have been planting saplings, rustling up tree guards and watering these plants and loving and taking care of them in whatever way I can. I am no genius, I am just a dentist who loves trees and plant them wherever possible and want them to grow and provide shade for all and make Kannur a green city.
Join me in my efforts to green Kannur
Just a few days back, I was given a lovely award (*) for my efforts. I am grateful. I am happy to receive these awards, and I have got a few, but I would be happier if more joined in this effort to green this beautiful town of ours. You don't have to move a mountain. You don't have to know rocket science.
All you may need to do is to just get your fingers dirty a bit. Of course, you may have to face some stranger's puzzled stare as you wrestle with a tree guard like how I am doing right now in the pouring rain. Too much of sun, and too much of rain are both plant killers and if we take care of that during these early stages of a plant's growth, they are going to, in turn, take care of us when they grow, when they blossom into shade-giving trees!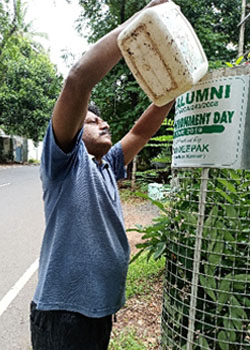 Green itch at an early age
I have had this green itch from a very early age and have been planting trees as a 13/14-year old kid. I picked this habit from my parents — the late Dr Abraham Mathew (BDS) and the late Sissy Abraham — who were plant and tree lovers and used to be actively involved with them.
I have also been an active part of the Green Kannur project (*1) since its inception. And from then on to now, I have a daily schedule that involves planting the saplings; watering and manuring them; checking tree guards and generally caring for them.
During summer, I employ my own method of drip irrigation for the plants, keeping plastic bottles filled with water and hanging them from the tree guard. Once the plants grow, I remove the guards and use them for the next lot. From an early age to now, my dream remains the same: to provide a green cover for Kannur town.
No need to social distance from my plants
Before the rains came, and even during lockdown, I have managed to take care of the saplings. While watering the plants, I make sure that I remove any trash accumulated at the base of the plants. After completing my rounds, I wash my hands thoroughly with soap and water and then use a sanitiser – only because of habit.  I don't think I need to social distance from my plants.
Fathers hug — not count — their children
Many ask me about the number of plants and trees that I have planted. I shrug my shoulders and tell them a father would never count his many children – he would only hug them! I normally plant copperpods, fig, Lashmi taru etc.
Army of defenders
After my morning stint with the plants, I don a different role — that of a dentist and am at my clinic with no thought of anything else except work. But, currently worry lines crease my brow as I know it is not an easy time for my people in Kannur, or for anyone out there in the world.
COVID-19 is worse than a combination of a massive earthquake or a gigantic Tsunami. This silent killer has decimated populations across the world and has disrupted everyone's lives. Even mine in this tiny corner of the globe.
My  daily practice has been affected and as you are aware, a dentist has more chances of getting infected and patients too can get infected by the production of aerosol in confined spaces such as that in a dental clinic or by close contact. But I have kept an army of defenders like hand sanitisers, hand wash plus I regularly disinfect and fumigate the work areas, and I treat the dental instruments with UV and also autoclave them.
Torchbearer in this fight
As a doctor, I do my bit to be a torchbearer in this fight against the Corona virus by spreading awareness to family members, relatives, friends and even strangers on the dangers it pose and the need for strict safety measures to avoid infection.
Become like the trees
The way we exist has changed and so will our future, we will no longer live as we have and safety and hygiene will be of paramount importance from now on. Businesses, education, social life… everything has and will change. And with it we should adopt a resolve to shed the old ways of anger, hatred, hurt causing and mindless battles of ego and give way to the new path where everyone is treated on par, regardless of religion, caste, creed, colour, size, age or sex.
Maybe this COVID-19 has been sent to us as a stern lesson from which we will learn a brand new set of values and became real human beings.
Right now, we will simply become like the trees and let the dead leaves drop!
(*) Sree Narayana College Kannur Alumni Appreciation Award for helping his alma mater plant saplings
 (*1)  Green Kannur, which began in 1995, is an ongoing project, involving used metal tree guards, which are removed as soon as the sapling grows up. It is then reused.
(On the last day of the world – plant a tree!)