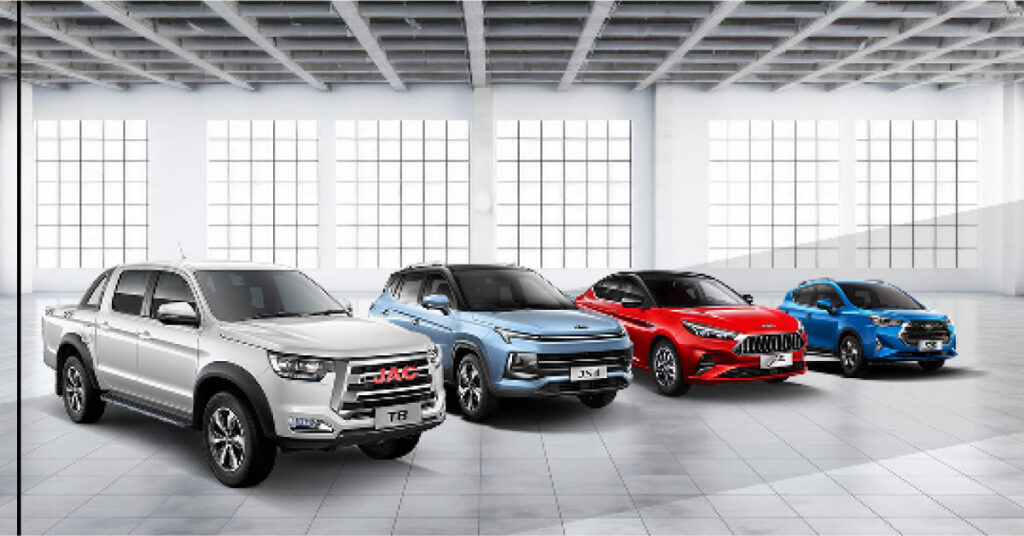 MUSCAT – JAC Oman is known for its impressive lineup of vehicles that combine performance, style, and affordability. Whether you need a compact SUV or a sedan, JAC Oman has the perfect option for you. Let's explore JAC Oman's standout models – the JAC JS4, JAC S3, JAC J7, and JAC T8 – and why they are the best choices for your driving needs.

JAC JS4 – futuristic aesthetic beauty
The JAC JS4 is a compact SUV that packs a punch in terms of both power and functionality. This stylish and versatile vehicle is equipped with a 1.5L turbo engine that delivers an impressive 147 horsepower, ensuring a smooth and exhilarating driving experience. The JS4 also offers a spacious interior, allowing you to comfortably accommodate your family and friends without compromising on luggage space. With its advanced safety features such as ABS, EBD, and ESC, the JAC JS4 prioritises your safety on the road. Plus, its modern and sleek design is sure to turn heads wherever you go. Whether you are navigating urban streets or adventuring off the beaten path, the JAC JS4 is the perfect companion for any journey.

JAC S3 – feature-packed ride
If you are looking for a compact SUV that combines luxury and affordability, look no further than the JAC S3. This sleek and stylish vehicle features a 1.6L engine that delivers both power and fuel efficiency, making it an ideal choice for daily commuting or weekend getaways. The JAC S3 boasts a range of impressive features, including a leather interior, a touch screen infotainment system, and a panoramic sunroof. The JAC S3 includes advanced safety features such as a rear camera and driver + co-driver airbags, ensuring peace of mind on every journey. With its combination of luxury, affordability, and safety, the JAC S3 is a standout choice in the compact SUV segment.

JAC J7 – built to turn heads
JAC J7 combines sophistication and style, with a striking design and luxurious features sure to turn heads on the road. Its bold design and chiseled features make it an absolute head-turner. But it's not just about looks—the J7 boasts a powerful 1.5L turbo engine for thrilling acceleration and top speed. Inside, you'll find a luxurious cabin with premium materials and a spacious interior. Its advanced safety features such as ABS, EBD, ESC, Hill Descent Control, Hill Start Assist, and much more keep you safe on the roads.

JAC T8 – for the modern pickup driver
For those in need of a reliable and versatile pickup truck, the JAC T8 is the perfect choice. This rugged and capable vehicle is designed to handle tough terrains and heavy loads without compromising on comfort or style.The JAC T8 is powered by a 2.0L turbo engine that delivers impressive performance and fuel efficiency. Whether you are hauling equipment or embarking on an off-road adventure, the T8's robust build and powerful engine ensure that you can tackle any challenge with ease. In addition to its impressive performance, the JAC T8 also offers a comfortable and spacious cabin, making it suitable for both work and leisure. With its array of safety features, including ABS, EBD, ESC, and TCS, you can rely on the JAC T8 to keep you safe and in control no matter the conditions.
Choose JAC Oman for an unforgettable driving experience
When it comes to selecting a vehicle that offers performance, style, and affordability, JAC Oman is the brand to trust. The JAC JS4, JAC S3, JAC J7, and JAC T8 are just four examples of the impressive lineup that JAC Oman has to offer. Whether you need a compact SUV, a stylish sedan, or a versatile pickup truck, JAC Oman has the perfect vehicle to meet your needs. Experience the best of JAC Oman's impressive lineup and elevate your driving experience to new heights. With JAC Oman, you can drive with the utmost assurance and an extraordinary manufacturer's warranty. Enjoy 6-year/200,000Kms (Whichever is earlier) warranty for passenger cars and a remarkable 5-year/250,000Kms (Whichever is earlier) warranty for our light trucks.

Visit your nearest JAC showroom today and take a test drive to truly appreciate the power, style, and functionality that JAC Oman vehicles have to offer. JAC Oman and Towell Auto Centre are dedicated to delivering exceptional customer service and quality products that cater to the different requirements of car enthusiasts. Don't miss out on this opportunity to discover the perfect vehicle for your needs!