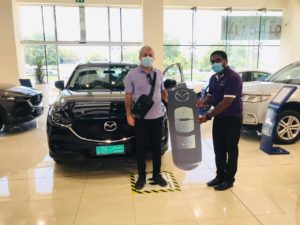 MUSCAT- Towell Auto Centre continues to take all the essential steps to ensure their customers remain happy and healthy while visiting their showrooms located across Oman – to experience their award-winning range of Mazda vehicles.
One of these models is the Mazda CX-5 – a Crossover SUV – was recently purchased by Michel Duraid Salloum at the TAC Azaiba Showroom in Muscat.
Asked about the reason behind his brand new Mazda CX-5 acquisition, Michel mentioned that what made the vehicle a priority choice was, firstly, the ample space designed into the interior for both driver and passengers.
"Every angle and aspect of Mazda's best-selling crossover SUV is crafted to make driving better," says Michel about the CX-5 model. "With features like a superbly quiet cabin and stunning metal-wood trim interior, Mazda designers and engineers accomplished it all without sacrificing superior driving dynamics. As a result, the Mazda CX-5 achieves the impossible – the perfect unity of versatility, spaciousness, innovation and impressive efficiency."
Michel is also impressed with some of the vehicle's specific control features – like the Apple Car Play feature and Navigation Screen– and the ease with which these can be controlled while driving.
Speaking about his customer experience in light of the current Covid-19 situation, Michel says he was pleased with all the safety precautions being taken by the showroom staff, and that he felt safe at all times during his visit. Despite the precautions being taken, there was no compromise in service quality. "I was happy with the sales staff at the showroom. They are very cooperative and knowledgeable and they know each of the Mazda range of vehicles inside-out," he explained.
Finally Michel recommends: "If you're currently looking to purchase a brand new car, I would suggest you make a list of the specific features and performance attributes you require. I believe this should be your first and most important priority. Once you have established this, you can then have a look at what special offers are currently available on the market."