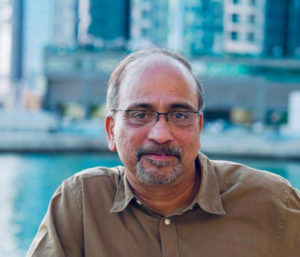 P M Jabir
Community welfare secretary, Indian Social Club;
Director, Norka Welfare Board (OMAN)
Sometimes, I catch myself staring at my living room window. It is dark outside. I don't see anything. Just for some seconds, my mind wanders. But, I don't have that much time to spare.  Life has been quite tough for me. I am 'working' from home. But there is no business. No income. Give me a chance and I will crib. I will make a noise about it. I will whine to the world. Then in the next moment, my phone rings.  I wake up from my tiny, selfish reverie.  "Yes," I say. "This is Jabir. Yes, of the Indian Social Club. Yes, yes, tell me. How may I help you?"
How do I help them all?
I don't have income. But there are thousands out there in the same boat. No, not in the same boat. Mine is still afloat. Theirs is sinking. Many among the daily wage earners; workers that are clubbed under the informal sector, are penniless. I must stop feeling sorry for myself. I have a roof above my head. I still have means to survive. Not them. I must spare no efforts to help them in whatever way I can. But it is just that I get around 170 plus calls and around 300 WhatsApp messages per day. All with the same request: help. With a heavy heart, I wonder: how do I help them all? But, I must help them. That has been my mantra all my life.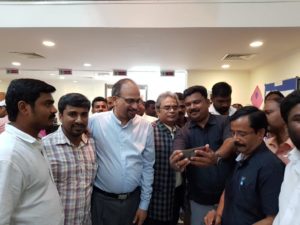 More helpless than them
In the beginning the calls were mainly requests for food, medicines and other daily necessities. And not just me, every single social worker in town was getting these calls and messages. It just happens that I have been in the field for quite long and therefore the calls or requests double or triple the other social workers. My mobile number is also known to many. But it doesn't feel good. When someone calls for help, it is my duty to help them. But when you desperately want to help but are unable to help someone, that is the time when you feel more helpless – sometimes I feel more helpless than them.
Have to find solutions
The diaspora here know me as the community welfare secretary of the ISC and also as the director of the Norka Welfare board. So, I am not supposed to just answer the calls — I have to find solutions as well.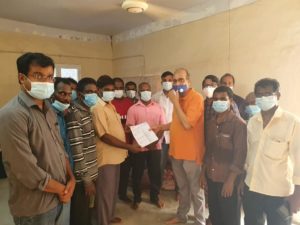 Large hearts of people
My team is phenomenal. Before I even spell out the desire in my heart, they get it done. They have reached out to the community with food and other basic necessities. The government was helping the people irrespective of their nationality. The embassy was very proactive. They were helping us a lot. And the public is large hearted. But as the numbers swell by the day, I realise that more needs to be done.
People are still desperate
One of the main concerns was the availability of medicines, or lack of it. For example, many Indians are dependent on medicines which they bring from their country when they go on vacation or through friends and relatives. Either such medicines are not available here or they are expensive compared to India. We formulated a medical team comprising senior doctors and qualified pharmacists to assist such medical needs. We made available some of the medicines or prescribed substitutes. We guided many to bring it through courier services with the help of Norka.
Slowly the number of calls for food and necessities started getting reduced. But people are still desperate. Those in extremely difficult situations just want to return home. I was aware that there were some people who were undergoing treatment for different illnesses, but not to this extent.
So many reasons
They were here for various reasons: job, business, family… Many were getting treatment from their home country and checkups in the host country. They all wanted follow ups or advanced treatments. From the desperate calls and messages I could understand there were hundreds of Indians undergoing treatment for various types of diseases, including cancer; patients who had undergone treatments including bypass surgery; some even had pacemakers; many who were living with transplanted kidneys; others who have had stroke; some requiring palliative care. Then there were women in different stages of pregnancy, with complications, some even as late as 32 weeks. Nobody had expected closure of airports worldwide. Most of them were planning to have their delivery back in India. There were elderly people who had come to visit their loved ones here. Some were older than 80 years. Confinement within a small space is unbearable for even children. And therefore, it is terrible for these elderly folks. They were getting anxious and having panic attacks. And then there were hundreds whose visit visas had expired but were not able to go back. And not to mention those who had lost their jobs (especially those who had lost their jobs and are here with their families with no money to pay rent or pay for a day's meal); those who are at their wits end, almost ready to break down and walking on a very thin line between sanity and insanity.
The saddest part is to hear from those who have lost their dear ones back home and are unable to go back and have at least a glimpse of those they have lost forever. All of the callers were desperate. They all wanted to go back. Initially, there weren't any flights. And now, with the Vande Bharat Mission, many went, but there are always some who aren't lucky.
Most desperate request?
What was the most desperate request that I attended to? What can I say? The calls for food? For medicines? Or the cries for getting treatment in India? Plea for safe delivery? "My appointment at the Regional Cancer Centre in Kerala is next week. If I don't get to fly out by then, I will die here."
"'Jabirsir', my mother has passed away. Is there any chance I can get a seat in the next flight to India? Could you please help?"
"I have had my open-heart surgery done. I was supposed to fly back for my follow-up appointment but it coincided with the lockdown. I had applied immediately with the embassy. But nothing is happening. I don't know why. Is there any way you can help recommend my case?"
"My wife is 30-plus weeks pregnant. The scan report had said she is going to have twins. There are complications.  Her gynaec said she has to go back asap. I have applied but as nothing has happened so far, could you please intervene?"
Tip of the iceberg
What I have quoted here is just the tip of the iceberg. I am at a loss. I have never seen desperation of this magnitude.
Sad or happy?
I am not sure whether I am able to translate my feelings properly here. But there were so many instances where I felt such a deep pang in my heart and the ache stayed for a long time. One came as ting, a simple-long-distance message from the phone of someone whom I had helped repatriate just a few weeks ago. The message read like this: "My father-in-law passed away on (date given). Funeral today. With prayers. His son-in-law." The message continued: "Sir, your timely efforts helped my father-in-law reach home and be with his family for some days. At least we could all be together for sometime before he passed away. Forever indebted." I didn't know whether to be happy that I did a good thing or sad that this poor man had passed away.
Some satisfaction is there
The calls pour in. Many still want to go back and ironically, now there are some long distance calls asking for guidance on how to get back to Oman. It is an incredibly challenging time. I have many limitations. And I am only human. But, even with the little that I have been able to do; I feel a great amount of satisfaction. I have started seeing life in a new perspective. This era will go down in history as Before Corona and After Corona. But then let us make it a mission to ensure that life after Corona should not be bleak.  I am optimistic. The world will bounce back.  Yes, this too shall pass. We shall overcome.
There is always hope
Sometimes, I catch myself staring at the window of my home. This time it is not fully dark outside. There is a light gathering at the edge. Life is stirring. Even the darkest of nights end with a dawn. There is hope.
There is always hope.
(*Even the darkest night will end and the sun will rise – quote attributed to Victor Hugo. From Les Miserables.)