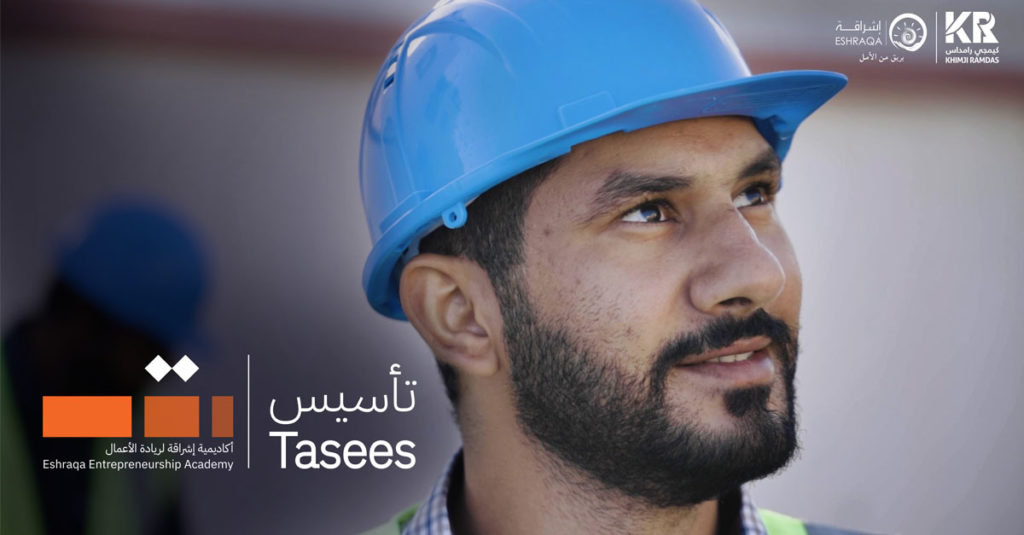 MUSCAT – Eshraqa, Khimji Ramdas Social Development Arm, announced 'Tasees' as the new identity for its Entrepreneurship Academy. Tasees aims to play an important role to incubate, mentor and guide budding entrepreneurs on their journey to achieve their innovative business ideas into reality.
Designed by Bluerance, an Omani start-up design agency, the logo of Tasees is a modern interpretation of the true purpose of the program. It represents a progress bar which stands for growth and prosperity. It manifests the core offering of the Tasees program in a simple and engaging manner.

"Found on the principles of giving back to the community, Tasees aligns itself to the Oman Vision 2040 mirroring the country's interests in creating an entrepreneurial mindset for its youth, encouraging the ongoing development of knowledge and skills amongst professionals by creating a favorable environment and new entrepreneurship opportunities for its aspiring youth," said Nailesh Khimji, Director, Khimji Ramdas. "For decades, our business has enjoyed the support from the local community. It, therefore, is one of our paramount duties to aid in the economic growth of not just the country, but to invest in and help in the development of its most invaluable asset, which is the people."
Badar Al Farsi, the founder of Power Packs Solutions, a successful business enterprise serves as a testimony of Tasees's efforts towards incubation and entrepreneur mentoring. Commenting on the same, Al Farsi said, "Even the brightest ideas need the right direction. The incubation program conducted by Eshraqa Tasees has turned my dreams into reality. The experts at Eshraqa have the industry knowledge, experience and technical know-how to help entrepreneurs like me become successful and overcome challenges and make the best of the volatile market scenario while benefiting from the professional resources the program offers. I welcome you to see a short video on my growth story http://bit.ly/Tasees"
Under the repurposed identity, Tasees will not only continue to support the establishment of sustainable businesses that will aid in the economic growth of the country, but also invest in promising individuals who reserve the potential to make a difference and lead the way for change. Established in 2018 with a vision to help nurture the dreams and give flight to the ambitions of aspiring Omani entrepreneurs, Tasees aims to be a one-stop-solutions-provider for Startups and MSME's, giving them the scope and opportunity to change the socio – economic fabric of Oman.
To know more about Tasees and its programs, log on to www.eshraqa.om/tasees/