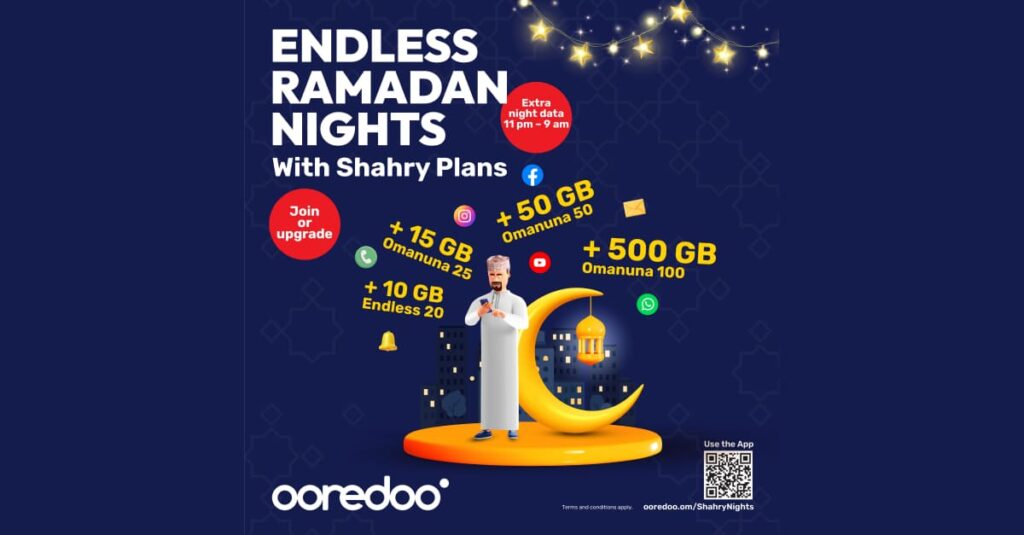 MUSCAT – Helping customers share special moments with loved ones during the Holy Month of Ramadan, Ooredoo is offering up to 10GB bonus data on Shahry Endless plans and an enormous 500GB bonus data on Omanuna plans to help customers stay connected from 11pm to 9am. Starting from just OMR 10, Shahry Nights is available throughout Ramadan to give customers high speed internet to use absolutely free.

Shahry Endless 10 offers 15GB flexi data with 4GB night data for OMR 10, Shahry Endless 15 comes packed with 24GB flexi data and a bonus of 6GB to use after 11pm for OMR 15. The top tier plan, Endless 20, offers 40GB flexi data and an extra 10GB for OMR 20. Omanuna starts at OMR 25 and comes loaded with 75GB of data and can be upgraded to 70GB, 200GB and 2.5TB of data to meet the needs of data-hungry customers.

New Ooredoo users will receive the bonus night data immediately after successful registration. Existing customers need to upgrade to a Shahry Endless or Omanuna plan to receive the extra data. Users can view the full range of plans and opt in today through the Ooredoo App.