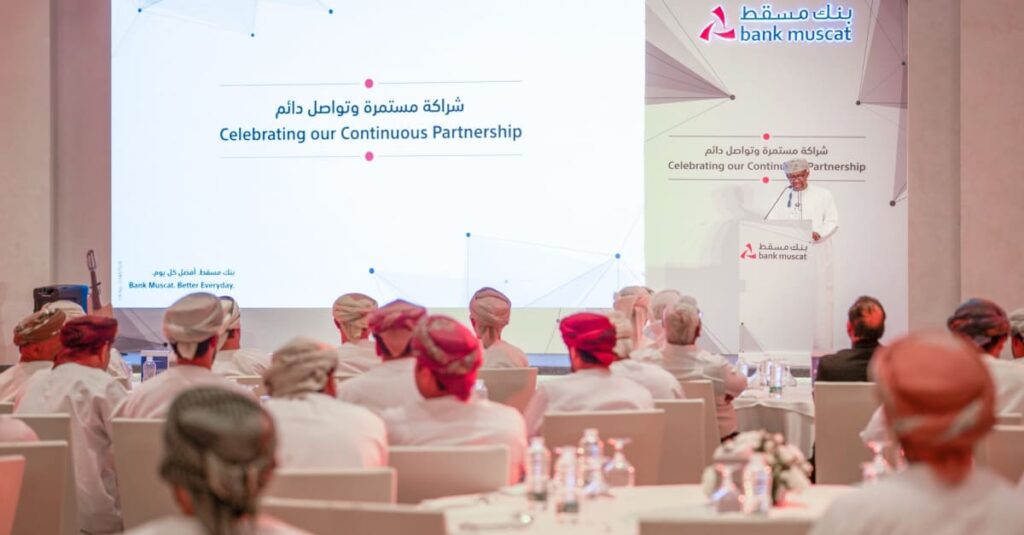 MUSCAT – In line with its commitment to strengthen partnership and communications with customers, Bank Muscat, the leading financial services provider in the Sultanate of Oman, hosted a special event for customers based in Al Batinah, A'Dhahirah and Al Buraimi. The event was attended by Abdulnasir N. Al Raisi, General Manager – Personal Banking and senior bank officials. It provided a good opportunity to showcase the bank's latest products and services catering to different customer needs.

Speaking on the occasion, Taya Eid Bait Sabeea, Deputy General Manager – Interior Regions, Bank Muscat, said: "At Bank Muscat, we are always delighted to meet our valued customers, share ideas and get their feedback as we continue together on our journey of cooperation and partnership. As a pioneering financial services provider in Oman, Bank Muscat is always keen to further develop the banking sector by providing world-class products and services, which keep pace with the latest technological developments and global financial trends."

Addressing the gathering, Radhiya Hassan Al Lawati, Head of Sales, Bank Muscat, spoke about the various changes and developments being witnessed across different sectors due to the requirements of the modern age. She stressed on the digital improvements in the present era and said that the bank is continuing to keep pace with these changes. She also noted that North and South Al Batinah, A'Dhahirah and Al Buraimi governorates have been witnessing tremendous economic growth, which is leading to further progress for the community.

Radhiya Al Lawati went on to explain that Bank Muscat was committed to remaining the bank of first choice for government institutions and corporates as well as their employees. Hence, the bank would continue to leverage its experience and technology and provide the best possible products, services, benefits and features to meet the diverse requirements of its customers including new employees joining various government and private sector entities. She added that with 174 branches and more than 800 ATMs, CDMs and other devices, the bank offers unmatched reach and excellent quality of service, which is provided by well qualified Omani cadres.

Bank Muscat's distinctive services and products reflect its commitment to market leadership in the Sultanate's banking sector. As part of its growth strategy, the bank regularly organises events, meeting and workshops to introduce customers to its diverse range of products and services as well as cutting edge electronic channels like mobile, Internet and Call Centre-based banking services, which provide customers with the means to transact quickly and securely 24×7.For more information on various services and products, please visit https://www.bankmuscat.com.