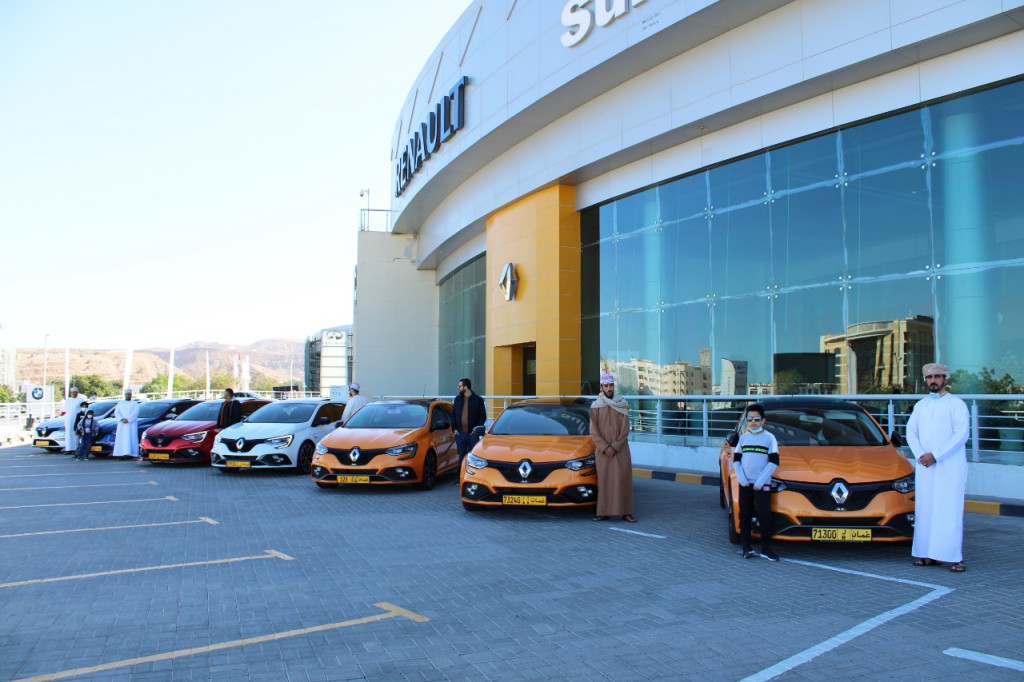 MUSCAT –   Renault Oman organised an exclusive preview of the limited-edition Renault Megane R.S. Trophy-R for a host of auto aficionados at its showroom recently. The most high-performance production car Renault has ever put on the market is rooted in the brand's immense history in motorsport.

The Renault Megane R.S. Trophy-R, which has the exceptionally efficient 1.8 litre 300 bhp engine, brings to the roads the technologies and know-how Renault Sport has developed on the racetrack. The Renault Megane R.S. Trophy-R was launched in the form of limited series numbering few 100 across the world.The car set a new officially approved record and reference time for the compact car segment of production cars on the Nordschleife of the Nürburgring, now a world-renowned race track and proving ground for cars and sports performance. The Renault Megane R.S. Trophy-R covered the 20.600 km in 07'40''100, and the official whole lap length of the Nordschleife 20.832 km in 07'45''389.Renault Megane R.S. Trophy-R owes its increased speed to the weight reduction, the work on aerodynamics and the more radical development of its ground links. It has been designed with aerodynamic and technical efficiency in mind, underpinned by a total focus on improving performance. The foundation was a design tested by both computerised fluid dynamics and a wind tunnel to ensure the front-rear balance was optimal and that aerodynamic drag was minimised from the very beginning.
A spokesperson for Renault Oman said, "Auto aficionados who attended the preview were thoroughly impressed with the incredible Renault Megane R.S. Trophy-R. It was designed as a racing car by a team of engineers who focussed on maximum weight reduction, reworked aerodynamics, and a more radical development of its drive axles."

Renault Megane R.S. rally
In another event organised by Renault Oman, seven Renault Megane R.S. owners joined in for a meet and greet and participated in a rally around Muscat. The rally which started from Renault Qurum showroom, took the road to Bait Al Alam and moved through Al Riyam Park, Muttrah Corniche and Barik Al Shatti. After a small coffee break, the rally which passed through the Sultan Qaboos Highway ended at Al Mouj Muscat. Renault Megane R.S. has been impressing car aficionados with its unparalleled driving performance and motorsport cutting-edge technology. Suitable for all enthusiasts and driven by its powerful design and focused on performance, Renault Megane R.S. makes no attempt to hide its motorsport pedigree, offering outstanding driving pleasure on the road and on the track. The Megane R.S. features a new generation of 1.8-litre turbo engine, delivering 280hp and 390Nm, thanks to the development work jointly carried out by engineers from Renault Sport Cars and Renault Sport Racing. The car comes with 6AT Electronic Dual Clutch transmission.

Salem Al Rawahy, a participant in the rally said, "I drive an orange Megane R.S. and had a great experience with Renault. It was good to see how different people experienced the same car. The Trophy-R has been recognized as the fastest car in some race ring in Germany. What differentiates it is that it's lightweight, performance, manual gear and the fact that it doesn't have any back seats which makes it special."

Mazen Jamal, another participant said, "My experience at the rally was wonderful. It was really nice to meet people who not only drive the same car but also share the same passion and enthusiasm. The rally was experience beyond explanation; we thank Renault Oman for organising it. The Trophy-R was mind-blowing. Just to see the car that I have but on another level, it made me jealous. This is the next level, I need to have it."
A spokesperson for Renault Oman said, "We are pleased to have organised the rally Megane R.S. takes styling and technology even further to deliver truly exceptional driving enjoyment. The car has been designed by people who are passionate about cars, for people who love to drive. Its versatility also makes it perfectly suited for everyday use. The 4CONTROL system is a dream come true for every driver looking for efficiency, since it improves both the agility and the stability of the car."

SBA is largely committed to supporting Renault Oman's growth in the Sultanate through major emphasis on customer satisfaction and by providing world-class after-sales services in Oman. With a national network of 9 showrooms, 16 service centres & 23 spare parts outlets, SBA has further built upon its legacy of trust, excellent customer service and providing value for money to each of its customers.
For more local information, you can visit the following website: https://www.renault.com.om/  or call our Toll Free number on 80050011.